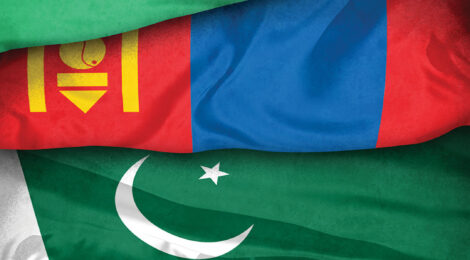 Multinational military exercise focuses on strengthening partnerships
UNIPATH STAFF
Some threats to regional stability are so dire, they require a coalition of militaries from around the world to help restore peace. Despite barriers in language or military culture, multinational forces must coalesce quickly to accomplish missions and objectives. 
With the goal of improving interoperability, nearly 200 military personnel from five countries attended the annual Regional Cooperation exercise organized by U.S. Central Command in Dushanbe, Tajikistan, in August 2019. 
Regional Cooperation is a multilateral command-post exercise held jointly with partners from Central and South Asia. Since the exercise series began in 2001, its setting has rotated annually among several countries.
This year's event was hosted by the Tajikistan Ministry of Defense and included participation from Uzbekistan, Mongolia and the United States, with a representative from Pakistan sent as an observer. It focused on improving multinational stability operations with an additional emphasis placed on procedures for improving operations civil-military interactions.
Gen. Maj. Mirovar Khushbakht Mirshakar, first deputy chief of the general staff of the Tajik Armed Forces, praised the professionalism of the multinational forces during the exercise.   
"We are completely sure that this exercise, Regional Cooperation 2019, will serve as a launching pad for the development of the overall cooperation of the military, as well as other areas to promote stability in the region and stability in our countries," Gen. Maj. Mirshakar said during the closing ceremony.
Events began with several days of academic instruction to ensure the success of the subsequent command post exercise. Soldiers from the four participating countries needed to function as a staff of a joint multinational brigade. Translators worked to bridge communication between the Russian- and English-speaking participants.
"It's very educational. Everyone has something to teach, and everyone here has something to learn," explained U.S. Marine Corps Lt. Col. Richard Weeks, lead planner from U.S. Central Command. "That gave everyone a good base to start from. Once we began actually running the exercise scenarios, everyone came together to find solutions and form a well-functioning military staff."
The exercise scenario was based on security challenges stemming from two fragile, newly formed countries. Ethnic tensions and competition for resources led to increased regional violence — so much so that the United Nations mandated the creation of an international peacekeeping force. A coalition brigade staff was established to reinforce and stabilize the border zone. 
The exercise simulation required intense planning and coordination among participants. The brigade staff dealt with myriad crises: chlorine gas leaks, bombed rail lines, civil unrest and violence, border incursions, and criminals taking advantage of the chaos to smuggle drugs and weapons. Internally displaced people needed humanitarian assistance. Intelligence reports of terrorist threats complicated the situation further. 
Col. Anvar Akhmadjonzoda of Tajikistan served as brigade commander for the exercise. Tajik forces learned to overcome obstacles to conducting peacekeeping operations outside the borders of the country, he said. One challenge his staff had to overcome were differences in military decision-making processes among the countries.
"Tajiks, Mongols, Pakistanis, Uzbeks and Americans all have the same goal here, but various approaches and paths to a solution," Col. Akhmadjonzoda said. "During an exercise like this, we are gaining experience, and we are finding common ways to solve problems."
U.S. Col. Ken Wisniewski III, who served as one of Col. Akhmadjonzoda's deputy commanders, said the exercise was a valuable learning experience for his troops from the Massachusetts Army National Guard. The exercise extended far beyond just sharing tactics, techniques and procedures. 
"The U.S. Soldiers are gaining an opportunity to learn about the Central Asia region, its culture, geography and history. We are also building important relationships with the forces from the other participating countries," Col. Wisniewski said. 
U.S. Central Command's Deputy Director of Exercises and Training Guy Zero thanked Tajikistan for hosting the exercise and expressed appreciation to all the participants of Regional Cooperation 2019. By sharing information and improving interoperability, each country becomes stronger and better prepared to respond to and overcome threats. 
"Our collective efforts toward regional and global security and stability, including border incursions, crisis management and terrorist attacks, recognize no boundaries and remain a driving force behind the exercise." Zero said. "These destabilizing issues remain regional threats and a worldwide challenge that requires all of our continual efforts."