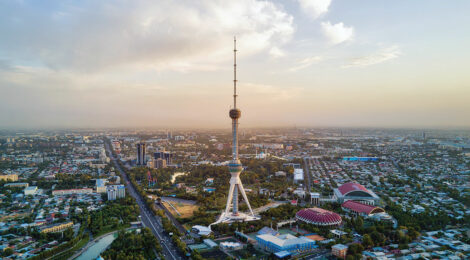 Chiefs of Defense Discuss Ways to Aid Afghanistan and Build Stability in Central and South Asia
UZBEKISTAN MINISTRY OF DEFENSE
Top military commanders from Central and South Asia reiterated that peace in Afghanistan — and stability in the overall region — depends on finding common ground to combat internal and external threats.
This plea for unity came at a chiefs of defense conference in Uzbekistan's capital of Tashkent in February 2019. Attending were the chiefs of defense from Afghanistan, Kazakhstan, Kyrgyzstan, Pakistan, Tajikistan, Turkmenistan and Uzbekistan and then-U.S. Central Command Commander Gen. Joseph Votel.
The conference was an opportunity to introduce Uzbekistan's new minister of defense, Maj. Gen. Bakhodir Kurbanov, who declared that regional stability is critical to his country's national interest.
He expressed his desire that Central and South Asia become "a good neighborhood" that recognizes each country's territorial integrity and works to combat terrorism, drug trafficking, cyber crime, and other security issues.
"We are carrying out large-scale work to strengthen mutual understanding and constructive cooperation with all countries of Central and South Asia to prevent and neutralize external and internal threats to peace, stability and security in the region," Maj. Gen. Kurbanov said.
The Uzbek defense minister met separately with Gen. Votel to discuss the prospects of greater military and defense cooperation between Uzbekistan and the United States. Military education, training and technology were all topics of interest. It was Gen. Votel's fourth visit to Tashkent as head of U.S. Central Command.
Speaking for the U.S., Gen. Votel expressed his support for "independent and strong partners in Central and South Asia."
"This is a very important meeting at a critical moment in the history of the region," Gen. Votel said to the gathered defense chiefs. "Security challenges remain. It is better if we confront them together. For this reason, we have gathered here to strengthen our relations and increase the opportunities, both individual and collective ones."
At the conference, defense ministers exchanged their views on resolving the situation in Afghanistan.
Uzbekistan has played a central role in seeking reconciliation in Afghanistan after decades of internal strife. In March 2018, it hosted the International Conference on Afghanistan with the theme "Peace Process, Security and Regional Cooperation."
Conference attendees laid out a framework for peace that included an opportunity for opposition groups in Afghanistan to be recognized as political parties in exchange for accepting the legitimacy of the Afghan government in Kabul.
Uzbek President Shavkat Mirziyoev has offered to host peace negotiations between the Afghan government and the Taliban.
Uzbekistan has also aided Afghanistan in rebuilding its economy — building railroads, supplying energy and training technicians.
"We are ready and intend to comprehensively develop partnerships with all states in order to maintain peace — first of all, ensuring stability in Afghanistan," Defense Minister Kurbanov said.
Defense chiefs used the occasion of the conference to visit the Uzbekistan Armed Forces Academy, where they observed training of students and cadets. Building relationships among regional military academies was among the issues discussed.