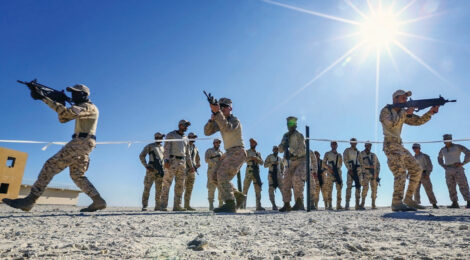 UNIPATH STAFF
The Bahrain Defense Force tested its combat readiness with a simulated assault on enemy positions using land, air and sea units.
The five-phase exercise Iron Bridge, conducted in April 2019, was commanded by Maj. Gen. Sheikh Khalid bin Khalifa Al Khalifa, who noted that rapidly developing events in the region require military teams capable of accomplishing missions.
The training focused on tactics and logistics and involved coordination between squads, platoons and ultimately larger units comprising all three military branches.
The first phase began with assembling a task force and transporting it from South Island to the hypothetical "Zarqa State." The second phase included infiltration of the enemy by the special operations group to discover its capabilities and identify weak points in its defenses.
The third phase included air and sea support by helicopters and naval vessels. In the fourth phase, the task force occupied a coastline to disrupt the enemy's defensive positions and secure a landing zone for an airborne assault. In the fifth phase, a cordon was imposed in support of the airborne assault.
The exercise reflected the high level of the Bahrain Defense Force in executing plans and their suitability to achieve desired objectives through coordination among forces taking part in the exercise.
The commander in chief of the Bahrain Defense Force expressed his appreciation for the meticulous execution of all branches participating in the exercise whose phases were characterized by professionalism and accuracy in the application of modern military methods.  Source: Bahrain News Agency