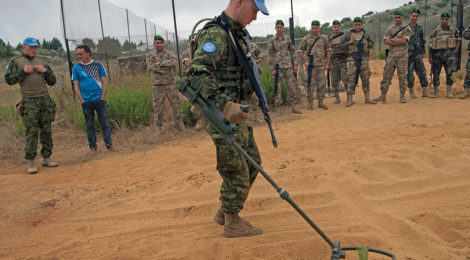 UNIPATH STAFF
The United Nations Interim Force in Lebanon (UNIFIL) is providing training and instruction to Soldiers and civilians to detect and avoid land mines and improvised explosive devices.
The 10,500-strong multinational peacekeeping force recently celebrated its 40th anniversary policing southern Lebanon, a region still suffering the effects of decades of conflict.
UNIFIL and its Lebanese partners conduct "Mine Risk Education" days that entail instructing thousands of South Lebanese schoolchildren to avoid mines and unexploded ordnance.  
"Land mines and other explosive remnants of war not only endanger the lives of UNIFIL personnel, but also of local populations throughout south Lebanon," UNIFIL Commander Maj. Gen. Michael Beary said. 
United Nations troops also train Lebanese Armed Forces Soldiers in detecting and disarming improvised explosive devices (IEDs). 
For example, in July 2018, Estonian peacekeepers instructed Lebanese troops in detecting IEDs using metal detectors on stationary cars and spray paint to mark cleared areas. The goal was to improve military safety during patrols in southern Lebanon.  Source: UNIFIL