Pakistani Chief of Army Staff Qamar Javed Bajwa Leads His Nation Against Extremism
UNIPATH STAFF
Photos by the Associated Press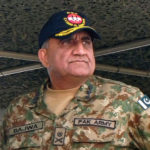 A stark reminder hangs on the office wall of Gen. Qamar Javed Bajwa, Pakistan's chief of Army staff. The photos on display are those of children murdered by terrorists in Peshawar's Army Public School in December 2014.
Gen. Bajwa is determined not to forget. The Army he has commanded since late 2016 has recommitted itself to fighting violent extremism through well-publicized counterterrorism operations such as Zarb-e-Azb and Rudd-ul-Fasaad.
"The Pakistan Army is capable of meeting all internal and external challenges. It has achieved great successes to rid the country of violence and terrorism," the general recently told an audience at the military's Inter-Services Public Relations Directorate. "However, for enduring peace, each one of us has to contribute his respective bit."
Gen. Bajwa has served his country for 40 years. A native of Karachi, he began his military career as an infantryman with the Pakistan Army's famed Baloch Regiment and has risen through the ranks to hold several of the Army's top posts. He commanded the Army's 10th Corps, the country's largest, and was appointed commandant of the School of Infantry and Tactics in Quetta. His previous job was as inspector-general, training and evaluation, at the Army's General Headquarters in Rawalpindi.
Gen. Bajwa is no stranger to danger zones, both at home and abroad. He served as a brigade commander as part of the United Nations peacekeeping force in the Democratic Republic of the Congo and led the Force Command Northern Areas with responsibility for the frequently tense Kashmir region.
As chief of Army staff, traditionally one of Pakistan's most influential offices, the general has been an uncompromising voice against terrorism. In a profile published in Pakistan, the general's sons said their father prioritizes the fight against extremism and terrorism. That steadfastness was reflected in the August 2017 speech at the Inter-Services Public Relations Directorate.
"Every Pakistani is a Soldier of Operation Rudd-ul-Fasaad," Gen. Bajwa told an audience consisting largely of youths. "Educated youth is a prime target of ISIS and affiliates. … Be extra cautious."
A terrorist attack on Karachi Airport in June 2014 led to Operation Zarb-e-Azb, focused mostly on the Federally Administrated Tribal Areas of northern Pakistan, where many extremist groups have been based. The bloodshed at Peshawar's Army Public School later that year solidified the Army's commitment to destroy terrorists plaguing Pakistan.
"He kept saying over and over, 'This has to be the end. There must be consensus against terrorism; it is the biggest threat to Pakistan's existence,'" one of the general's sons said in an interview.
A result of the Peshawar tragedy was the activation of Operation Rudd-ul-Fasaad, which takes the counterterrorism fight to the Pakistani heartland of Punjab and relies more heavily on intelligence gathering within the cities to uproot terror cells. Gen. Bajwa has emphasized his goal that Rudd-ul-Fasaad will "bring lasting peace and stability" to Pakistan.
"Our resolve won't succumb to any challenge," the general said.
Regional peace, including with neighboring Afghanistan, has also been a focus of the chief of Army staff. Following an attack on coalition troops in Afghanistan in August 2017, Gen. Bajwa took the extra step of condemning the violence over the border.
"We fully understand the loss and pain of victims' families as Pakistan is undergoing a similar trail of blood in the fight against a common threat of terrorism," the general said in a statement released by the Pakistan Army.
The general also earned praised for helping to improve relations with its western neighbor. On August 2, 2017, Gen. Bajwa hosted Afghan envoy Dr. Omar Zakhilwal at the Army's general headquarters to discuss security. In February 2018, he attended a multinational conference of defense chiefs in Kabul. These meetings were seen as first steps to greater cooperation between Pakistan and Afghanistan.
As the 16th general to lead Pakistan's Army since the founding of the nation in 1947, Gen. Bajwa earns high praise from military colleagues who view him as humble and sympathetic. His August 2017 visit to a Quetta military hospital to comfort Soldiers wounded in a terrorist attack only reinforced that impression. So did his recent visit to his old regiment to lay a wreath on a memorial to Soldiers who died for Pakistan.
As one of his former officers noted: "He is extremely professional, but very easy going and full of compassion."