A New Era of Security Innovation
Unmanned technology is revolutionizing how regional partners monitor land, seas and skies
BY GEN. MICHAEL KURILLA, COMMANDER OF UNITED STATES CENTRAL COMMAND
Somewhere in the Arabian Gulf, a dhow makes its way along the surface of the water, almost 50 kilometers off the coast.
From the outside, this dhow appears just like the thousands of other vessels that make a trip over those seas every day.
But there's a difference — this dhow is moving thousands of kilos of explosives into the region.
Those explosives are undetectable by any external observation.
Suddenly, two vessels punch through the ocean at 70 knots.
The men on the dhow are encircled before they can even piece together what's happening.
As the ships close the distance, the dhow's crewmembers are confused. As far as they can tell, there are no humans on these two vessels at all.
Within 30 minutes, a patrol craft arrives to encircle and detain the crew.
An illegal movement of explosives is thwarted.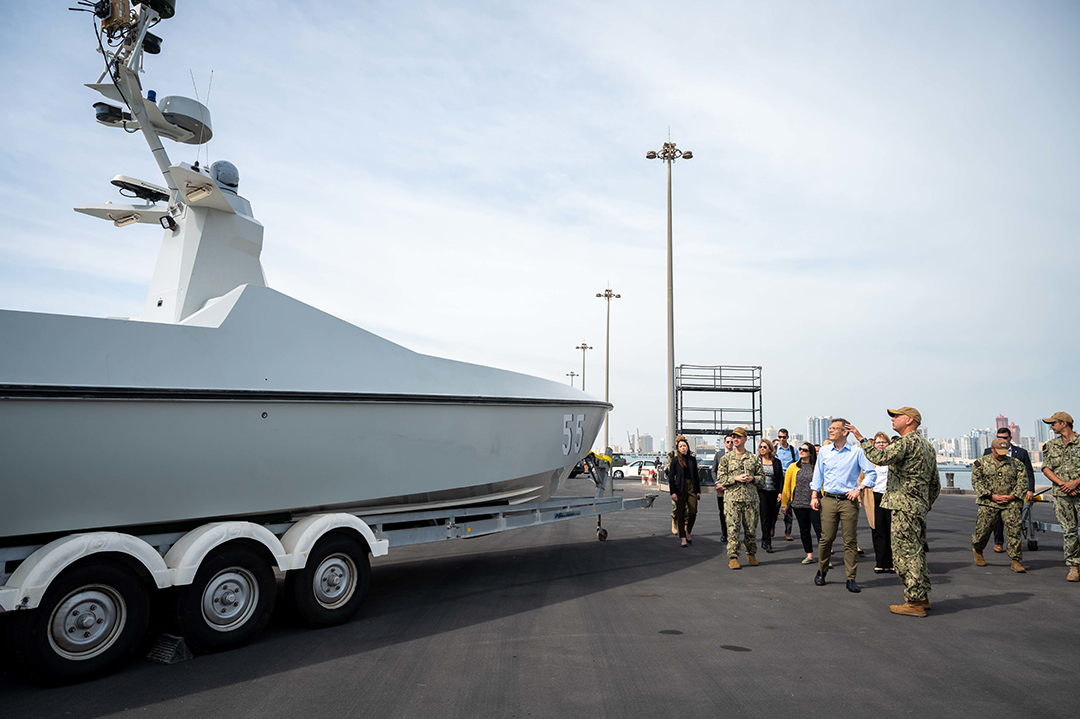 The dhow's crew members never understand how they were detected.
So what happened here?
The dhow is on a transit course not traditionally used for cargo transport. The course is traditionally used for transport of illicit material.
Advanced surface drones are patrolling the Arabian Gulf equipped with sensors that link to buoys and sensors under the sea. All these nodes are directly connected.
These drones on and under the water are mapping the pattern of life and locating normal and abnormal vessels of interest around them.
The networked sensors are tracking thousands of vessels transiting commercial shipping lanes in the Middle East daily.
Along the coast, there's a building with a team of 14 military officers and enlisted servicemen and women in an operations center.
Data integration and artificial intelligence allows these humans to make sense of all the information streaming in from all their sensors.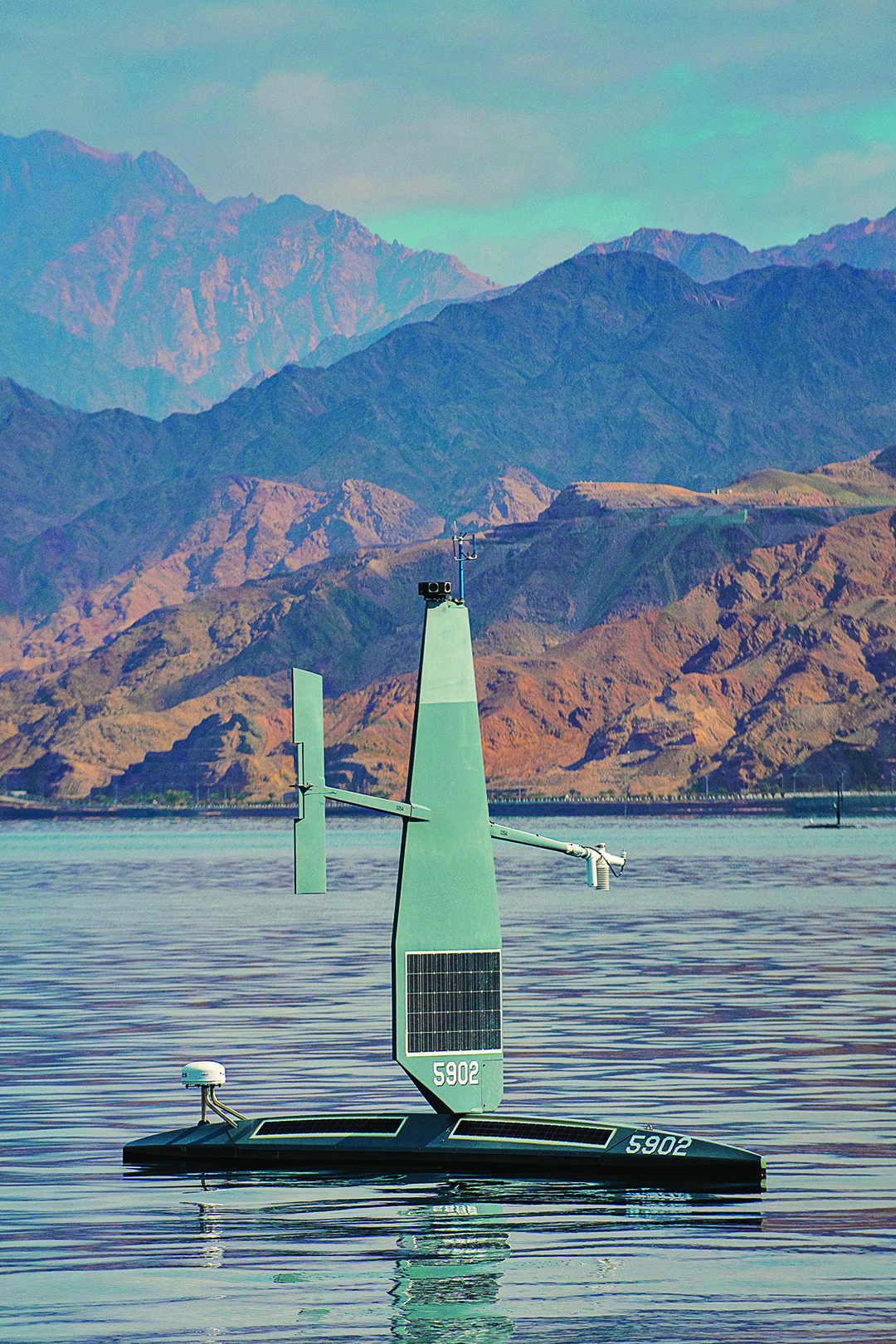 And, when the dhow stood out from the pattern of commercial shipping, the artificial intelligence program they are using flagged it. The team in the operations center received an immediate signal. So did the drones.
And, without any orders and without the team in the operations center even pushing a button, the closest drone took pictures.
Those pictures were instantly transmitted to the operations center.
The trained human beings inside assessed the situation and decided what to do.
Now let's move to another domain. Somewhere else in the Middle East, a call comes for a large resupply of ammunition and spare parts. Thirty minutes later, five vehicles depart a Brigade Support Area enroute to a Battalion Support Area.
As the lead vehicle departs the compound, four vehicles follow it. As the five-vehicle convoy pulls into the link-up site, the security element greets it with surprise. You see, only the first vehicle is manned with a human crew; the remaining four are unmanned vehicles operating through artificial intelligence.
Those scenarios are not years away from reality. In fact, the technology I've described exists today, and we have a maritime task force — Task Force 59 right here in Bahrain — using and enhancing it across the region.
We have the technological capability right now to rapidly improve maritime domain awareness and build an integrated unmanned and artificial intelligence network to achieve safer seas and stronger protection for global trade.
At sea, we are building on the assets we already have and creating an interconnected mesh network of sensors that transmit real-time data. All this data, pushed through data integration and artificial intelligence platforms, will help build a clearer picture of the operating environment.
More importantly, our international and regional partners are on this journey with us — especially Bahrain. Task Force 59 (TF 59) teamed with Bahrain last year, and we have established a hub here along with one in Aqaba, Jordan.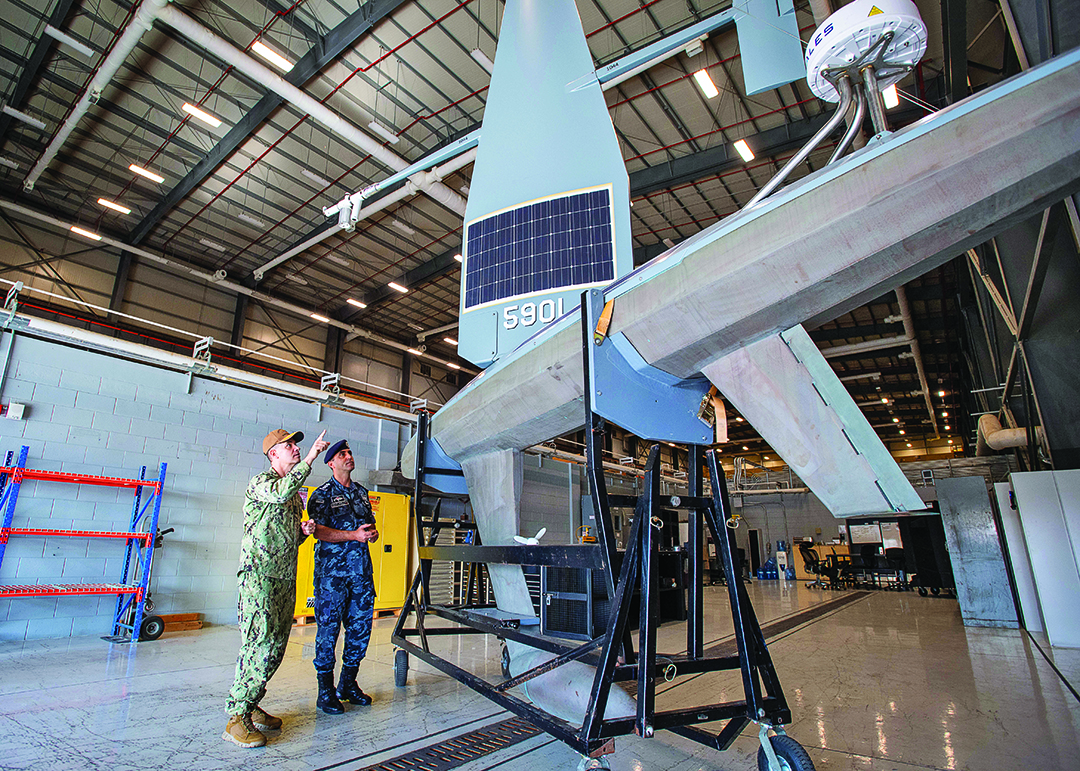 Just last month, Bahrain participated in a naval drill in the Gulf where seven crewed ships from Saudi Arabia, Bahrain, the United Kingdom and the United States teamed with unmanned systems. This is one of many examples that underscore that our forces are realizing the future right now, and doing it together.
By late 2023, TF 59 will bring together a fleet of over 100 unmanned surface and subsurface vessels operating together, communicating together, and providing maritime domain awareness to all participating militaries. At least 80% of these unmanned vessels will come from our partnered forces. The number of partnered countries continues to grow, and they are part of the TF 59 operational force and staff.
Meanwhile, Task Force 39, our ground-based innovation task force, will test concept and technology toward a fleet of unmanned land vehicles that allows us to use our manned ground vehicles more effectively.
In addition to Task Force 39 and Task Force 59, we have Task Force 99, based in Qatar, operating in the air domain. Task Force 99 will replicate Task Force 59's efforts with a system of aerial drones with tailored payloads and other capabilities.
Task Force 99's fleet of unmanned aircraft will impose dilemmas on our adversaries and detect and defeat threats to our systems and to our partners.
The sensors on these unmanned systems will constantly pick up information, giving us eyes and ears at sea, on land, and in the sky at all times.
Combined, these unmanned systems will operate on the same meshed network, feeding reams of data into an AI program that sorts it all out, makes sense of it, and pushes critical information to analysts in real time.
Those analysts are sharing this information with partnered forces, all of whom share the same threat picture and the same information.
This is where U.S. Central Command is headed with innovation.
In addition to those programs, we're building an experimentation program here in the Middle East to defeat adversary drones with our partners. As drone technology advances, adversary drones now serve as perhaps the greatest technological threat to regional security.
Our experimentation partnership, here in the Middle East, will focus on new capabilities, new technologies and new techniques to defeat these systems.
All of these elements are under the umbrella of the Culture of Innovation we are building throughout U.S. Central Command. Innovation allows us to expand on the great partnerships we've built across the Middle East. It allows us to increase the operational value of our manned systems.
For us, innovation is not only about artificial intelligence, machine learning and directed energy. It's not solely about the employment of new technology, either.
Our Culture of Innovation is about working with partners in the region on new processes, new ways of thinking about security, new procedures, new thoughts, and new concepts … and new technology.
The potential for this Culture of Innovation is titanic. Innovation allows us to posture our forces better, to sense the environment better and to deter and defeat threat actors more effectively.
The nations represented in this room do not have a monopoly on new technology. Our adversaries in the Middle East are also using new systems and technology against us.
That is why we need all partners in the region to innovate with us. Together, through innovation, we all can do much more to advance the stability of the region.
This article is based on a speech delivered at the 18th IISS Manama Dialogue in Bahrain in November 2022.