Snaring A Top Terrorist
Iraq's Counter-Terrorism Service spent years patiently tracking one of Daesh's leaders
Story and photos by IRAQI COUNTER-TERRORISM SERVICE
The effectiveness of the war against terrorist groups is heavily dependent on careful intelligence work and the tracking of an organization's high-level leadership. This inherently complex work requires exhaustive, long hours to identify high-level leaders, determine their whereabouts and the nature of their operations, and learn how they communicate with their subordinates to conduct operations. At the most basic level, intelligence officers need to win the hearts of the people because they are the ones who possess key information that leads to terrorist hideouts.
In this light, information provided by ordinary citizens to the men of the 1st Reconnaissance Battalion of the Iraqi Counter-Terrorism Service (CTS) helped track and detain the terrorist Ahmed Mohsen Najm Hussein Al-Kartani, also known as Abu Naba. He was captured in October 2020 while trying to reignite a Daesh terror campaign in Baghdad.
Abu Naba served as the administrative coordinator of the "Wilayat Iraq" for Daesh. According to intelligence reports, he joined the ranks of the "jihadist" factions in 2003, pledging allegiance to Abu Musab al-Zarqawi's al-Qaida network in 2006 following the formation of the so-called Islamic State of Iraq, (ISI). Abu Naba became an ISI leader in Baghdad in his role as the "sharia leader of the southern Karkh district of Baghdad" before moving to an administrative position in the same district. He had a close relationship with Manaf al-Rawi, self-proclaimed "wali of Baghdad," arrested in 2010.
Abu Naba was born in Baghdad in 1970 to a large family. He graduated from the College of Administration and Economics at the University of Baghdad. He became an avid reader of religious texts in the 1990s, when the former regime in Iraq adopted what is known as the Faith Campaign to defuse public outrage caused by a deterioration in living conditions after the first Gulf War.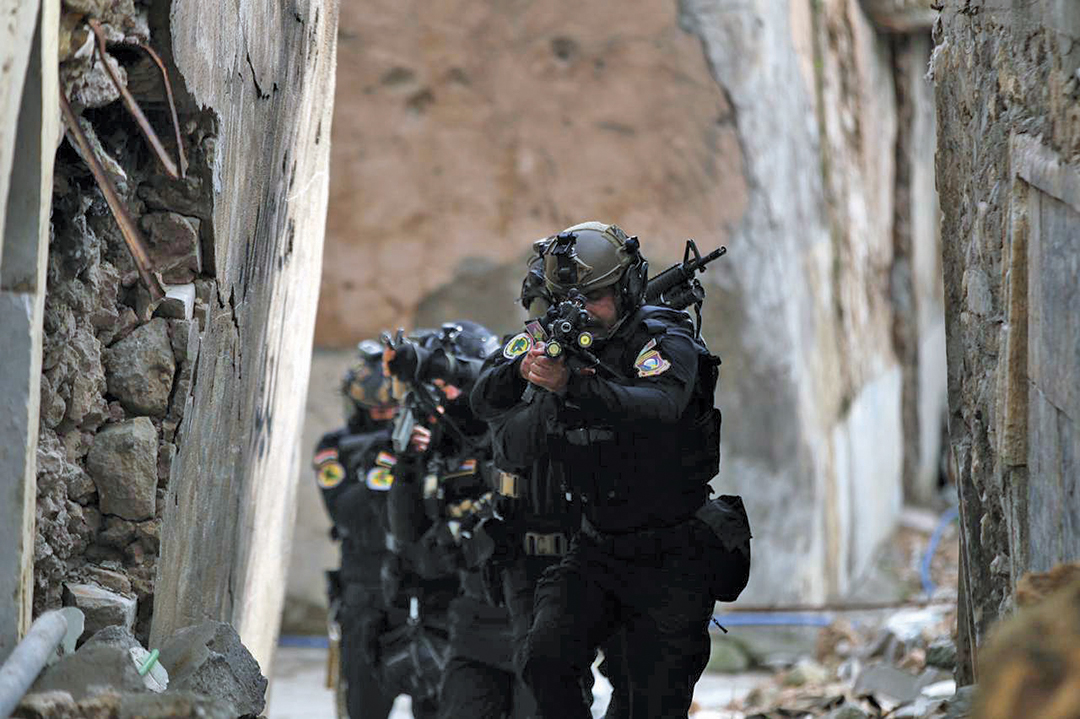 As a result, he learned a great deal about sharia jurisprudence, having been a voracious reader who devoured every secular and Islamist extremist book he could get his hands on. Not only did he possess a deep knowledge of Islamic jurisprudence, but he also studied all manner of theology. Before joining extremist organizations, he played soccer and was well known within the clubs, playing for Al-Talaba and Al-Quwa Al-Jawiya. 
During sectarian violence in Baghdad in 2007, he was arrested by coalition forces and imprisoned at Camp Bucca internment facility south of Basra run by coalition forces. He remained in prison for two years and was released in 2009 along with the rest of the detainees at a time when the security situation in Iraq was stable and the Iraqi government launched a national reconciliation program. Under the program, detainees pledged in writing to reintegrate into society and not to return to terrorist activities. However, Abu Naba did not live up to his pledge and instead returned to terrorism just weeks after his release, this time holding an important position in the manufacture and development of weapons and explosives in "Wilayat Baghdad." He worked as principal assistant to the now dead Mutez Numan Abd Nayef al-Jabouri, also known as Haji Tayseer, emir of development and preparation for ISI. Abu Naba was tasked with recruiting engineers and technicians, offering material and moral inducements and using threats and intimidation if they refused his offer.
Haji Tayseer and Abu Naba's plan centered on attempting to build large-scale improvised explosive devices whose destructive capacity would exceed missile strikes to multiply human and material losses and undermine relative security and stability in Baghdad. Heavy trucks loaded with more than a ton of high explosives were detonated targeting sensitive areas in the capital. The first was the "Bloody Wednesday" attack that targeted the Ministry of Foreign Affairs in Baghdad's Al-Salehiya neighborhood in 2010. This was followed by similar weekly explosions targeting Baghdad provincial government buildings, the Ministry of Justice and the Ministry of Finance. The explosions killed innocent people who were ministry patrons and staff. 
After a devastating blow to ISI in 2010, when Manaf al-Rawi was arrested and both Abu Omar al-Baghdadi, the so-called emir of the terrorist group, and Abu Ayyub al-Masri, its military commander, were killed in a security operation in the Tharthar region of Anbar province, the group was dismantled and most of its leaders arrested. Others, including Abu Naba, fled Iraq or hid in the deserts. After that, Iraq experienced remarkable stability between 2011 and 2012.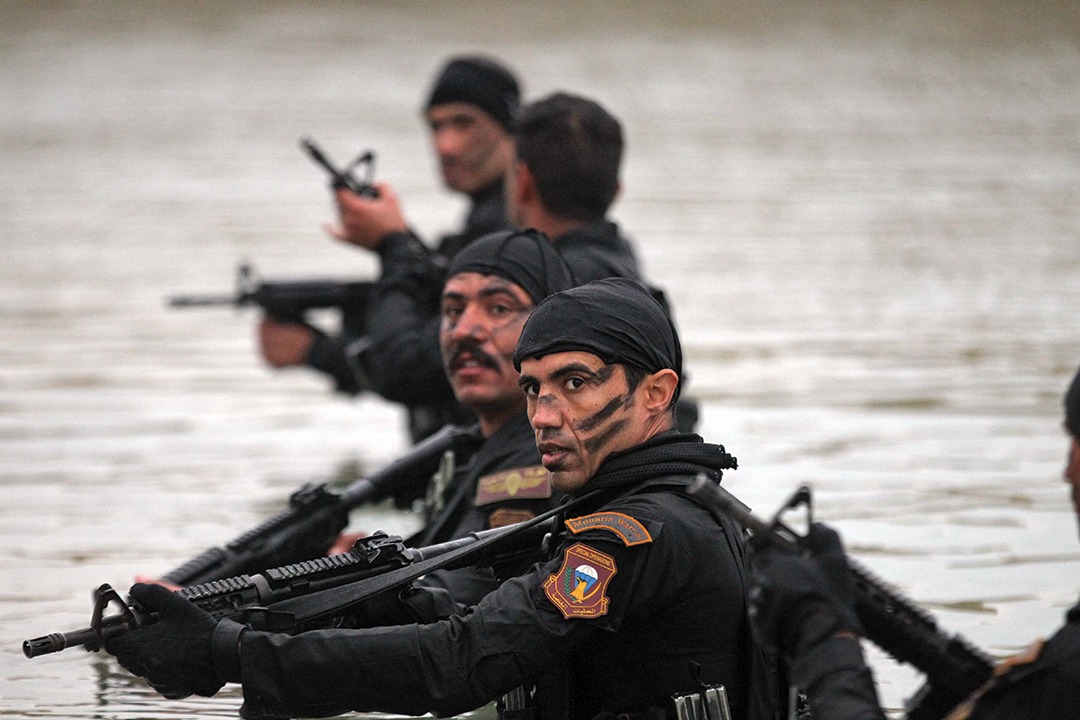 But, as quickly as the terrorist organization disappeared, it reappeared at the end of 2012 with the launching of a terrorist attack in the Haditha district. The attack was not impactful but served as a recruitment and propaganda tool to reassure members that the organization was still active in the field. 
In 2013, at the height of violence in Syria, with an influx of financial donations and mobilization by suspicious elements and extremist clerics, the Syrian arena became a haven for extremist organizations, and desert fugitives arrived in areas controlled by extremist groups. The terrorist Ibrahim Awad, more commonly known as the emir of the Islamic State of Iraq, Abu Bakr al-Baghdadi, announced the annexation of Syria into his so-called state. Its new name became the Islamic State of Iraq and Al-Sham (Daesh). Bloodshed in the form of beheadings, bombings and assassinations with silencer-equipped handguns became familiar in several cities, and wanted fugitives such as Abu Naba became leaders of Daesh. 
After a meeting of Daesh leaders in Fallujah in 2013 to finalize its occupation operations and shape the future policy of Daesh, Abu Naba was appointed qadi, or judge, of the "Wilayat Baghdad," and became a confidant of Abu Jaafar, the "wali of Baghdad." 
After the occupation of some provinces by Daesh, he was appointed to manage the administrative affairs of Daesh, hiding out in unoccupied Erbil governorate. During his stay in Erbil, he received edited letters from "wali of Iraq" Haji Tayseer containing questions, requests for sharia verdicts, and advisory matters concerning the organization's policy. 
 Abu Naba was responsible for transferring families of terrorist leaders from Syria and Turkey to Nineveh governorate during the Daesh occupation. These included the family of Dr. Ismail al-Ithawi (Abu Zeid al-Iraqi), a member of the organization's delegated committee.
In 2016, Abu Naba was summoned by the delegated committee, specifically by Abu Zeid al-Iraqi (later captured by the National Intelligence Service) and tasked with establishing investment opportunities in areas under the organization's control to self-finance Daesh. Abu Naba went from Erbil to Turkey, where he was met by Taleb Al-Zub'i, who was part of a smugglers network moving people and mail to Daesh. From Turkey, Abu Naba was taken to the Syrian governorate of Raqqa, where he established commercial fronts such as real estate investments, corporate enterprises and other businesses managed by locals to disguise the organization's involvement but whose revenues were channeled to Daesh. 
In early 2020, Abu Naba was summoned from Raqqa to Turkey by Abu Bakr and Abu Muhammed, who were connected to the delegated committee and directly linked to the so-called caliph. He was appointed to administer and coordinate the business of "Wilayat Iraq" and ordered to return to Baghdad, where he was to establish security, military and media detachments in an attempt to reinvigorate Daesh in the capital after Iraqi security forces cracked down on it. It never occurred to Abu Naba that CTS intelligence was monitoring his movements and that he would be caught in the net of justice. 
After Abu Naba entered Iraq, the Directorate of Intelligence of the Counter-Terrorism Service formed a targeting team to monitor his movements and contacts inside Iraq and to obtain arrest warrants for him. 
After months of monitoring and surveillance by the intelligence division of the reconnaissance unit, the sting operation to take down the terror cell run by Abu Naba was launched in October 2020. Abu Naba was supposed to be in Baghdad to meet the wali and commander in chief of the so-called Wilayat Baghdad. The CTS unit had successfully infiltrated and tracked this terrorist group from the time it held meetings in Turkey until Abu Naba's arrival in Iraq in Erbil governorate.
The monitoring and surveillance teams of the First Reconnaissance Unit were alerted and for two days the teams followed Abu Naba, from his departure from Erbil governorate until his entry into Baghdad. During that time, Abu Naba moved among various Baghdad neighborhoods. On the third day, Abu Naba completed his mission and planned to head back to Erbil.  Members of the reconnaissance team, one posing as a taxi driver, lured Abu Naba as he made his way onto Baghdad's Airport Road. CTS intelligence officers sprung their trap.
And just like that, after many years of pursuit, one of Iraq's most dangerous terrorists was brought to justice for his crimes against the innocent.