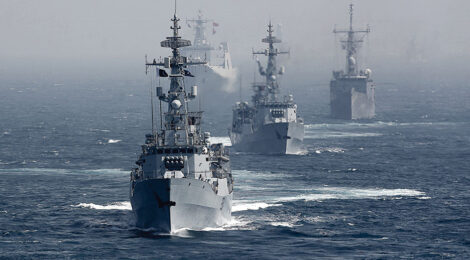 The Aman-19 naval exercise drew 46 national delegations to Karachi
Launched with the motto "Together for Peace," Pakistan's Aman-19 naval exercise drew forces from dozens of countries around the world with a promise to combat common threats on the seas. The multinational exercise — the sixth in a series since 2007 — re-emphasized Pakistan's commitment to naval security in a region suffering the effects of smuggling, piracy and terrorism.
The country has been an eager participant in international maritime task forces patrolling the Indian Ocean and Arabian Sea, commanding such missions on more than a dozen occasions. It recently formed Regional Maritime Security Patrols: joint naval operations focused on the Indian Ocean, Gulf of Oman, Gulf of Aden and South Arabian Sea.
Some of the 46 nations represented at the exercise dispatched ships to the waters off Karachi. In addition to Pakistan's floating contingent, countries such as Oman, Great Britain and Malaysia sent naval vessels to Aman-19.
Military representatives from countries such as Bahrain, Egypt, Lebanon, Qatar, Saudi Arabia, Tajikistan, Turkmenistan and the United Arab Emirates also attended. Each nation was honored in a flag-raising ceremony.
"We can work together, keeping our differences aside, to defeat out common adversaries. These adversaries cause threats like piracy, terrorism, drug trafficking, gun running and human smuggling," Vice Adm. Amjad Khan Niazi, commander of the Pakistan Fleet, told Aman-19 participants at the start of the exercise.
Aman-19 consisted of two phases: a harbor phase and a sea phase. A highlight of the harbor phase was an international maritime conference that lasted several days. Pakistani Chief of the Naval Staff Adm. Zafar Mahmood Abbasi visited ships of the foreign navies participating in the exercise.
Addressing the heads of the multinational delegations, Sindh Chief Minister Syed Murad Ali Shah urged those navies to join forces for the global good.
"Pakistan defines the northern shores of the Arabian Sea and is located at the crossroads between Arabian, Persian, Central Asian, Chinese and Indian civilizations," he said. "Pakistan thus has a vital role to play in this region."
A highlight of the sea phase came when, before onlookers who included President Arif Alvi, Pakistan Navy Ship Moawin, commissioned just months earlier in October 2018, held a refueling demonstration with the warships Aslat and Saif.
After the rendezvous with Moawin, Aslat and Saif engaged in a rocket depth-charge firing demonstration. Troops with the Pakistan Navy's special service group rappelled from helicopters and leapt from speedboats to assault terrorists on a beach.
Operations climaxed with an international fleet review joined by Royal Navy of Oman warship Al Rahmani.
Pakistan has been a stalwart participant in the Combined Maritime Forces based in Bahrain. It has commanded Combined Task Force 150, with an area of operation that includes the world's busiest shipping lanes in the Red Sea, Gulf of Aden, Indian Ocean and Gulf of Oman. It has also led Combined Task Force 151, formed in 2009 to combat Somali-based piracy.
Its recent embrace of Regional Maritime Security Patrols appears designed to lessen its reliance on the wider global coalition to provide regional security.
As noted in an article by the Pakistani military magazine Hilal, the aim is to create a "threat-free environment in Pakistan's immediate and distant maritime neighborhood, so that economic, scientific and social activities at sea continue unhindered."
Pakistan has expressed a desire to expand the mission's footprint with the addition of ships from other regional partners, but so far has committed to providing two warships to continuously patrol wide swaths of the Indian Ocean.
But Pakistan's naval commanders emphasized that potential problems at sea — particularly in critical sea lanes like those of the Middle East and South Asia — are beyond the reach of countries acting alone.
"Threats … in the maritime domain convince us that a single nation, irrespective of its military capability or political will, is not able to negotiate those," Vice Adm. Niazi said.