NAVY at the Ready
An interview with Commander of the Royal Jordanian Navy Col. Hisham Khalil Al-Jarrah
UNIPATH STAFF
Unipath: Describe the duties of the Royal Jordanian Navy
Col. Al-Jarrah: The Royal Navy is one of the Jordan Armed Forces' three branches (land, air and sea) and complements the national defense system by playing a dual role — the military role of the Navy and the organizational and security role of the Coast Guard. It is considered the main maritime force and is primarily responsible for Jordanian maritime security, a mission it conducts through a number of duties. These include patrols to protect and guard Jordanian maritime borders to prevent infiltration and smuggling, naval inspections conducted by qualified and trained inspection teams with state-of-the-art equipment, detection and prevention of any violation in regional waters, application of approved laws and monitoring civilian and military facilities and critical targets in Aqaba through the Naval Operations Center, in addition to search and rescue operations in regional waters and protection against marine pollution.
Unipath: What maritime security challenges face the Jordanian Navy in the Red Sea?
Col. Al-Jarrah: The challenges facing the Jordanian Navy in the Red Sea within the framework of maintaining Jordanian maritime security take various guises. This includes those of an unconventional nature, such as terrorism, which may take multiple forms such as vessel and port attacks as well as maritime piracy, which threatens the safety of shipping, and most recently the coronavirus crisis, which has cast a shadow over maritime transport operations. Some of these challenges have a conventional security aspect, such as the infiltration and crossing of maritime borders and all forms of trafficking, while some challenges are special, such as maritime incidents and disasters, vessel and port fires, maritime pollution and strike action. In light of such challenges, all agencies dealing with maritime security must increase their coordination, efficiency and readiness.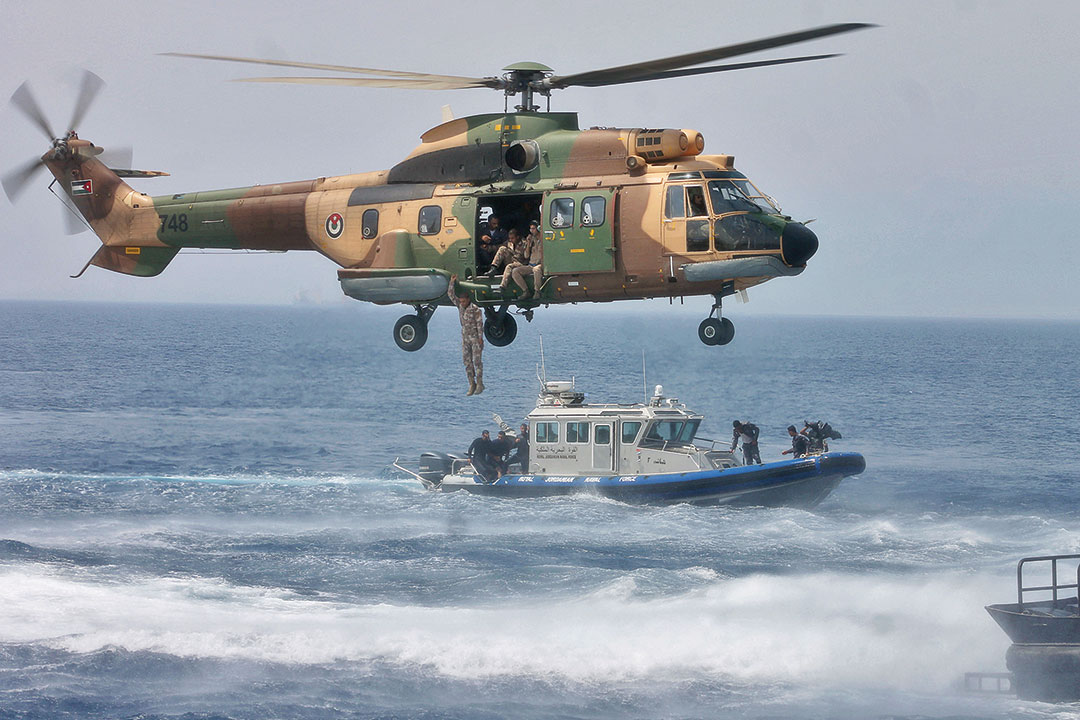 Unipath: How can partner nations help develop the Jordanian Navy? What types of vessels and equipment are needed?
Col. Al-Jarrah: International and regional partnerships undoubtedly have had a major role in improving Jordanian naval capabilities within the field of training and in gaining expertise through joint courses and exercises. They also meet the needs of the Jordanian Navy in terms of the presence of vessels capable of operating outside regional waters with the necessary high-specification equipment, which has the potential to improve rapid reaction capability and reduce emergency response time. It goes without saying that it has developed the capabilities of the 77th Marine Battalion, enabling it to carry out its duties. It is worth pointing out the close collaboration between the Jordanian Navy, the United States Navy and the United States Marine Corps in this area.
Unipath: Is there security cooperation with nations bordering the Gulf of Aqaba?
Col. Al-Jarrah: Certainly, the duty of maintaining Jordanian maritime security requires a high degree of cooperation and coordination with nations bordering the Gulf of Aqaba. It is Jordan's only maritime port for international shipping lines and, of course, there is ongoing security cooperation with these nations through liaison officers and periodic security meetings. This coordination and cooperation translate into naval exercises conducted in these nations.
Unipath: How important are joint regional and international maritime exercises?
Col. Al-Jarrah: Conducting bilateral or multilateral naval exercises plays an important role in achieving the required level of cooperation and coordination between naval forces. This has a positive impact on the effectiveness and competency of the forces involved in these exercises. In addition, it contributes to all parties gaining expertise and exchanging skills so that concepts and procedures used by naval forces, both regionally and globally, are unified to a high degree.
Unipath: As part of Combined Maritime Forces, how has Jordan benefited from the experiences of some of the other 34 countries in the coalition?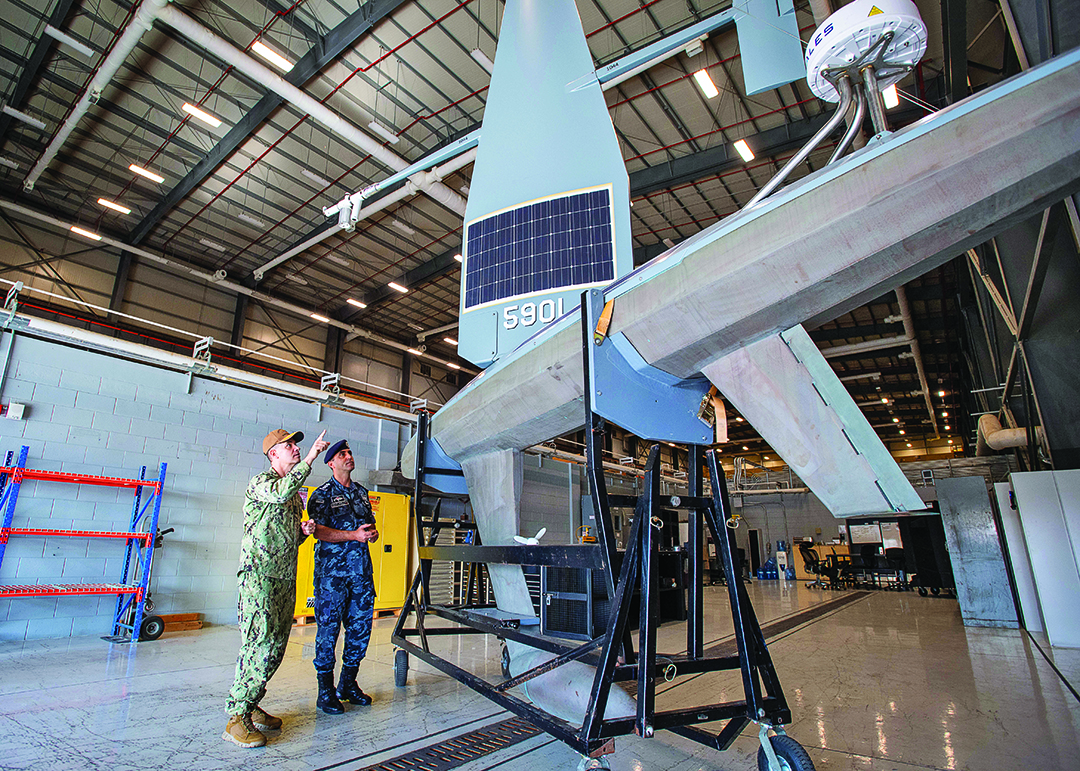 Col. Al-Jarrah: Since the establishment of the Combined Maritime Forces in 2009, the Royal Jordanian Navy has been an active member. This involvement has highlighted the effective role and exemplary image of the Jordanian Navy, and it has undoubtedly contributed to the development of Jordanian naval ranks by exchanging expertise with participants from coalition countries, familiarizing themselves with the ways international naval forces work, and learning about the experiences of various countries in managing maritime operations. This, in turn, has had a positive impact on the standards of officers, noncommissioned officers and personnel involved, which therefore provides the Jordanian Navy with a higher standard of training, expertise and skills, as well as building friendships and achieving social and cultural awareness objectives with participants from other countries.
Unipath: What exercises does the Royal Jordanian Navy participate in, and why is this participation important to you?
Col. Al-Jarrah: The Jordanian Navy engages in various exercises at three levels: local and national, regional, and international. At the local level, the Navy organizes internal exercises within the scope of Naval Command to increase cohesion and cooperation among units. Some of the exercises and various scenarios are carried out at the national level with the involvement of military and security services and some civilian bodies with maritime jurisdiction. The aim is to achieve the desired level of cooperation and coordination among these groups and increase maritime disaster response capabilities. At the regional level, the Jordanian Navy regularly takes part in naval exercises alongside nations bordering the Gulf of Aqaba. Exercises have taken place in the Hashemite Kingdom of Jordan, such as Eager Lion and Infinite Defender, in Egypt with the Bright Star exercise, and in Saudi Arabia with the Red Wave and Secure Coast exercises. At the international level, the Jordanian Navy has been a constant presence at numerous international naval exercises as an active participant or as an observer. There is no doubt that a continuous permanent presence such as this allows Jordanian naval personnel to familiarize themselves with the latest naval operational management techniques and to exchange expertise and gain experience with those taking part.
Unipath: How has the U.S. Marine Corps helped develop your forces?
Col. Al-Jarrah: The Jordanian Navy, through the 77th Marine Battalion, enjoys a special relationship with the U.S Marines. This relationship was manifested in the joint harmonization program implemented over several years and has contributed to raising the readiness and training level among the battalion for defensive and offensive operations, internal security operations, as well as training navy SWAT and vessel inspection teams. It should be pointed out that through this partnership with the U.S Marines, the 77th Marine Battalion has been supplied with various equipment and sophisticated devices used in the field of naval infantry (Marines). The importance of this relationship is also highlighted through ongoing joint tasks and multilevel coordination. As the Jordanian Navy Command, we seek to preserve and develop this relationship to serve the common interests of both parties.
Unipath: How does the Jordanian Navy interact with the rest of the Armed Forces and security institutions to secure Jordanian territorial waters?  
Col. Al-Jarrah: Jordanian maritime security is a joint responsibility that falls on various military and security agencies, government bodies and authorities concerned with maritime activities. Therefore, the Jordanian Navy recognizes the importance of cooperation and coordination with different agencies to achieve the desired aim of protecting Jordanian territorial waters. This cooperation and coordination is demonstrated by the exchange of information with the Maritime Operations Center, which is equipped with the latest surveillance systems and sophisticated communications networks, and continuous updating of marine disaster response and security plans for Aqaba. There is also ongoing communication with security officers and specialist authorities, and joint maritime exercises are conducted at the local and national level covering all possible scenarios, which enhances interagency cohesion and contributes to them reaching a high standard of coordination. 
Unipath: Please discuss the preparation and training for Jordanian naval and Marine personnel.
Col. Al-Jarrah: Members of the Jordanian Navy, including officers, noncommissioned officers and personnel, are subject to an intensive competency and training program in line with a Soldier's basic military requirements. This includes basic training, weapons training, marksmanship, swimming, and security and awareness training. This is followed by specialized naval and technical training and training specific to Marines depending on the various trades. In addition, these members take part in training courses held at Jordanian naval and security agency institutes, as well as at civilian institutes specializing in marine science.
Unipath: Do officers and noncommissioned officers undergo training outside the kingdom?
Col. Al-Jarrah: Jordanian naval officers and non-commissioned officers take part in a number of external courses held in maritime training institutes of allied and friendly nations. These include foundation and advanced courses for naval trades (Navy, marine engineer, frogman, Marine infantry), in addition to different language courses, and training courses for staff officers and senior leadership to achieve the desired training outcome, which is to increase the effectiveness and competency of these ranks and equip them with the skills and expertise by familiarizing themselves with the experience of others.
Unipath: Does the Jordanian Navy conduct missions to safeguard the marine ecosystem?
Col. Al-Jarrah: One of the most important duties of the Jordanian Navy is to protect the marine ecosystem. Jordan has formed a specialized organization to protect the marine environment, and there is constant cooperation and coordination so that all its recommendations related to the preservation of the marine ecosystem and regulation of fishing are implemented. It must be noted that in the Jordanian Navy we monitor the fishing industry and prohibit illegal fishing methods.