Navies United Against Threats
Pakistan hosts the seventh edition of the AMAN exercise with multinational drills in the Arabian Sea
UNIPATH STAFF  |  Photos by The Associated Press
With ambitions to expand its fleet to combat common threats on the seas, Pakistan hosted the AMAN-21 naval exercise along with dozens of maritime partners in the Arabian Sea. 
In its seventh iteration since 2007, AMAN included displays of naval gunnery, maritime search and rescue missions, beach raids, aerial reconnaissance, and an international fleet review in the waters off Karachi in February 2021. 
"The AMAN-21 drills, under the slogan of Together for Peace, demonstrate Pakistan's commitment to peace, reinforce regional maritime security, and enhance interoperability between regional and extraregional navies," Chief of Pakistan Naval Staff Adm. Amjad Khan Niazi said during the weeklong event.
That interoperability is meant to secure regional waters against piracy, terrorism, smuggling and human trafficking. Naval leaders noted that 80% of the world's oil passes through the Arabian Sea and Indian Ocean close to Pakistani shores.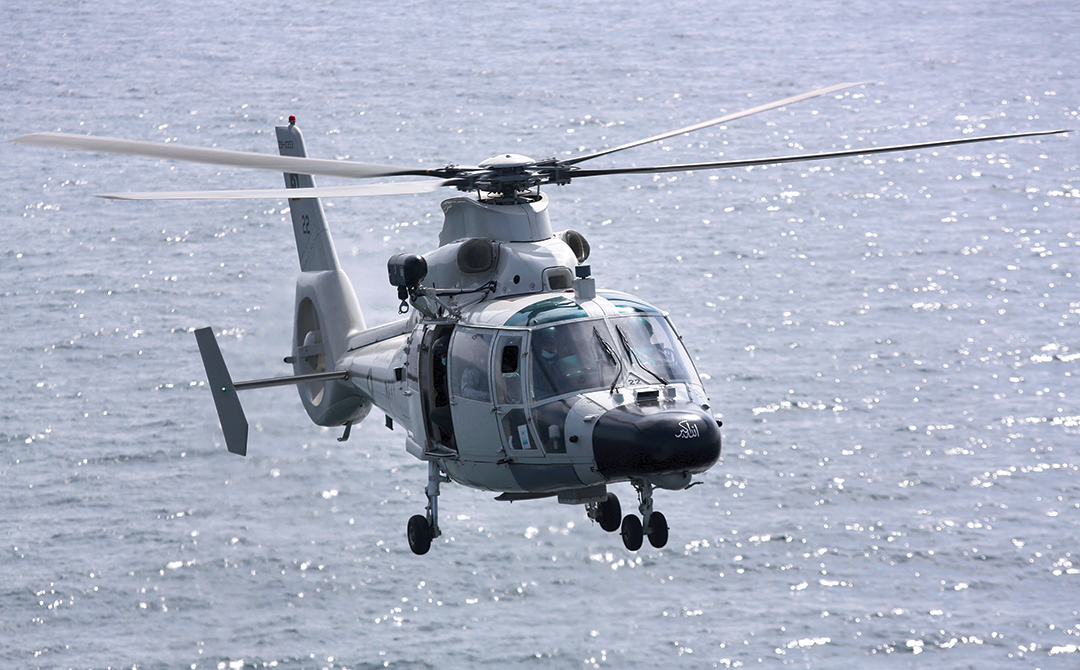 The AMAN drills complement the activities of the Bahrain-based multinational Combined Maritime Forces (CMF), task forces that Pakistan has commanded more than a dozen times to protect the Arabian Sea, the Gulf of Oman and other maritime corridors.  
"Since 2007, the exercise has provided participants a unique training opportunity to develop and practice tactics which help them foster mutual relationships that are conducive to safe and secure sea lanes across the world's oceans," said Naufil Shahrukh, a security analyst at the Institute of Policy Studies in Islamabad.  
AMAN-21 drew representatives of 45 countries to Karachi for activities divided into "harbor" and "sea" phases. On land, Adm. Niazi met individually with valuable naval partners, including Rear Adm. Curt Renshaw of U.S. Naval Forces Central Command (NAVCENT) and Rear Adm. Ahmed bin Mohammad, deputy commander of the Royal Saudi Naval Forces Eastern Fleet. 
The Pakistani naval commander also hosted Col. Hisham Khaleel Mubarak Al Jarrah, commander of Royal Jordanian Naval Force, and Brig. Gen. Wael Abdul Mohsin Shayyin, director of the Naval Operations Center Iraq.
A multiday conference hosted by Pakistan's National Institute of Maritime Affairs attracted dignitaries such as then NAVCENT Commander Adm. Samuel Paparo. Appearing virtually at the event, he outlined multinational efforts to secure the western Indian Ocean from commonly recognized threats.
In the sea phase, Pakistan Navy SEALS roped onto a beach from helicopters with the assistance of assault boats and paratroopers in a counterterrorism drill near the country's main Marines base. Farther off the coast, ships' guns and depth charges focused on floating and underwater targets. Helicopters and fixed-wing aircraft conducted reconnaissance and search and rescue drills.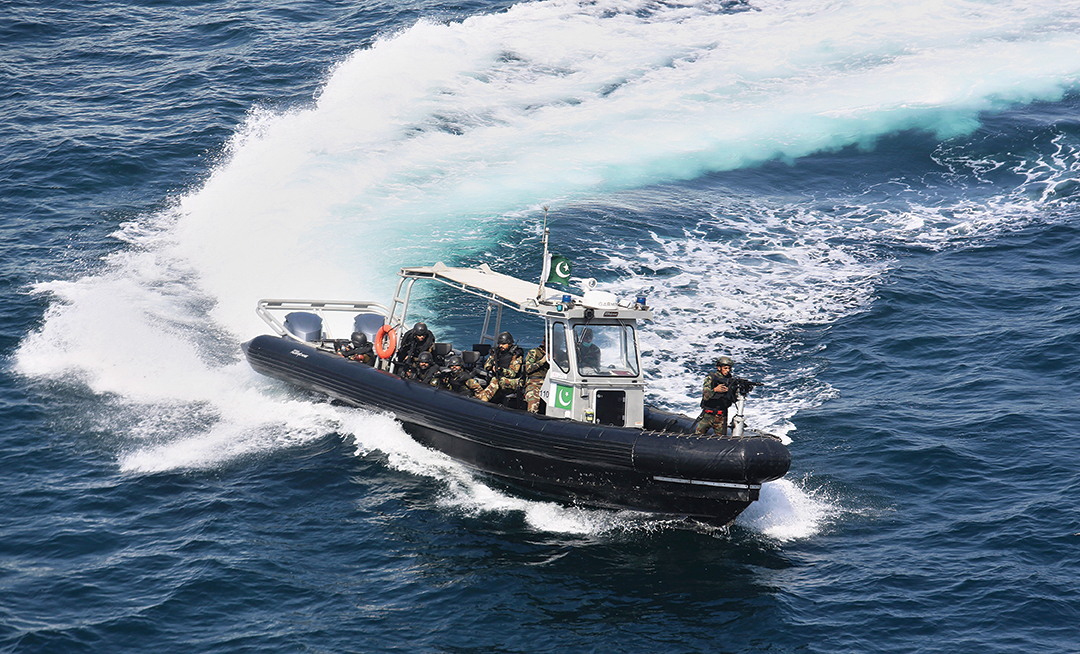 Collaborative and collective maritime security was the "underlying spirit" of the naval exercise, Pakistan Fleet Commander Rear Adm. Naveed Ashraf said in a speech at the start of AMAN-21. 
He praised his country's participation in the Combined Maritime Forces since 2004, participation that is critical among countries whose prosperity and progress are "strongly bonded" with the oceans. The admiral also lauded Pakistan for its steadfastness in "fighting the menace of terrorism."
Pakistan has commanded CMF's Combined Task Force 150 more than a dozen times and contributes the most Sailors and ships from among nations of the Middle East and South Asia. The task force's area of operation comprises some of the world's busiest shipping lanes in the Red Sea, Gulf of Aden, Indian Ocean and Gulf of Oman. 
"We are willing to act and operate together to defeat the threats that concern us all, the threats that cannot be combated by a single country alone," Adm. Ashraf said. 
Pakistan reiterated its desire to play an even wider role in regional maritime security. In 2018 it established Regional Maritime Security Patrols to protect its security interests and announced expansion and modernization of its naval fleet.   
---
Egypt boosts naval force
UNIPATH STAFF
The Egyptian Navy commissioned a new Italian-built frigate, part of a plan to enhance combat readiness to defend the country's interests in the Red Sea, Mediterranean Sea and Suez Canal.
The ENS Al-Galala arrived at Alexandria Naval Base in December 2020, one of two frigates Egypt has contracted to buy from the Italian company Fincantieri. Al-Galala has a maximum cruising range of 6,000 nautical miles and comes equipped with modern armaments to conduct maritime security operations in the Red Sea and Mediterranean. 
As Egypt took possession of the frigate, Egyptian Navy Commander Lt. Gen. Ahmed Khaled delivered remarks in which he stressed the country's desire to modernize its fleet with ships from countries such as Italy. 
The Egyptian Navy is committed to manufacturing its own modern vessels. Vessels it wants to co-produce with partners include the French Gowind-class corvette, German Meko A-200 class frigate, and U.S. 28m patrol boat.
This commitment says a great deal about the role Egypt expects its Navy to play in the coming years and decades. Ship production, and subsequent repairs and maintenance, require skilled personnel and infrastructure such as shipyards and docks. 
Established in the 1960s and headquartered in Alexandria, the Egyptian Navy — which operates the largest fleet among the nations of the Middle East and Africa — is tasked with protecting the country's 2,000-kilometer coastline. The Egyptian Navy has more than 32,000 Sailors.