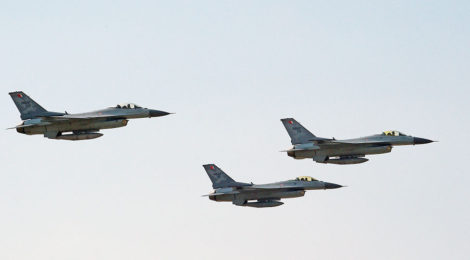 UNIPATH STAFF
Air forces from across the Middle East trained together in Bahrain in November 2018 to reaffirm their defensive partnership.
Despite heavy rain, multinational aircraft split the sky over the Arabian Gulf during the Basic Liaison 2018 exercise hosted by the Bahrain Defense Force.
Participating directly were air forces from Bahrain, Saudi Arabia and the United Arab Emirates. Egypt, Jordan, Kuwait, Oman and Pakistan participated as observers.
The exercise began with advanced tactical joint air defense operations and command and control missions in airspace allotted to Basic Liaison. Commanders praised the high efficiency displayed by flight crews. 
Basic Liaison 2018 — preparations for which lasted about a year — was one of the most important and best attended aerial exercises in the region. It was a continuation of a series of exercises held since 1988. 
"Basic Liaison 2018 exercise is one of the most vital exercises carried out by the Royal Bahraini Air Force, and it receives great attention from His Majesty King Hamad bin Isa Al Khalifa," the Bahraini commander at the exercise said.
Some of the military observers promised greater involvement at future exercises, including an officer from Jordan.
"We in the Royal Jordanian Air Force are keen to participate in the Basic Liaison exercise because of its usefulness in developing the joint work between our air forces," he said. "The exercise is one of the most outstanding exercises on how an air force may conduct air operations missions."
Its is one of several exercises engaging forces from the Arabian Gulf.  Source: Al Ayam