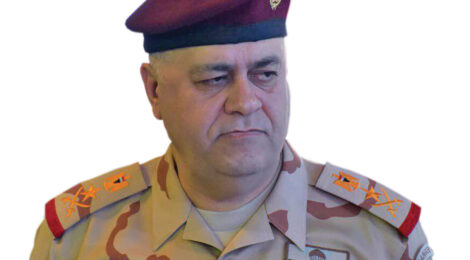 Iraq's defense academies have upgraded training and curriculum to reflect unique security needs
The foundation for building a disciplined and professional force requires preparing and training professional officers who believe in military doctrine, uphold military honor and abide by rules of engagement. It was truly heroic how the Iraqi Ministry of Defense Training Directorate rebuilt the Iraqi Army within a short time under fragile security conditions as Daesh controlled parts of the country. Unipath interviewed Deputy Army Chief of Staff for Training Lt. Gen. Salahdeen Mustafa Kamal about rebuilding units and preparing professional officers for the demands of modern militaries.
Unipath: Which Iraqi institutions oversee training of Iraqi officers, and how can they replicate the military curriculum of advanced nations?
Lt. Gen. Salahdeen: We have the Defense University for Military Studies, which comes under the remit of the Training Directorate and specializes in preparing and training officers and commanders. It includes primary, secondary and third and fourth level academies, as well as the Command and Staff College, War College, National Defense College, Defense Language Institute and the Center for Strategic Studies. The university has links with international military colleges. Through valuable research and studies conducted by the Center for Strategic Studies, the university is keeping abreast of developments around the globe in terms of military training and training curricula. In addition, we continuously work with our partners in the international coalition forces, who contribute to training and developing capabilities, both in the training of military units and departments within the National Defense University. The Language Institute plays a key role in the process of preparing officers to speak foreign languages and provides accelerated English courses. It is a vital component for military personnel to speak multiple languages. Foreign languages enable officers to participate in courses abroad to acquire advanced training and enable an understanding of weapons systems.
Unipath: Where do you send officers abroad?
Lt. Gen. Salahdeen: We have students at Sandhurst Academy in the United Kingdom and military colleges in Germany, and we have sent delegations to American military academies. We also cooperate with the Hashemite Kingdom of Jordan and have benefited from the presence of advanced training centers there for our elite forces. In addition, there are specialized training programs in the United States, such as training the Iraqi Air Force on the F-16 Advanced Fighter. We also had a maritime contract with Italy to train the Iraqi Navy in the use of modern naval equipment.
Unipath: How does the directorate shape training to reflect Iraq's unique security situation?
Lt. Gen. Salahdeen: Just as each country has its own specific conditions, Iraq is distinct from other countries in terms of its demographics and geography. This also applies to threats to our national security. Therefore we must have a curriculum that corresponds to the threats and challenges we face. We have a center that specializes in strategic studies, which identifies current and future threats we face in the country and develops solutions to potential scenarios. When developing the curriculum for Iraqi officer training, we consider Iraq's specific circumstances such as terrain, climate, geography, and local and regional threats we have faced in the past, and those we expect to face in the future.
Unipath: Iraq is a multiethnic country. How do military colleges prevent sectarian and ethnic discrimination and encourage patriotism?
Lt. Gen. Salahdeen: We view each student from a national perspective and consider everyone equal under the rules of the college, regardless of whether his place of birth was in northern, central or southern Iraq. We assess the student's potential, competence and performance. To us, it has nothing to do with race, religion or tribal affiliation. There are lectures that focus on reinforcing nationalism and the principle of patriotism. The Army is an independent institution that embraces everybody, rises above discrimination and noninclusiveness, and is based on patriotism. We focus on creating a professional officer, as an example to be emulated by the Soldiers of the units to which he is assigned.
Unipath: How can the lessons learned from Iraqi elite force's victories on the battlefield against terrorists be converted into an academic subject?
Lt. Gen. Salahdeen: We have the Center for Strategic Studies and a team that specializes in analyzing lessons from conflicts against terrorist groups. Daesh is an unconventional enemy; therefore we were among the first armies to engage in widespread asymmetric warfare against armed groups with huge potential. The tactics we followed in battle and the solutions we came up with when the enemy's problems, tactics and plans emerged are applied to the training curriculum for Soldiers, noncommissioned officers and officers. Our Armed Forces in general and our Special Operations Forces in particular were part of unique conflicts that are applicable to armies around the world. To that end, we strive to hold or attend conferences to exchange expertise with friendly nations on tunnel warfare, liberating large cities and dealing with vehicle-borne improvised explosives devices. Iraqi Special Operations Forces went to Jordan for this purpose in late 2018.
Unipath: The Training Directorate played a key role in the media war against Daesh since you employed the Military Press Directorate to produce millions of leaflets. Describe this task.
Lt. Gen. Salahdeen: The war against Daesh forced us to conduct operations and missions outside of our remit. Iraqis have always devised solutions to challenges facing them, and the Military Press Directorate is a good example of that. Naturally, the directorate's role is to print the curriculum, training manuals and leaflets for the Ministry of Defense, which are limited routine operations during peacetime. But the necessities of war forced us to use the military press to print millions of leaflets to communicate with people in areas still under Daesh control. We had no other mode of communication, because Daesh banned television and the use of cellphones and blocked internet access. Therefore, the best mode of communication was leaflets dispatched from aircraft as was the practice in past wars. Despite the printing press equipment provided and the lack of employees, the staff worked around the clock to print a vast number of leaflets on a deadline.
Unipath: What benefits has the Training Directorate gained from international partners?
Lt. Gen. Salahdeen: I am talking to you from Camp Taji, one of the oldest Iraqi camps with a training center. I came to visit the 23rd Brigade during training conducted by coalition and Iraqi forces. I visited the firing and weapon zeroing range. This is a reward of cooperation with friendly forces; however, it is not only a matter of training but also of equipment. This training has several forms: individual training, tactical training, combined training, specialist training, with the latter specializing in areas such as commando, artillery and specialist weapons that include medium and heavy machine guns, sniper rifles and countering chemical weapons. We have benefited a lot from friendly forces, but it is mutually beneficial. They benefit from our experience on the ground and our knowledge of the people and their languages and cultures. In turn, we benefit from the advanced technology and tactics they use.
Unipath: We have heard military chiefs of staff focus on the topic of "Return to Contexts." What does that mean?
Lt. Gen. Salahdeen: The statement from Gen. Othman Al Ghanimi, the chief of staff, is accurate and important. As we all know, the Iraqi Army is a long-standing Army, about 98 years old, with professional contexts and constants. These constants have shaped the general framework for conduct and professionalism. However, due to the complicated circumstances experienced by Iraq — the instability and the insecurity, the shift from compulsory to voluntary military service after 2003, the failure to respect the context of military discipline and the presence of patronage in appointments and recruitment — undisciplined individuals were able to join military detachments responsible for checkpoint duties at hot spots. This led to a loss of trust between the Army and the people. What happened in Mosul in 2014 is proof. Therefore, following the setback in Mosul, the leadership decided to create a professional, disciplined Army capable of averting threats and establishing security. Despite the slow pace of training, within a short time we rebuilt units properly, and left no area, however minor, out of the military context. We focused on selecting people who fit the profile of the perfect Soldier. The results were positive, as our forces fought with honor against Daesh, and today command the respect of the people and leadership. Our motto became "Return to Contexts" — in other words, a return to discipline, respect, commitment and professionalism.