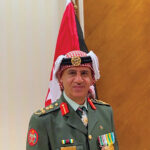 At the invitation of U.S. Central Command, I am pleased to introduce this edition of Unipath on the theme of partnerships and peacekeeping, two issues to which the Hashemite Kingdom of Jordan pays great attention.
When it comes to regional and international partnerships to defeat terrorism, multinational military exercises and international peacekeeping operations in places such as Afghanistan, the Jordan Armed Forces has been a global leader. We have worked with our friends the Americans for a long time, linked by deeply rooted political and military relationships that benefit both partners.
The United States possesses advanced digital technologies as well as brotherly and friendly forces that have great experience fighting Daesh and conducting urban warfare. In exchange, we share with our partners a deep knowledge of moderate Islamic jurisprudence, which is an effective weapon to defeat extremist ideology. 
As announced by His Majesty King Abdullah II bin Al Hussein, our commander in chief, Jordan represents true Islamic values and traditions — values and traditions that have been twisted by extremists to endorse terrorism.
Through training events such as Jordan's annual Eager Lion exercise, forces from both countries drill together in conventional and nontraditional warfare to address security challenges in the Middle East. 
When it comes to the borderless crime of terrorism, Jordan realizes this scourge can't be eliminated without international cooperation. Violent extremism cannot be viewed strictly as a local problem in countries such as Jordan, Iraq and Syria.
Terrorist gangs depend heavily on spreading lies with tainted interpretations of the Quran to lure youths to conflict zones. The war against terror, therefore, depends greatly on the exposure of these lies and immunizing youths against extremist ideology. Such a mission cannot be accomplished by one country acting alone. It requires joint efforts and a unified message.
Though terrorism has been defeated militarily, and the terrorists expelled from most of the cities they once occupied, we still face a great challenge because their ideology has many sympathizers and promoters. Terrorists have left behind widows and children who have been brainwashed and have witnessed horrific crimes committed in their neighborhoods. If they are not rehabilitated and reintegrated by governmental institutions, they could pose a threat to peace and security.
The financiers of the terrorist organizations must also be monitored and all terrorism-related accounts and companies that fund terrorist activities should be frozen. These fronts require genuine international partnership and exchange of information and cooperation at all levels. 
The Jordan Armed Forces and its partners must speak with a single voice to encourage tolerance and peaceful coexistence and reject violence and exclusion. To this end, the Jordan Armed Forces Directorate of Moral Guidance has established a specialized strategic communication unit that monitors and analyzes terrorist rhetoric and transmits counterpropaganda to Jordanians, fellow Arabs and the international community to highlight the dignified and humane principles of Islam.
The Jordanian military has battled terrorism through cooperation and coordination with other ministries, civic groups, international organizations and friendly forces with whom we exchange experiences. For example, in November 2018, Iraqi commanders arrived in Amman for a conference in which they shared best practices from their battles of liberation against Daesh terrorists who had plagued parts of northern and western Iraq. 
The Iraqis highlighted a vital prong of their strategy: Just as important as confronting terrorists militarily was winning the loyalty and sympathy of civilians who provided intelligence to help in defeating Daesh. 
I would like to extend thanks and appreciation to all our military friends and partners who have shared their tactics, expertise and technology with Jordan with the common goal of bringing peace and stability to the Middle East and the world.
Maj. Gen. (Ret.) Ouda Shudeifat
Former Director of the Media and Moral Guidance Directorate, Jordan Armed Forces