Integrating Air Defenses
Eagle Resolve 22 allows Arabian Gulf officers to operate as a multinational team to deflect missile and drone assaults
UNIPATH STAFF
The vulnerabilities of the Arabian Gulf nations, particularly their exposure to potential attacks from missiles, armed drones and improvised explosive devices, require a defense that combines the strengths of the region's militaries.
Eagle Resolve 22, a multinational exercise held by United States Central Command in March 2022, offered a first glimpse of how countries such as Bahrain, Kuwait and Saudi Arabia could operate an Integrated Air-Missile Defense (IAMD) system to repel such assaults.
Eagle Resolve simulations involved attacks by missiles and swarms of drones, detonation of improvised explosive devices, and deceptive social media propaganda designed to weaken the resolve of the targeted countries. If one nation's sensors detected an attack, the warning zipped along a shared military intelligence network, activating multinational security forces across the gulf.
The exercise training audience in Fort Carson, Colorado, consisted of 30 officers from Kuwait, 14 from Saudi Arabia and six from Bahrain. More than 100 U.S. military personnel participated, providing the military base, format and equipment to test IAMD concepts. Oman sent military observers.
"Air and missile threats have evolved rapidly; they have become more accurate and widespread. IAMD is an essential, continuous mission in peacetime, crises and conflict," said Brig. Gen. Khalid al-Shariyan, Kuwait's deputy commander of
air defense.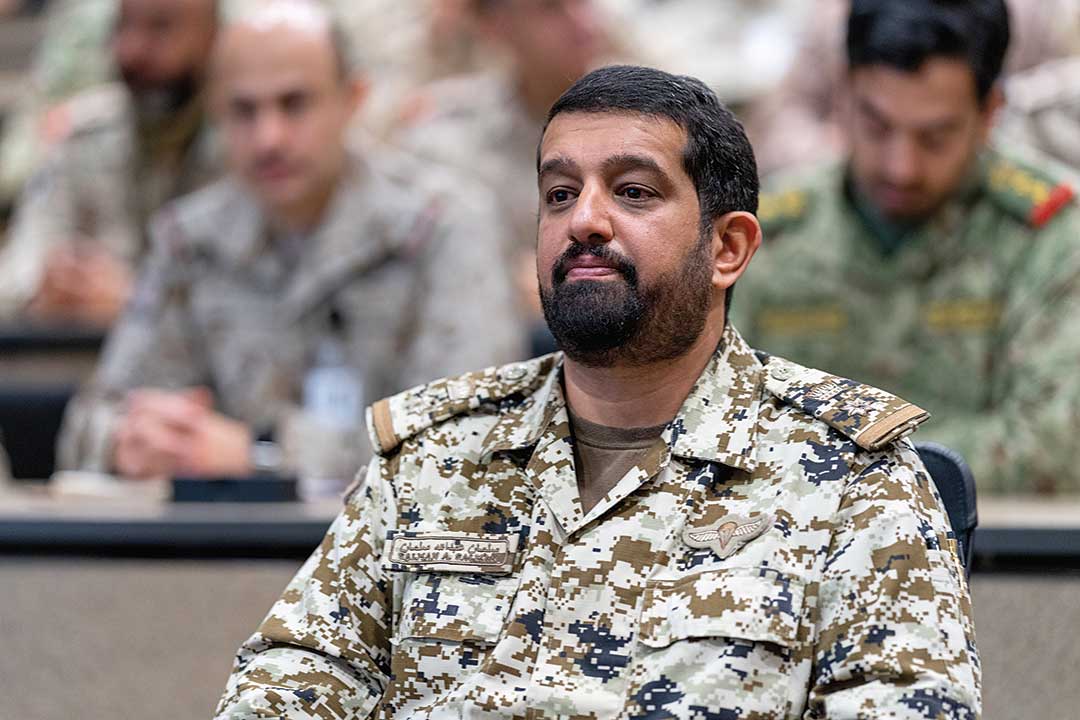 "It is essential to interconnect national and allied air defense systems comprised of sensors, command and control assets, and weapon systems. It will protect national assets with the assurance of security and offer freedom of action."
The tabletop exercise began with the creation of a Joint Operations Command (JOC) staffed by officers from Kuwait, Saudi Arabia, Bahrain and the U.S. Computer banks routed information to the officers from downrange forces, news reports and social media throughout the Arabian Gulf region.
The staff's eyes were fixed on live video feeds projected onto large screens tracking a swarm of Unmanned Aerial Systems (UAS) circling above a vital maritime route in the gulf. The drones were likely part of reconnaissance efforts to mark future targets and harass Combined Joint Task Force (CJTF) assets in the region. Multiple intelligence reports also indicated that a hostile nation intended to launch ballistic and cruise missiles against Arabian Gulf states.
Regional forces jointly went on high alert. A few hours later a regional radar system revealed the launch of multiple ballistic and cruise missiles, followed by a swarm of drones. They were targeting not one but several installations in the gulf.
Kuwaiti officers at the JOC sprang into action and passed word to the military commands responsible for defending against aerial barrages. Within the hour, the CJTF engaged the incoming threats and destroyed all but two missiles that struck an oil refinery.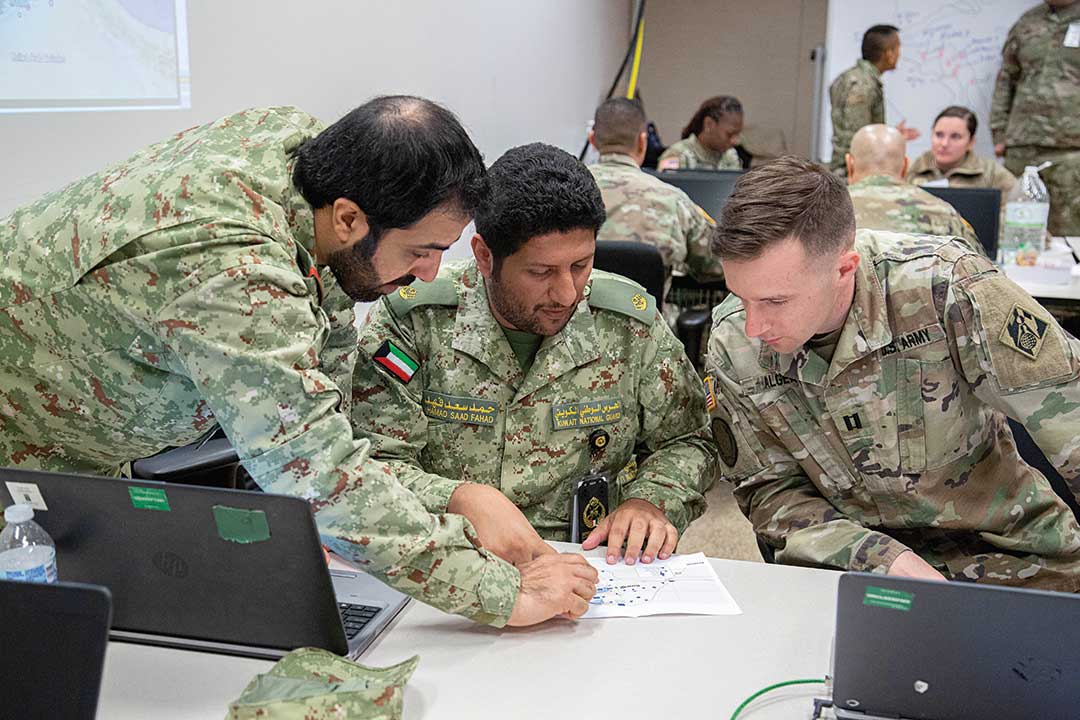 The JOC's liaison officer received a request for aid from the Ministry of Interior that toxic gas was leaking from the burning oil refinery and casualties demanded medical attention. The JOC developed a plan. It coordinated the delivery of a field hospital from a neighboring country and requested four fire engines to extinguish the refinery fire and a battalion of Kuwait National Guard to help with evacuations.
Meanwhile, the JOC worked with partner nation air defense forces to track and intercept the swarm of drones. The enemy's unmanned aerial vehicles were destroyed with no loss of life.
Aside from conventional threats, Eagle Resolve 22 created a scenario of an asymmetric attack in which state-sponsored proxies focused on soft targets to create panic. The Kuwaiti JOC intelligence cell reported that a terrorist group planned to attack an unspecified population center area using a vehicle-borne improvised explosive device (VBIED) carrying chemical agents.
Within a few hours, the JOC received an intelligence report of a VBIED detonation near a hospital with mass casualties. The JOC dispatched a countering weapons of mass destruction unit to work with the National Guard and civil defense to decontaminate the area and evacuate the injured.
Terrorists used social media to spread rumors and chaos about the VBIED attack, attempting to cast blame on another nation. The web operation liaisons in the JOC detected the disinformation campaign. They countered it with strategic messaging focused on reassuring citizens that the military was providing national security. That messaging included broadcasting status updates from military commanders.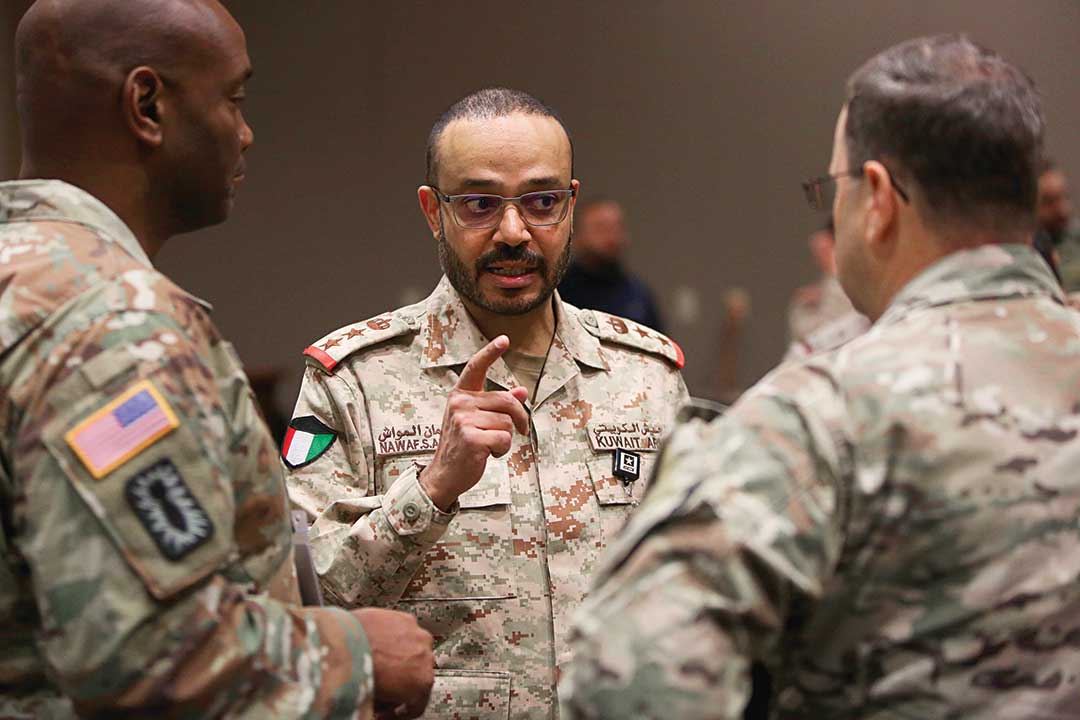 "We rehearsed the role of strategic communication, which includes the cyber, information operations and the web operation teams working closely to unify our messages in the media and social media to counter the enemy's narratives," said Col. Mohammad al-Awadhi, director of strategic communications in the Kuwaiti Army. "Our objective is to control the information environment and assure our citizen of their well-being while sowing confusion and chaos in the hearts of our adversaries."
Commanders at Eagle Resolve praised the realism of the training scenarios in light of actual incidents in the region. At a senior leader seminar at the exercise, Maj. Gen. Steven deMilliano, director of training at U.S Central Command, said the evolution of air and missile threats requires coordination and integration of air defenses.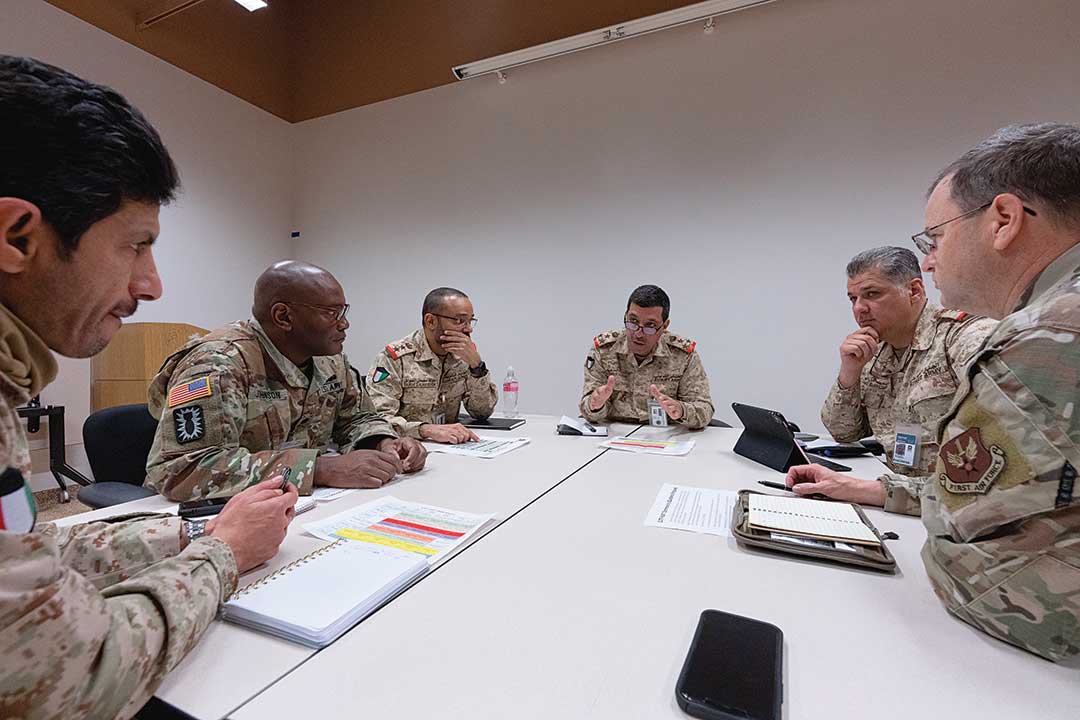 "As all of you are aware, we have been dealing with increasingly emboldened regional malign actors for years, but they have been especially bold since 2019," deMilliano said.
Eagle Resolve training also encouraged staff officers to jointly handle emergencies such as airplane hijackings, hostage negotiations and the seizure of an oil tanker. The goal was to prepare officers to make correct decisions under the pressure of cascading crises.
"This exercise was a great opportunity to hone operational skills and manage a crisis," said Col. Kayed al-Azemi, head of the Kuwait National Guard delegation to Eagle Resolve. "Work in a multinational and combined forces environment is a great concept to manage a catastrophe."  
---
Kuwaiti commander shares impressions from Eagle Resolve 22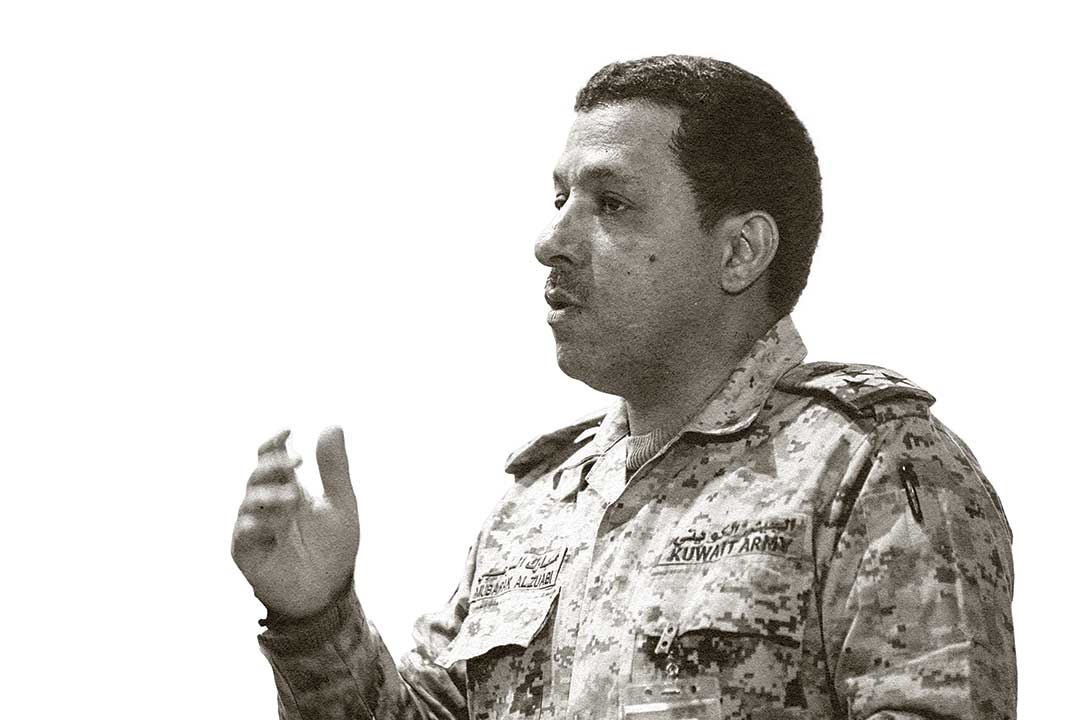 Brig. Gen. Mubarak Al-Zu'abi of Kuwait, Combined Joint Task Force Commander of Eagle Resolve 2022, discusses the Arabian Gulf-oriented exercise:
UNIPATH: How important is Eagle Resolve to Kuwait?
Brig. Gen. Mubarak Al-Zu'abi: Exercise Eagle Resolve is among the most important joint exercises, with nations keen to participate to gain operational and field experience in a joint forces environment. The State of Kuwait hosted the 13th and 14th editions of the exercise, in which the United States and Arabian Gulf states took part in field sections. Eagle Resolve 22 is the first exercise since the coronavirus pandemic began and was held for the first time in the United States. Kuwait played the largest role in the exercise, with 30 officers participating from various ranks spread among each of the exercise cells. Exercise command and management of the main cells was conducted by Kuwaiti officers.
UNIPATH: What parts of the exercise are most valuable to you?
Brig. Gen. Al-Zu'abi: Exercise Eagle Resolve 22 is different from the previous exercises in terms of the location and the scenarios. The exercise focused on the concept of Integrated Air-Missile Defense (IAMD), within a centralized system, which informs all friendly and allied states in the region in the event of any missile or drone attack. This is a new concept that needs to be standardized and integrated with modern technologies. The implementation part of the exercise was also very important to observe how operationally compatible the participating countries were. Intelligence reports reached Joint Operations Command headquarters in a flexible manner, and then the cells conducted operations through the exercise network flexibly and simply, and everyone could view the operations at the same time without jeopardizing other actions. The U.S. prepared all the infrastructure and tools for the exercise as if it were an actual operations room. It is important to thank the U.S. for what it did in the first week, which was the academic week. All concepts, procedures and the management approach for the exercise were standardized for participating states before the start of the exercise and the participants were informed about all requirements and how to conduct decision-making procedures, and staff operations. 
UNIPATH: How did you benefit from the Senior Leader Seminar topics?
Brig. Gen. Al-Zu'abi: Leaders and lecturers from the U.S. and Kuwait, with expertise in their field of specialization, presented a number of important topics. Information put forward and discussed was beneficial for all the participants. This was particularly true in the field of air and missile defense and how to confront the threats of ballistic missiles and drones. I must mention the great benefit provided by the experience of the joint North American Aerospace Defense Command (NORAD). U.S. Navy Capt. Sean Grunwell, Chief of NORAD Integrated Air and Missile Defense, outlined the history of NORAD and how the United States and Canada integrate their radars and networks. I believe the idea of unifying air defense systems is very important for regional states. Another lecture was conducted by Deputy Commander of the Kuwait Air Force Brig. Gen. Khalid al-Shariyan, who spoke on important topics of interest to Gulf states in general and to Kuwait in particular. He showed how to confront missile threats and offered solutions through the experience he has gained.
UNIPATH: What lessons were learned from working with U.S. partners in the exercise?
Brig. Gen. Al-Zu'abi: First, reinforcing joint visions on regional security and looking at modern technologies in the realm of air and cyber defense. U.S. forces also have significant accumulated experience through multiple conflicts and diverse operational environments, in addition to having the latest technologies and military tactics that make cooperation and joint training with them very useful. We gained operational experience from them and they learned to work in different environments from us, thereby benefitting all participants.
UNIPATH: Can you discuss military cooperation with other allied and friendly states?
Brig. Gen. Al-Zu'abi: Concepts of conventional warfare have changed, and a country can no longer face the threat of asymmetric warfare alone. Therefore, joint cooperation must exist at the regional and global levels to confront these nonconventional threats. Our relations with our allies in the Gulf Cooperation Council are based on a joint understanding and identical destiny in all aspects military and security endeavors. We work together to confront existing challenges and train to confront future challenges. We exchange information and expertise and cooperate to maintain regional security and stability.
UNIPATH: How do you assess the performance of participants from the Kuwait Armed Forces in the exercise?
Brig. Gen. Al-Zu'abi: The Kuwait Army has accumulated significant experience through continued participation in this, and similar, exercises. There has been an understanding and awareness of situational developments from the beginning, and total acknowledgment of how to deal with emergency situations through all decision-making steps and procedures in a highly professional manner. I would like to emphasize the important role of our allies taking part from the Gulf States for their experience in this field, and also the U.S for what they have provided, particularly in the field of wargaming and realism.
UNIPATH: How would you rate the concept of concept?
Brig. Gen. Al-Zu'abi: The IAMD is a new concept for militaries but it is the perfect solution to confront asymmetric threats. Drones have become available at a low cost, which encourages terrorist groups and armed factions that operate outside countries to adopt them. It is not possible to protect airspace and critical facilities from this type of attack without creating a unified air defense and early warning system. However, this concept needs in-depth study, particularly the issue of unifying systems with multiple origins. For this plan to succeed, all available means must be prepared, including diplomatic, operational, and tactical. To be successful, we need to conduct similar exercises, examine plans periodically and ensure ongoing interstate coordination. To conclude, I would like to thank U.S Central Command for hosting the exercise in 2022 despite difficult conditions and movements. They made a great effort to create the appropriate conditions and provide the infrastructure, translators and advisors for the exercise to be successful. I extend thanks to U.S. Maj. Gen. Steven deMilliano and his staff and look forward to future participation and cooperation to serve our common interests.