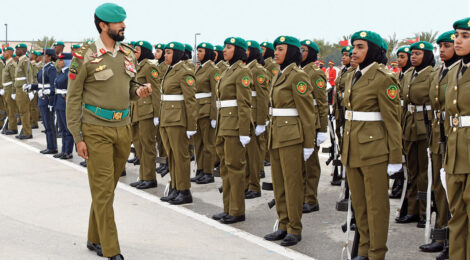 The Kingdom Welcomes Women into the Elite Bahrain Royal Guard
UNIPATH STAFF  |  Photos: Bahrain Royal Guard
His Royal Highness Maj. Gen. Sheikh Nasser bin Hamad Al Khalifa honored female members of Bahrain's Royal Guard who completed specialized military training in April 2019.
Sheikh Nasser, commander of the Royal Guards, praised the role of the Bahraini military women, particularly in the fields of combating terrorism, conducting searches and verifying the identity of veiled women.
Because Arab and Islamic traditions do not allow men to search women, terrorists sometimes disguise themselves in women's clothing and enlist women to smuggle weapons and explosives. To oppose such unconventional tactics, women are vitally important.
"We have benefited from the lessons learned in battles to liberate urban areas from terrorist groups in Yemen, and from the experience of friendly and coalition forces in battles against terrorists in Iraq and Syria," Sheikh Nasser noted.
"It has become necessary to have a female element with the assault teams to conduct missions correctly and punctually without the need to request support from another organization. That could delay the operation and comes with the risk of classified operational intelligence being leaked."
Sheikh Nasser said women have served competently and bravely in Bahrain and have expertise in detecting threats to families and communities. In their roles as mothers, they are well placed to detect warning signs of extremism among young people.
"The Royal Guard is ready to fulfill any duty the leadership requests, and we look forward to involving the female graduates of the course, including officers and other ranks, in upcoming operations," Sheikh Nasser said.
"I have full confidence that they will defend the security of the Kingdom of Bahrain and will stand alongside their brothers in the Royal Guard."