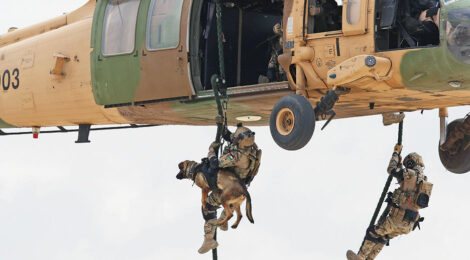 Col. Sufyan Subhi Al Sulaihat exemplifies Jordan's commitment to partnerships and peacekeeping
The war against terrorism required many changes to conventional militaries across the globe. It became essential to adopt new tactics and learn from partner forces to maintain force readiness. Jordan hosted a Subject Matter Expert Exchange conference with the Jordanian Special Operations Forces, the Iraqi Counter-Terrorism Service and U.S. Special Operations Command in November 2018. It was there that Unipath interviewed Col. Sufyan Subhi Al Sulaihat, commander of the King Abdullah II Special Forces Group. Discussions included the conference, international partnerships, and post-Daesh security challenges.
Unipath: How did Jordanian Special Operations Forces maintain security in this volatile region and prevent the spillover of violence from neighboring countries?
Col. Sufyan: The strategy adopted by Jordan was based on a full review of threats from neighboring countries. I believe that good relations among neighbors — security relations built on cooperation and mutual trust — are the keys to success. We had two approaches in our work, one internal, the other external. With the internal approach, we focused on the development of the intelligence system connecting the security services at the country level. Also, we developed cooperative relationships among anti-terrorism agencies, such as the Jordanian Gendarmerie, Special Operations Forces, border guards and all related bodies, and boosted their capabilities in every way. This vision of His Majesty King Abdullah II has been implemented by Chairman of the Joint Chiefs of Staff Lt. Gen. Mahmoud Freihat through the development of military units. For example, the growing capabilities of the Air Force will have important implications for the Special Operations Forces through improved air combat control to identify and mark targets. There is a complete and comprehensive system to develop the Arab army.
Unipath: What are the advantages of working with U.S. military partners? 
Col. Sufyan: Thank God for His Majesty King Abdullah II for his efforts and absolute faith in partnerships. We were the first Arab country to have a liaison officer in the international special operations cell in the United States. I served as a liaison officer with U.S. Special Operations Command. The international special operations cell has a unique role in building connections between special forces members in allied and friendly countries under the umbrella of U.S. Special Operations Command. Additionally, advanced techniques, expertise and tactics are available through U.S. Special Operations Command. We exchange experiences through liaison officers or coordinate training with one another. Furthermore, the commander of the Jordanian Special Operations Forces can coordinate with partner nations to act jointly. We have gained experience by attending seminars and conferences with the University of Special Operations. Our presence at the international special operations cell gave us the opportunity to send our officers to work with U.S. special forces commands in various areas, such as U.S. Central Command, Indo-Pacific Command, Southern Command and Africa Command. We have sent officers to counter extremism in East Asia and Africa. We have also sent officers to combat extremism in Southeast Asia and South Asia.
Unipath: What do these international partnerships and alliances mean to you personally?
Col. Sufyan: In today's world, success depends on joint efforts to achieve mutual goals. Cooperation is the key to regional and global success. The United States is a world power and one of the democratic countries that supports the development of allied armies with the protection and promotion of human rights for international peace and security. We greatly appreciate the U.S. military presence in the region and their continued support. In return, through joint work, our U.S. partners learn from us about Arabic traditions and custom, which are very important for building successful partnerships in the region, and we learn from their expertise and tactics to develop our combat capabilities. U.S. military forces have advanced technologies, and our familiarity with the geographic region, language, religion, tradition and history makes us unique military partners who can achieve goals in record time, extend security and prosperity, and eliminate terrorist organizations.
Unipath: How can cooperation and exchange of intelligence among countries of the region limit terrorist activities?
Col. Sufyan: Cooperation is a key to success, and joint intelligence provides a comprehensive picture of enemy movements and objectives. We can't identify enemy intentions without having precise intelligence. As we all know, terrorist gangs have specific goals and objectives and operate and coordinate activities using a global network. To defeat the enemy's schemes, we need comprehensive cooperation to exchange information. Of course, there are challenges and obstacles in sending and exchanging information within a single country, and it becomes more complicated and difficult at regional and global levels. But we must work hard to overcome these obstacles to ensure innocent people are protected.
Unipath: What are the challenges facing the Jordanian Special Operations Forces and your plans to overcome these challenges? 
Col. Sufyan: The main challenge lies in the process of recruitment and selection because of the continuous evolution of our forces over many generations. We need to redevelop our recruitment and selection process to keep up with the latest generation. We have learned from our brothers in the Iraqi Counter-Terrorism Service and their social media campaigns on Twitter and Facebook to attract youths, and we will request the approval of our chain of command to do the same. There are posts within the Special Operations Forces that require technical training such as Air Force combat controller. That post requires English language proficiency. And cultural awareness is essential for the Special Operations Forces. We also need to train bomb-sniffing dogs to carry out a wide range of specialized duties for military teams. In addition, we plan to develop a field medical unit and employ military drones and provide technical training to permit operators to distinguish friendly from enemy drones. I am confident we will overcome all these challenges with the support of our friends and allies.
Unipath: What other advanced training and technology would you like to provide your forces?
Col. Sufyan: In the near future, I look forward to holding training exercises on fighting in tunnels for our forces, and I'm confident that our brothers in the Iraqi Counter-Terrorism Service will do their best to share best practices from the field. Also, I would like to have an anti-drone system and a modern communications satellite.
Unipath: Can you tell us about your military career?
Col. Sufyan: I graduated with a bachelor's degree in mathematics from Mutah University, in Jordan, in 1993 and enlisted in the Jordan Armed Forces as deputy commander of the paratroopers battalion. I had the opportunity to attend the counterterrorism and diving course, and then I joined the anti-terrorism battalion, where I spent my most of  military service. I served as the commander of the anti-terrorism team, then as commander of the anti-terrorism group dealing with hijacked airplanes. Later, I served as company commander of the Sky Marshal counterterrorism unit for two years and then led the Counter Terrorism Training Center. During my service, I attended multiple courses, such as courses for special operations forces in the United States, counterterrorism courses in Jordan and the United States, as well as the defense course at the National Defense University in Washington, D.C., in 2004. I've participated as commander of special forces within peacekeeping missions in Kosovo and trained anti-terrorist forces in Yemen. Also, I served as commander of the counterterrorism forces with the Joint Task Force in Afghanistan, trained Iraqi counterterrorism forces in 2004 and delivered three training courses in Iraq.
Unipath: One counterterrorism commander at the conference mentioned a mission you accomplished in Sahab township in the 1990s. Can you share any details?
Col. Sufyan: During my service with Anti-Terrorism Battalion 71, His Majesty King Abdullah II was the Commander of the Royal Jordanian Special Forces. At that time, there were terrorist activities in Jordan; as you know, we have a long history of fighting terrorism and prevailing. During that period, a terrorist group struck the city of Sahab, and our mission was to eliminate this group. We successfully accomplished the mission and were rewarded by His Majesty King Hussein bin Talal, may God have mercy on him.  F