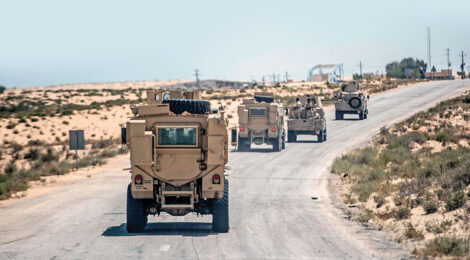 UNIPATH STAFF
Egyptian security forces killed 16 militants in a raid on two hideouts in the northern city of el-Arish in March 2019.
According to the Egyptian Interior Ministry, the militants were planning to carry out a series of terrorist attacks against vital installations and important figures in the city.
Ten terrorists were killed after security forces raided their hideout in an abandoned house. Six others were killed in another raid while exchanging fire with security forces. The ministry's statement confirmed the discovery of firearms, ammunition, bombs and suicide belts at the two sites.
The raids came after terrorists attacked a security checkpoint in northern Sinai in February 2019. The attack was carried out by the so-called Wilayat Sinai — a Daesh affiliate — killing 15 members of the Quick Response Forces in the Egyptian Army.
Egyptian security forces not only maintained security, they kept up their efforts to provide humanitarian aid and public services.
In April 2019, Third Field Army Commander Maj. Gen. Rafiq Ra'fat Arafat opened three schools in Suez. During the opening ceremony, Maj. Gen. Rafiq conveyed the greetings and appreciation of Gen. Mohamed Zaki, commander in chief of the Armed Forces and minister of defense and military production.
He praised residents of Suez for embodying steadfastness against the aggression of terrorists and for standing behind the country's Armed Forces.
Sources: BBC, alarabyanews.com, elfagr.com