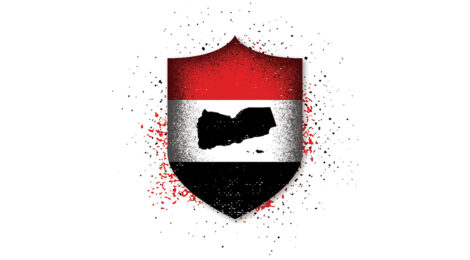 His Royal Highness Lt. Gen. Prince Fahad bin Turki bin Abdulaziz Al Saud leads multinational efforts to stabilize Yemen
COL. FARHAN MUSAAD Z. ALNAWMASI 
JOINT FORCES PSYCHOLOGICAL OPERATIONS CELL COMMANDER, KINGDOM OF SAUDI ARABIA
His Royal Highness Lt. Gen. Prince Fahad bin Turki bin Abdulaziz Al Saud of Saudi Arabia is a brilliant military commander whose name emerged considerably after the launch of Operation Decisive Storm in March 2015 to support the legitimate Yemeni government. He took command of the Joint Forces of the Coalition to Restore Legitimacy in Yemen, in addition to his role as deputy commander of Saudi ground forces, of which he became commanding officer soon after.
His leadership skills didn't appear from a void. When his father, Prince Turki II, passed away, Lt. Gen. Fahad was in the middle of battle and returned wearing his military uniform to attend his father's funeral. This act of loyalty drew the attention of Saudi media, and so did his comments after the funeral that he would take up arms again to protect his religion and homeland.
That passion and devotion was manifested in the personality of a leader who confounded his enemies with a relentless will that so intimidated his adversaries that enemy propaganda declared him dead on several occasions. Although he recoils from the spotlight, the media keeps covering his actions in admiration of his courage and heroism.
Disciplined career

Lt. Gen. Fahad began his military career as a platoon commander and earned promotions to deputy company commander, company commander, operations officer, training officer, wing commander, force commander, battalion commander, deputy commander and unit commander.
After being named deputy commander of ground forces, he took command of the joint special operations (Decisive Storm and Restoring Hope), then rose to commander of the Saudi ground forces, commander of paratroopers and special security forces, and lastly commander of all the joint forces.
He began his military service in May 1983 and earned a diploma at the U.S. Army Infantry School at Fort Benning, Georgia. While pursuing his military career, he studied international business management at the United States International University and got a master's degree in June 1983.
Since then he has attended specialized military courses at home and abroad covering topics such as officers training, airborne operations, advanced infantry tactics, special forces and military strategy. 
He was tasked with building the capacity of elite forces in the Saudi Army, which led to the graduation of several mountain commando units through joint training with elite French mountain troops. Mountain commando training was conducted in harsh weather and rough terrain in the French Alps and aimed at preparing Saudi forces for fighting in mountainous regions of southern Saudi Arabia, which have suffered frequent attacks by the Houthis.
Lt. Gen. Fahad has fought alongside his Soldiers on the front lines inside Saudi Arabia and in Yemen. His outstanding performance in commanding Saudi special operations forces in Yemen earned him a medal from the Saudi leadership. This was one of more than a dozen medals he's been awarded from Saudi Arabia, the United States, France, Kuwait and the United Nations. They honored his service in operations such as the 1991 liberation of Kuwait and the stabilization of Somalia.
Many experts believe that the appointment of Prince Fahad bin Turki to senior and responsible positions came about as part of a modernization campaign led by His Royal Highness Saudi Crown Prince and Defense Minister Prince Mohammed bin Salman. Prince Mohammed has established an ambitious vision for the development of various critical sectors in Saudi Arabia, especially the branches of the Saudi Armed Forces.
Supporting brothers
As commander of the Joint Forces of the Coalition to Restore Legitimacy in Yemen, Lt. Gen. Fahad was keen to support his brothers among the Yemeni Army commanders.
"We are with you in the fields of honor and pride," he told them "Our coalition forces shared with you the sacrifice of souls and blood to restore righteousness and realize objectives. We sought to deny terrorist groups the opportunity to infiltrate Yemeni society."
Lt. Gen. Fahad exploits every opportunity to emphasize support for the legitimate Yemeni government and praises army and popular resistance forces serving on various fronts in Yemen fighting the Houthis. But his support isn't limited to military commanders.
The general takes pains to encourage tribal sheiks and other notables in Yemen. This is evident in his keenness to receive them, address their needs and strengthen their role as active leaders in society. They are pillars on which Yemeni security and stability will rest.
The enemy routinely targets civilians and uses them as human shields, but Lt. Gen. Fahad constantly abides by the rules of engagement and issues stringent orders to his Soldiers to refrain from engaging terrorists hiding among civilians to avoid collateral damage. In addition, he personally supervises efforts at humanitarian assistance, helping victims and displaced people receive food and medicine.
During a conference on coordinating humanitarian and military operations as part of stabilizing Yemen, Lt. Gen. Fahad described Saudi Arabia's role as protector of Yemen from Iranian and Houthi expansion. It's a role he personally exemplifies.
"Any action is aimed at raising the standard of living of our brothers in Yemen to achieve prosperity and stability, and we know what the Yemeni people would suffer if the kingdom and its allies did not intervene to protect them," Lt. Gen. Fahad said. 
"Humanitarian action to achieve security and stability in Yemen has a higher priority than military action, even though military action is aimed at protecting civilians in the first place."