Afghan special operations forces rely on meteorologists to ensure mission success
STAFF SGT. HOSSEIN RAHIMI
CHIEF OF METEOROLOGY, AFHGAN SPECIAL MISSION WING 777
Each country's weather is intimately correlated to its terrain and geographical location, determining not just clothing, housing and food styles, but also the type of warfare conducted there.
As in much of Central Asia, Afghanistan's mountainous terrain dictates that military campaigns will often be fought using guerrilla tactics dependent upon the whims of weather. Military operations traditionally perk up with the onset of spring and wind down with the return of winter cold.
The meteorological department of Afghanistan's Special Mission Wing 777 is responsible for scrutinizing and forecasting the weather, a particular concern for these special operations aviators responsible for safely deploying Afghan National Army Special Operations Command and General Command of Police Special Units.
With the increasing accuracy of weather forecasts in the Special Mission Wing, traditional Afghan warfare is changing. Terrorists have come to realize that climactic conditions no longer offer them safe cover as they suffer repeated defeats and casualties.
NATO forces, especially those of the United States, have played an important role in the transformation of the Afghan Armed Forces, improving performance with advanced, deployable, professional, technical capabilities to deal with any threats. The enemy's realization that it has no hope of military victory has compelled them to seek a solution at the negotiating table.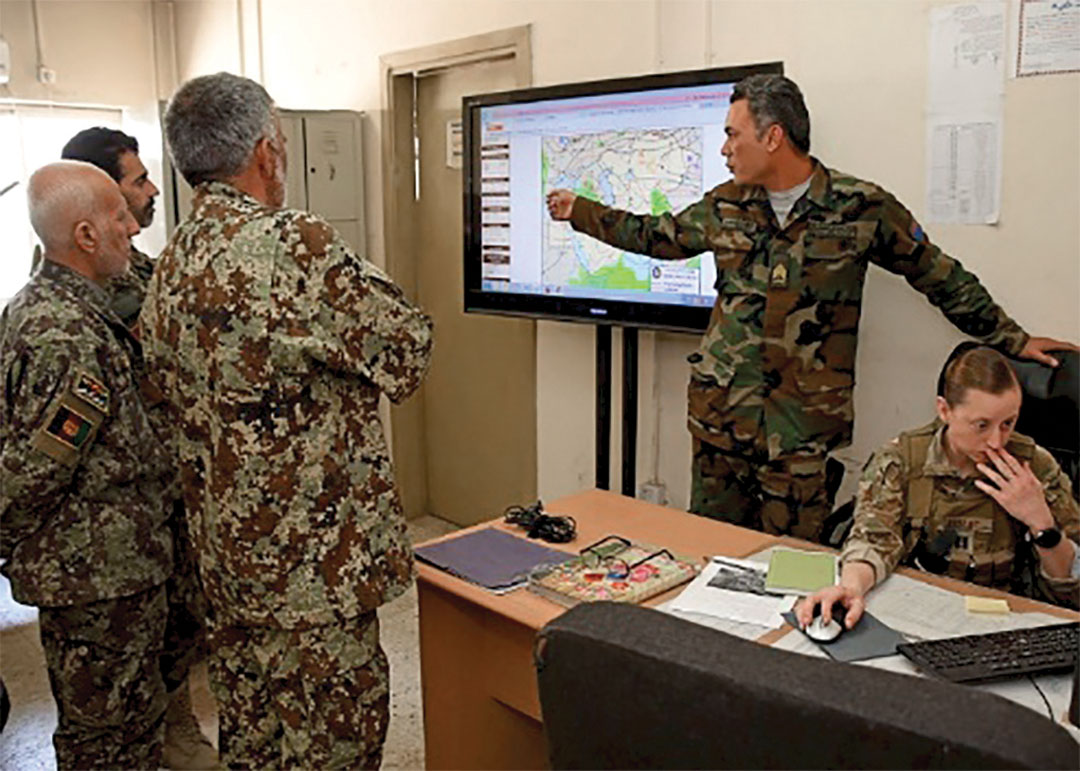 Origins
The Bureau of Meteorology was established in 2017 to aid the special mission wing in predicting the best times for flying. Before that time, such forecasting was provided by American personnel.
Building professionalism and self-sufficiency among Afghan security forces is one of the goals of U.S. advisors, so in 2017 I was selected to serve as chief of meteorology for Special Mission Wing 777.
I received basic meteorological training in India and advanced training from U.S. experts at Camp Eagle in Afghanistan. Before I took the job with special operations, I had served with the regular Afghan Air Force. Thanks to my American colleagues, I recently attained a master's degree in meteorology.
U.S. consultants have provided accurate meteorological materials and shared their skills with their Afghan colleagues, offering training in the use of advanced meteorological radar and websites.
For Afghan forces, the U.S. advisors are a blessing. Every day Afghan and American forecasters meet to share meteorological data that, once consolidated, produce an accurate picture for military decision-makers.
Importance of forecasting
Special air operations are most often nocturnal, and during daylight operations, meteorological calculations must be accurate to the minute to ensure the successful deployment and exfiltration of special operations troops.
The clearness of the skies, the presence or absence of moonlight and wind speeds play vital roles in the execution of specific operations. If the meteorological data are slightly unfavorable, the operation may fail.
Special operations missions usually last from 20 minutes to two hours, a period in which we could lose all forces if spotter aircraft and intelligence, surveillance and reconnaissance teams are unable to guide the ground forces.
And the movement of troops by air requires that we pay close attention to the speed and direction of winds. Severe winds can play havoc with such operations, and, since Afghanistan's terrain is mostly mountainous, the enemy often hides in valleys sheltered on both sides by peaks.
Peculiar to many of these valleys, winds shift and intensify depending on whether it's day or night, and it's essential that helicopter pilots get detailed reports to complete their missions safely.  
Cloud cover is another variable that threatens aerial operations. Clouds increase the chance that special operations troops can be attacked by the enemy, and routes through the mountains are subject to air turbulence and other life-threatening weather phenomena.
The route from Kabul to Mazar-e Sharif has always been a challenging one for pilots, passing as it does the 3,365-meter-high Mount Salang. So receiving precise meteorological information for flight operations is crucial.
A case study
Meteorological data play a daily role in Afghan military operations, but one success story stands out.
In 2018, when Kunduz was besieged by the enemy, a group of senior Ministry of Defense commanders was determined to fly to the province to assess the situation. The weather was terrible for two days, and it was impossible for all types of aircraft to fly.
A helicopter-borne rescue mission for the besieged forces reached Salang Pass north of Kabul and contacted the meteorological office to request a detailed weather report to complete the trip toward Kunduz.
Forecasters told the commanders that if they didn't depart from the mountain range during a two-hour window of milder weather, they might be stranded two more days. In such an event, the besieged forces would likely be overrun.
The helicopter pilots took advantage of this information to race the senior commanders and supplies of ammunition to the endangered troops in Kunduz.
The improved performance of Afghan special operations forces is largely attributable to the hard work and dedication of our international partners. The Armed Forces and the noble people of Afghanistan owe a debt of gratitude to the United States and its friends.