Iraqi security forces strive to keep pace with the shifting strategies of Daesh
Unipath Staff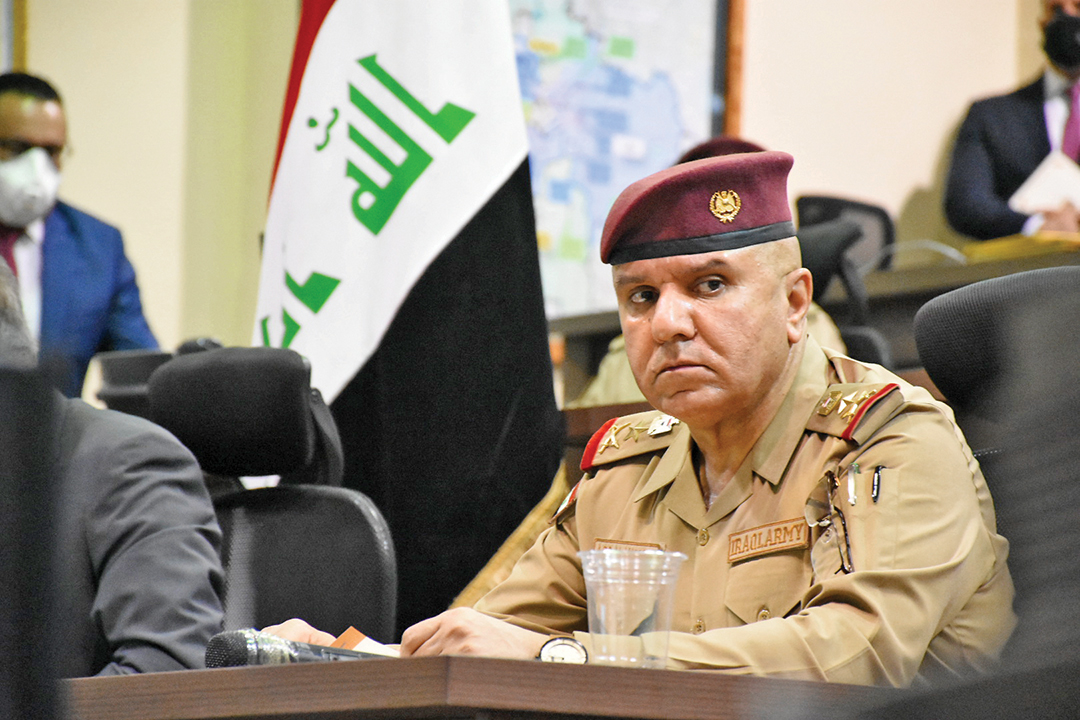 Iraqi Staff Lt. Gen. Abdulamir al-Shammari was appointed deputy commander of the Joint Operations Command (JOC) in 2020. In that position, he represents Iraqi security forces (ISF) within the international coalition formed to help Iraq defeat Daesh. JOC allows Iraqi and coalition forces to share intelligence, conduct joint operations and coordinate air power, logistics and training. Unipath interviewed him to discuss how ISF is addressing the continued terrorist threat in the country:
Unipath: What is Daesh trying to accomplish by increasing attacks in 2020? 
Lt. Gen. Abdulamir al-Shammari: With the support of the international coalition, the battles of liberation fought by Iraqi security forces (the ministries of Defense and Interior, the Counter-Terrorism Service and the Popular Mobilization Forces) and the strategic security agencies have contributed greatly to the destruction of the infrastructure of Daesh terrorist gangs, particularly in the governorates of Nineveh, Anbar, and Salah al-Din, areas south and west of Kirkuk and Diyala, and in the belt surrounding Baghdad. The only major sanctuaries remaining for the terrorists are in the Makhoul, Hamrin, and Qara Dagh mountains and in Wadi Al-Shai and Wadi Zaghaytun. Daesh also has detachments operating in some areas of the Anbar desert, Nineveh, and the Jazira region of Salah al-Din. The size of these detachments ranges from three to nine terrorists, the majority of whom are locals who carry out limited attacks against security forces and the civilians working with them. Their operations require no significant funding, relying instead on royalties, kidnapping and intimidation to gather information from the populations of remote areas and urban peripheries. They are simply armed and rely on improvised explosive devices and exploiting the quiescence of security forces. They are now in a capacity-building and presence establishment phase to acquire media resonance. After we destroyed the capabilities of Daesh terrorist gangs and their operations, the enemy no longer possesses any of the attributes that would allow it to occupy and retain cities. Instead, it has adopted a guerrilla warfare approach with small detachments exploiting Iraqi security forces mistakes and security gaps to carry out terrorist acts. At the same time, such an approach that effectively exhausts and drains the security forces and causes the loss of military and civilian life must not continue.
Unipath: How successful has intelligence sharing been with your coalition partners?
Lt. Gen. Abdulamir al-Shammari: Daesh terrorist gangs are a global enemy that targets everyone with its takfiri ideology and terrorist acts. They have carried out terrorist attacks all over the world, and the war against Daesh is a global war on terror. Daesh's cross-border terror networks require that the coalition place intelligence gathering at the forefront of the fight. One of the lessons learned from the defeat of Daesh is that intelligence drives operations and that technology plays a major role in the fight against terrorism in a modern operation that consists of an unmanned reconnaissance aircraft, an armed drone, and a team on the ground that monitors an enemy of small detachments via screens in operations centers and strikes at an opportune moment. At the same time, the technical and technological capabilities of the ISF remain limited, particularly with respect to reconnaissance aircraft and drones. The international coalition is often asked to monitor many areas, particularly those in the Anbar desert, Nineveh, the Jazira region of Salah al-Din, the Iraqi-Syrian border, and other areas that the Iraqi Air Force and Army Aviation cannot reach quickly.
The Syrian landscape, particularly the cities near the Iraqi-Syrian border, poses a significant threat to Iraq. These areas represent a vital depth for Daesh terrorist gangs in terms of training, financing and recruitment. Conversely, the capabilities of Iraqi security forces and strategic security services are limited in terms of their knowledge about terrorists in Syria from a reconnaissance, accessibility and tracking perspective. Because of this, we place heavy reliance on obtaining intelligence from the international coalition and, in return, Iraq's partners receive critical information about the terrorists that has been instrumental in their deaths or arrest. If we examine the outcomes of the war on terror and the defeat of Daesh gangs, we can say that this points to intelligence sharing with partners reaching the desired level.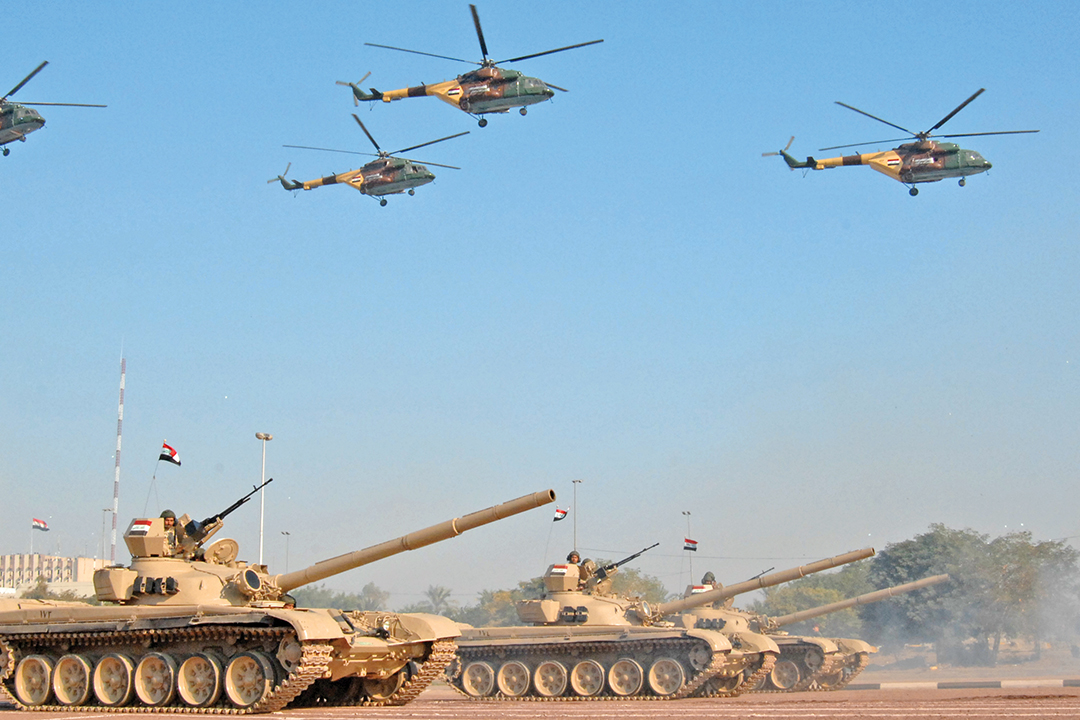 Unipath: After Daesh's defeat, the terrorists changed strategies. How have Iraqi forces adjusted to meet the challenge?
Lt. Gen. Abdulamir al-Shammari: Daesh terrorist gangs rely on the detachment system and detachment fighting. This style of combat requires no more than three to six fighters and only minimal weapons, materials and supplies. The best way to fight Daesh terrorist gangs has been to hunt them down using critical strategic information rather than having ISF react by conducting large-scale operations that frequently cede the element of surprise with respect to time and place, allowing terrorists to escape and return when the operation ends and units have withdrawn. In other words, we fight them using their own tactics until it becomes a symmetrical war that tilts in our favor.
We carry out qualitative operations on Daesh targets using highly trained forces and critical strategic information supported by the Air Force, Army Aviation and drones. We instruct Ground Forces Command and Operations Command to carry out operations within their areas of responsibility, especially uncontrolled areas and border regions. This pursuit of Daesh detachments occurs especially in the Anbar desert, Nineveh, the Jazira region of Tikrit, the Hamrin and Makhoul mountain ranges, Wadi Al-Shai and Wadi Zaghaytun and the Al-Adhaim. Our use of capture and control since 2004 has reduced the offensive effectiveness of our forces, as the enemy familiarizes itself with our tactics. We increasingly rely on the technical and technological component and reduce dependence on the human component.
JOC has allocated a reserve force to the commander in chief and the rest of the high command, training the force to carry out missions under all conditions and at all times. This complements the missions of the Counter-Terrorism Service (CTS), Iraqi Special Operations Forces and the Rapid Response Force, which continue to pursue Daesh terrorist gangs and destroy their infrastructure in cooperation with the Air Force and Army Aviation. Iraq has also focused on strengthening the surveillance and reconnaissance capabilities of Air Force Command and Army Aviation, especially with the use of drones. This can help in controlling Iraq's borders with neighboring countries, specifically that with Syria. 
Unipath: JOC includes all branches of the Armed Forces and security services. How does that create challenges? 
Lt. Gen. Abdulamir al-Shammari: We are building up the Iraqi border system with neighboring countries, specifically Iraq's border with Syria, which poses a real threat to Iraqi security. Protecting the borders is a responsibility shared by neighboring countries. It requires cooperation and joint coordination. This is not achievable under present conditions in Syria with its inability to control most areas along the Iraqi-Syrian border. Here, Iraq must rely on its own resources to develop an integrated system that achieves a high degree of security.
We need to reallocate tasks and duties within ISF — where overlap exists on some missions — to ensure that the Army can hand over security in the cities to the Ministry of Interior. 
Another challenge is that most commands, formations and units have not conducted individual or combined training for many years, resulting in a weakening of capabilities and declining ability to carry out duties. There is no law regulating the work of JOC, which works under administrative order. At the same time, it is tasked with managing joint operations at the strategic level and operations using state resources as directed by the commander in chief of the Armed Forces.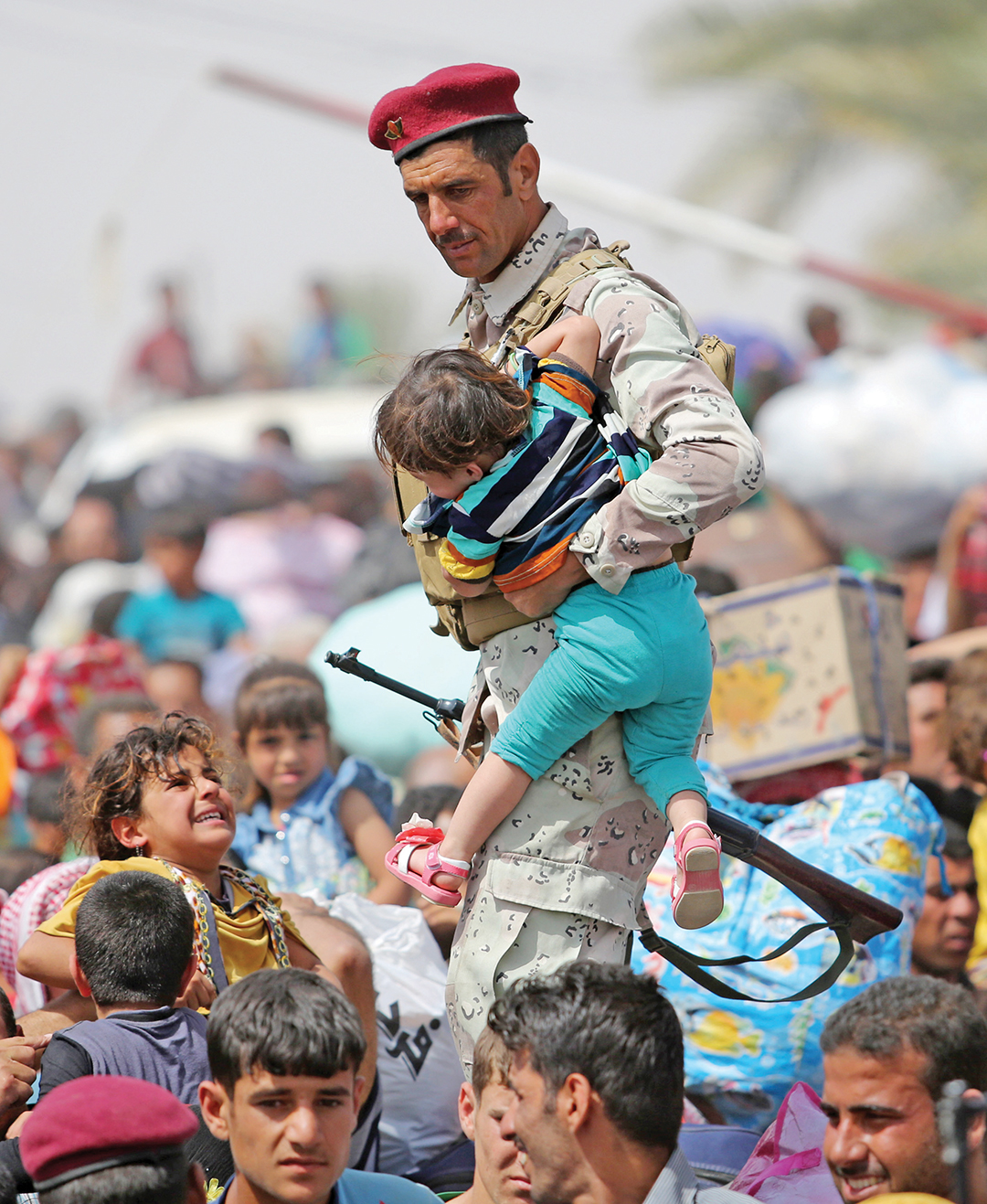 Unipath: After liberating cities from the clutches of Daesh, what security threats face JOC?
Lt. Gen. Abdulamir al-Shammari: The main threat facing JOC is Daesh. The economic crisis and limited resources of the Iraqi state have cast a shadow over the process of arming and equipping the Iraqi security forces, and the serviceability rate has begun to decline to low levels, particularly among the Air Force and Army Aviation. Large-scale operations send a message to the public that the enemy is effective and that the security forces' declaration of victory over terrorism was premature, which has an impact on investment and reconstruction processes. Furthermore, these large-scale operations in various areas of responsibility (AORs) have become so predictable that the enemy can elude them without casualties. A further difficulty is the lack of clarity within the theater of operations with regard to terrorists mixing with civilian populations because most of them are from the same areas and can hide any indication they are terrorists.
ISF operations stretch our forces too thin, depriving troops of the training and reorganization they need. Other limitations to these large-scale operations are shortages of equipment, fuel, technology and engineering capacity. Nevertheless, some security forces, particularly CTS and certain Army, police, Rapid Reaction and Popular Mobilization units, carried out successful operations in smaller numbers with careful planning and the support of the Air Force and Army Aviation, the results of which are comparable to those of large-scale operations.
Control of international borders by the border guard forces — and placing Army units to act as strategic depth for these forces — is the best course of action to address security threats facing Iraq, especially because some border areas are a corridor for terrorist traffic and smuggling operations, whether for the purpose of smuggling terrorists and their families or narcotics and other contraband.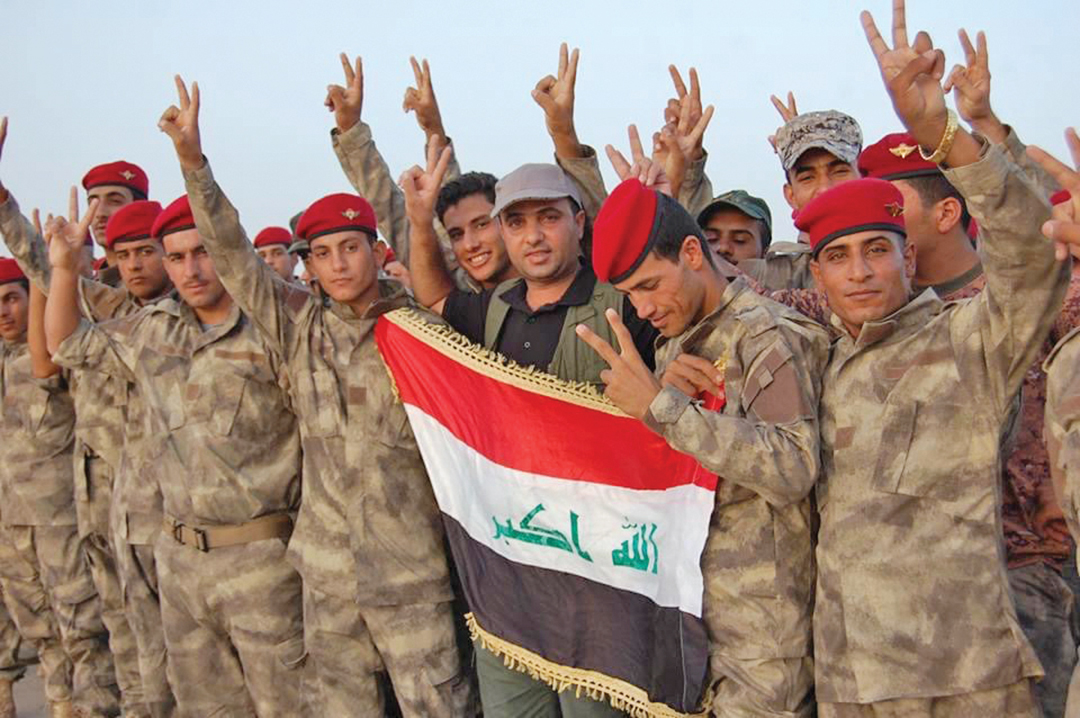 Unipath: How important is coordination between JOC and Kurdish Regional Guard Brigades (RGB)?
Lt. Gen. Abdulamir al-Shammari: The Republic of Iraq is a sovereign, independent, federal state with a representative, parliamentary system of government. Following law enforcement operations in Diyala, Kirkuk, Salah al-Din and Nineveh governorates and the redeployment of security forces to ensure security and stability and to deprive terrorists, outlaws and those who abuse the national economy of opportunities, the need for cooperation and joint action between federal forces and the RGB emerged. This is particularly true in areas of mutual concern, specifically on the front lines facing federal and RGB forces, which have become a safe haven and staging area for terrorists to attack Iraqi security forces and civilians. This line ranges from 225 kilometers to 550 kilometers in length. To achieve joint action, coordination centers must be set up in shared AORs to accomplish the tasks and duties of cooperation and strategic security coordination, share information, reduce friction or security violations and reconcile the views among the various parties.
Periodic meetings with the Kurdish government's Ministry of Peshmerga Affairs have nurtured a common desire to work together and cooperate to open joint coordination centers or conduct joint operations and to adjust the front lines of federal or RGB forces accordingly. The primary objective is to defeat terrorism and Daesh terrorist gangs; this does not entail any change to administrative boundaries or any political discussion. The purpose of the meetings is to achieve joint security against an enemy that targets everyone. They help harmonize views and promote agreements to solve other outstanding issues.