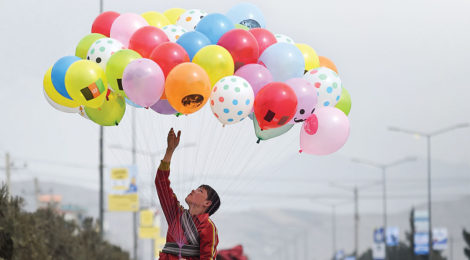 Central Asian states are building economic, political and security ties with Afghanistan
SALTANAT BERDIKEEVA
"Central Asian countries clearly feel the influence of Afghanistan. Instability and escalating tensions there affect the overall climate in Central Asia," 
Erzhan Ashikbaev, Kazakhstan's vice minister of foreign affairs, said at a news conference in Astana in January 2018. His words reflect a general sense of concern in the region and a renewed engagement with Afghanistan.
International terrorism, religious extremism, cross-border organized crime, narcotics trafficking and environmental devastation are some of the shared concerns of all five Central Asian countries (Kazakhstan, Kyrgyzstan, Tajikistan, Turkmenistan and Uzbekistan). Two of the most populous and militarily developed Central Asian states, Uzbekistan and Kazakhstan, have taken initiatives to serve as peacemakers in Afghanistan. The presidents of these two countries have held diplomatic discussions with officials from the United States about volatility in Afghanistan and their roles in encouraging peace there.
Furthermore, Central Asian countries and Afghanistan plan to continue discussing regional issues and developing joint measures to improve Afghanistan within a new framework called "Central Asia-Afghanistan." Regional military leaders discussed cooperative security with U.S. Gens. Joseph Votel and John Nicholson during a meeting in Kabul in February 2018.
"Central and South Asian countries reiterated their commitment to fighting terrorism throughout the region and discussed ways of working together to counter drug trafficking and other cross-border security problems," said U.S. Navy Capt. Tom Gresback, spokesman for NATO's Resolute Support mission in Afghanistan.
While bringing stability to Afghanistan is an overarching goal of all Central Asian countries, their approaches to their southern neighbor appear to be shifting from containing threats to treating Kabul as a valuable and equal partner in matters of conflict resolution and economic development.
Central Asian countries increasingly stress the need for economic development in Afghanistan. Regional leaders have made strides in reaching trade, transit, energy and infrastructure agreements with Afghanistan. Some of the transit and infrastructure projects are already being built, and trade between some of these countries and Afghanistan has increased despite security risks.
Deepening Cooperation
As cooperation with Afghanistan and its integration with regional economies take a more prominent role in the foreign policies of Central Asian countries, there have been interesting changes in that regard. While more active engagement in Afghanistan is a positive development in the foreign policies of all Central Asian states, the shift in Uzbekistan's position toward Afghanistan was perhaps the most dramatic in the past two years.
Uzbekistan
Emerging from an insular society after the death of President Islam Karimov, Uzbekistan has asserted itself not just as a cooperative regional partner under President Shavkat Mirziyoyev, but has also signaled its pursuit of a leadership role in Central Asia.
In a breakthrough in relations with Afghanistan, Uzbekistan held an international conference in its capital, Tashkent, on Afghan peace and security in March 2018. Uzbek diplomats have suggested mediating potential peace talks between the Afghan government and the Taliban. It is worth noting that Kazakhstan also proposed holding such talks, but Uzbekistan took the initiative.
Attending the conference were representatives from the Central Asian countries, China, India, Iran, Pakistan, Russia, Saudi Arabia, Turkey, the United Arab Emirates, the United Nations and the United States.
Kyrgyz Minister of Foreign Affairs Erlan Abdyldaev has declared his country's full support for the initiative. "We all understand that just the willingness of the Afghans and creation of a unified national government in Afghanistan are not enough to achieve peace there," he said. "First and foremost, a consensus among members of the U.N. Security Council is needed to reach that goal. It is time to demonstrate that a political solution is the only way to build peace and stability in Afghanistan — that is, by holding peace talks between warring sides and reaching national reconciliation."
Under Mirziyoyev, Uzbekistan re-established ties with Afghanistan. According to Andrey Serenko from the Moscow-based Center for the Study of Modern Afghanistan, Mirziyoyev appears to view Afghanistan as less of a threat and more of an opportunity. In geopolitical terms, the Uzbek leadership looks at its southern neighbor as a commercial partner, which includes building a railroad through Afghanistan and selling more electricity by extending lines from Uzbekistan to the Afghan province of Baghlan. Presidents of both countries reached the agreement to build that infrastructure during an official visit of the Afghan president to Uzbekistan in June 2017, the first such visit in 16 years.
Economic ties with Afghanistan got a boost through 40 export contracts signed in 2017, amounting to over $500 million. Uzbekistan has cut customs duties in half for Afghan goods transiting through Uzbekistan. Perhaps the highlight of bilateral economic relations in 2017 was the creation of a logistical hub, "Termez Cargo," at the Uzbek-Afghan border, served by a railroad, warehouses, banks and customs offices.
According to Ismatilla Irgashev, special representative of the Uzbek president on Afghan affairs, the hub is expected to be used for Afghan exports and imports. At the same time, both sides express caution about how far infrastructure and economic cooperation will go because of instability in Afghanistan. Uzbekistan considers peace and security in Afghanistan as a pillar of economic cooperation between the two.
Kazakhstan
Kazakhstan's leaders also see themselves as important regional peace brokers in Afghanistan. Cooperation with the U.S. to tackle instability in Afghanistan was one of the central themes of Kazakhstani President Nursultan Nazarbaev's January 2018 meeting with U.S. President Donald Trump during an official visit to the U.S. Holding the chairmanship of the U.N. Security Council in 2017, Kazakhstan placed the development and security of Central Asian countries atop its agenda, a key part of which is Afghanistan.
Kazakhstan, a nonpermanent member of the security council, led its delegation to Kabul in January 2018, its first visit to Afghanistan since 2010. The Kabul meeting covered the political, security, socio-economic and human rights situation in the country. According to Kazakhstani Ambassador to the U.N. Kairat Umarov, "When there is a threat, there is a desire to isolate it. We suggest not isolating Afghanistan, but treating it as a good partner. By creating jobs, we will … help Afghanistan develop."
Kazakhstani Foreign Minister Kairat Abdrakhmanov spoke to the security council in January 2018 and emphasized that Afghanistan should not be treated only as a source of threats and instability. Given its vast human and economic potential and convenient geographic location, he said, it must be treated as a strong partner in joint economic projects.
Much like Uzbekistan, Kazakhstan believes that building transportation infrastructure in Afghanistan, fostering its commerce and helping to educate Afghan youth are vital to its development and integration with regional economies.
Kazakhstan has already invested in several development projects in Afghanistan, including helping to build a hospital in Bamiyan province and a school in Samagan, repairing a highway from Taloqan to Kunduz to Sherkhan-Bandar, and providing free education to Afghan students studying in Kazakhstani universities. By 2020, 1,000 Afghan students will have completed their higher education in Kazakhstan as part of the Kazakhstan-Afghanistan educational program. Similarly, Uzbekistan plans to open an educational center in Termez district in 2018, along its southernmost border with Afghanistan, to provide higher education to Afghan youth, with tuition partly covered by Uzbekistan.
Kyrgyzstan, Tajikistan and Turkmenistan
These three countries have also ramped up cooperation with Afghanistan. To deepen economic ties, Kyrgyzstan and Tajikistan are interested in selling hydropower to Afghanistan and Pakistan as part of a regional 765-km electricity transmission project known CASA-1000 (Central Asia-South Asia). Construction began in January 2018.
As with any regional infrastructure project, this one is fraught with challenges, such as rough, mountainous terrain, security risks in Afghanistan and financing concerns. Building on economic cooperation, Afghanistan is also seeking to expand educational opportunities for its students in Kyrgyzstan, where more than 300 Afghan students study in universities. In December 2017, Kyrgyz Prime Minister Sapar Isakov expressed his country's readiness to launch educational cooperation between the universities of both countries.
Afghan leaders are also eager to collaborate with Kyrgyzstan's Taza Koom project, a nationwide program launched in 2017 aimed at digitizing and automating public administration and furthering electronic commerce.
Seeking greater physical connectivity with Central Asia, Afghanistan is building a railway network to link with Tajikistan and Turkmenistan. Although the ongoing war in Afghanistan and financing issues have slowed construction, 89 km of the planned 645-km project have already been built from Atamyrat-Imamnazar, Turkmenistan, to Akina, Afghanistan. Leaders of these countries expect to boost trade with each other once the project is completed.
In addition, Afghanistan, Turkmenistan, Azerbaijan, Georgia and Turkey signed a road and railway agreement on the so-called Lapis Lazuli corridor in November 2017, a route that would bring Afghanistan's trade to Europe's doorsteps. Afghanistan emphasizes the importance of economic cooperation, particularly in large infrastructure projects with Turkmenistan, as the latter ramps up trade with its southern neighbor.
Tajikistan is also strengthening its cooperation with Afghanistan in the transportation sector. Afghanistan views Tajikistan as an important link with the rest of Central Asia. Kabul hopes to increase the country's regional trade with a railway system that runs from South Asia through Tajikistan to other Central Asian countries. A main problem for Tajikistan, as with most regional infrastructure projects, is the security of delivering goods from Afghanistan and the safety of personnel involved in cross-border trade.
Conclusion
As the re-energized, inclusive policies of Central Asian countries toward Afghanistan gain momentum, results will be measured by enduring support and commitment to the goals of peace and development, despite existential security threats emanating from Afghanistan. But improvement of regional relations and supporting Afghanistan alone are not enough to tackle transnational threats, extremism and violence.
Political, economic and social dynamics within individual countries have an impact on regional security. Economic inequality, poverty, corruption, intolerance for dissent and political opposition, human rights abuses and exploitation of ethnic differences are sources of instability and provide fertile ground for violent and extremist thoughts and actions within Central Asian states.
A lack of peace and stability in one country affects those around it, as evidenced by Afghanistan's recent history. Consequently, achieving long-term peace and stability in Afghanistan and its integration into the regional economy will be closely intertwined with the domestic well-being and strength of its neighboring countries.  
About the author: Saltanat Berdikeeva is a Kyrgyzstan-born author, analyst and blogger on the topics of economics, energy policy and security in Central Asia, the Middle East and the United States.
Sources: The New York Times, recoilweb.com, Afghan Zariza, Voice of America, Norwegian Ministry of Defense