Responding Rapidly to Threats
Jordan's Sheikh Mohammed bin Zayed Al Nahyan Rapid Intervention Brigade proves its worth in the field
Brig. Gen. RA'AD DOURA, COMMANDER, SHEIKH MOHAMMED BIN ZAYED AL NAHYAN RAPID INTERVENTION BRIGADE, JORDAN ARMED FORCES-ARAB ARMY
Photos: JORDAN ARMED FORCES
Some of Jordan's best trained troops practiced repulsing an armed incursion over the country's northern border in April 2021. Dubbed Nation Shield, the military exercise engaged the Sheikh Mohammed bin Zayed Al Nahyan Rapid Intervention Brigade and the King Abdullah II Special Forces Group in support of Jordan's Border Guard Forces.
Military commanders organized Nation Shield to gauge the readiness and capabilities of participating forces in carrying out joint duties and missions during a national emergency. Those missions included rapid offensive operations, dealing with emergency targets, air assault operations in built-up areas using combat helicopters, and special and counterterrorism operations.
The Nation Shield scenario included a confrontation between the Border Guard Forces and hostile militias within the country's eastern military zone. As the border guards conducted a tactical retreat, reconnaissance teams from the Rapid Intervention Brigade slipped into the area to prepare the ground for the main force.
The teams provided targeting coordinates for the brigade's mobile artillery company equipped with 105 mm howitzers and Kornet anti-tank missiles airlifted by Eurocopter Super Puma helicopters.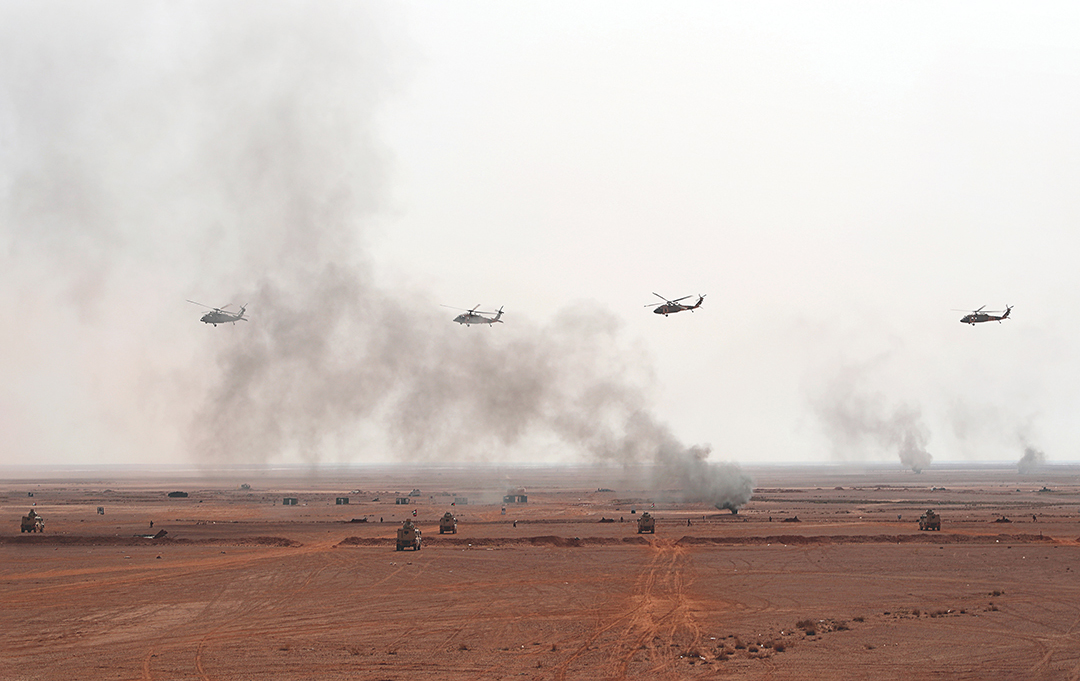 After an artillery bombardment of enemy targets and close air support from F-16 aircraft, rapid intervention forces using Black Hawk helicopters and Jordanian-built Al-Wahsh armored vehicles assaulted the invading force. Once the enemy was surrounded, the Jordanian 101st Special Battalion launched an assault on a high-value target attempting to escape on a mountain road.
Exercise objectives centered on strategic deployment of the Rapid Intervention Brigade to support other special forces units, the Air Force and border guard troops. In addition to coordinated air and ground assaults, units performed medical evacuations and air supply operations. It was also a test of command and control and battle management in a complex operational environments.
Training philosophy
When it comes to training, the main objective of the Rapid Intervention Brigade is to prepare each Soldier to achieve excellence and high professionalism. The training requires realistic and logical planning from commanders at all levels, training that takes into account the continuous development of the Jordan Armed Forces-Arab Army.
That development entails rapid technological improvement, advancement of combat doctrine, recognition of potential challenges and threats within the strategic environment (global, regional and local) and the extent to which these threats determine operational and intelligence requirements operationally and tactically. And all these developments must be aligned with the country's available resources.
Training is key to Soldiers acquiring individual skills in weapons handling and enhancing collective action through teamwork, a bedrock for increasing the military capability of combat units. Such training helps units reach an outstanding level of combat readiness so that they can deliver victories with minimal losses to personnel and equipment.
The training process is ongoing and ever-present. It is the cornerstone of success in combat and the decisive factor in deciding the outcome of a battle. It's for this reason that we use the expression "a drop of sweat during training saves a river of blood during battle."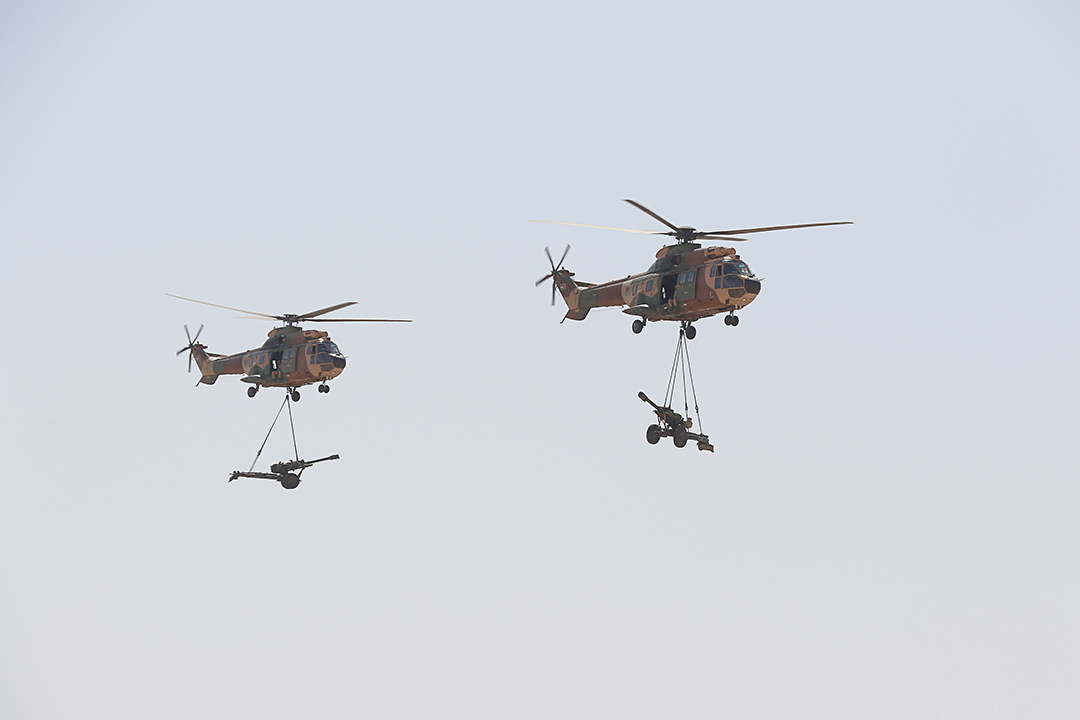 Background of brigade
Driven by the Jordan Armed Forces-Arab Army strategic vision, His Majesty King Abdullah II ibn Al Hussein, our supreme commander, directed the creation of a flexible and agile quick reaction force with high combat readiness. It needed to be capable of deploying in record time and supporting ground forces such as border guards and special forces.
Sheikh Mohammed bin Zayed Al Nahyan's Rapid Int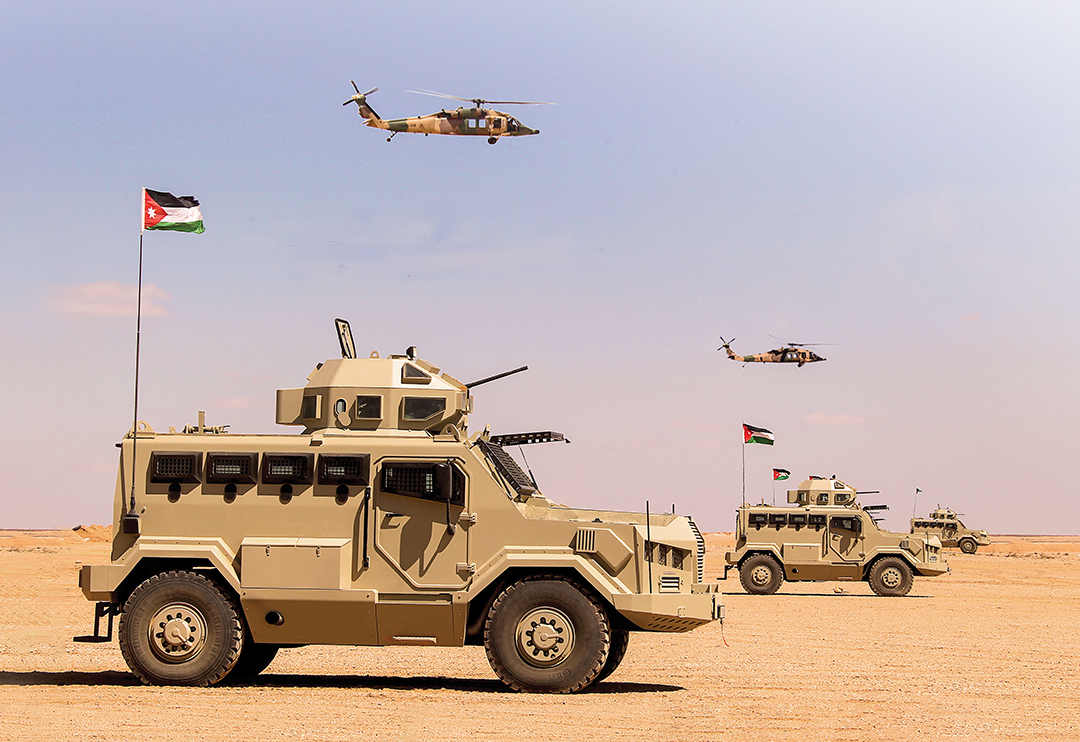 ervention Brigade was formed in 2014 on the principle of developing and modernizing the Jordan Armed Forces in line with regional conditions and the operational environment and theater. This became necessary after the emergence of new challenges for traditional regular armies in the guise of extremist terrorist groups and militias, as well as the instability of some regional nations.
Rapid intervention forces possess high combat readiness, real-time responsiveness, flexibility, self-sustainability and the capability to deploy ground or air power to deal with emergencies. As during the Nation Shield scenario, they operate for short periods to buttress other units until they can reoccupy their positions.
The brigade can function independently or within Jordan Armed Forces-Arab Army formations. It can also operate with friendly and allied forces to defend Jordanian national security within or outside the borders of the Hashemite Kingdom of Jordan, in accordance with the orders of Jordan Armed Forces General Command.
The Rapid Intervention Brigade is equipped with the latest weaponry, vehicles and equipment, which benefit the brigade's high-level readiness, potential and capacity for real-time deployment and rapid response. In addition, units are supported by the Royal Air Force Rapid Reaction Aviation Group, and this joint action provides rapid response and reaction against any threat in record time.
Members of the Rapid Intervention Brigade are trained to deal with all forms of conventional and nonconventional threats in asymmetric warfare and to deploy in helicopters, winged aircraft and ground vehicles. They can conduct operations in built-up areas, assault targets from the air, and deal with humanitarian and refugee affairs.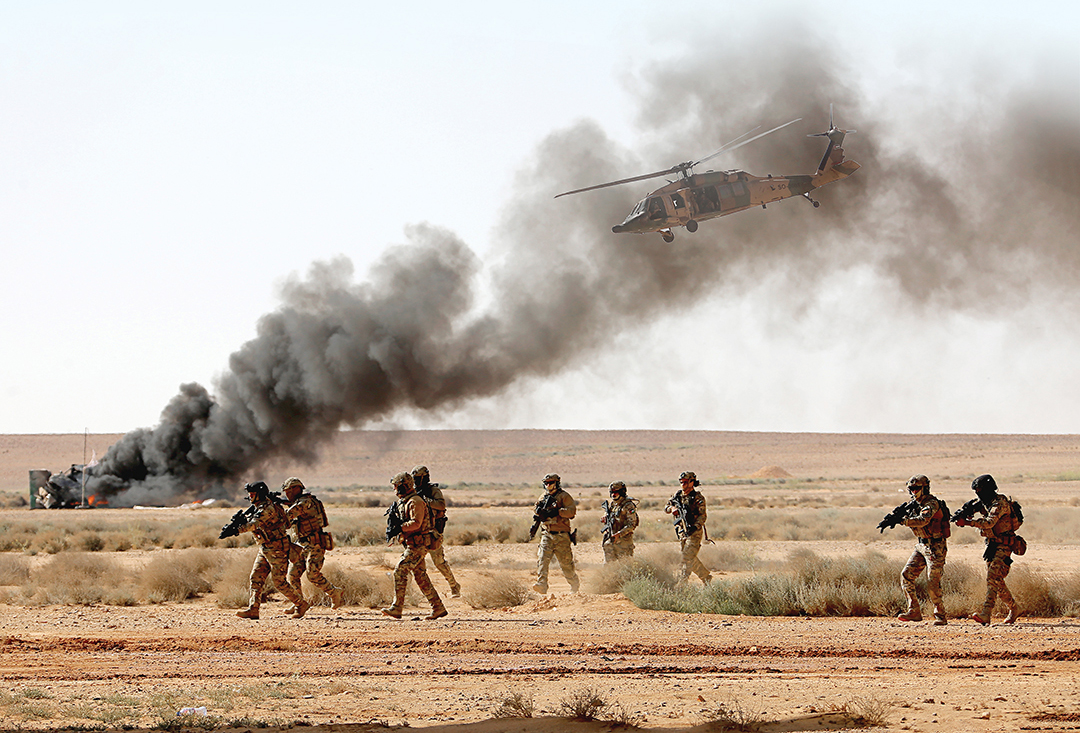 Selective recruitment
Soldiers from the brigade must go through a lengthy and strict selection process, which starts with having the proven desire and ability to belong to this formation. Membership also requires physical strength, a high tolerance for stress and the ability to operate in tough conditions. The candidate must pass physical, medical and psychological tests.
The rapid intervention forces are also distinguished by their high-level professional training, which justifies higher salaries for conducting missions and duties effectively and skillfully. Specialized training entails a commando and parachute course, combat in built-up areas, air assault, combat search and rescue, and rapid intervention operations.
Troops operate with modern weapons noteworthy for their accurate firepower, such as Kornet missiles, 105 mm howitzers, rocket-propelled grenades and sniper rifles. Flexible, capable aircraft such as Blackhawk and Super Puma helicopters deploy troops to their targets in any emergency.
Fielding such an elite brigade is a tribute to Jordan's rising military capabilities and commitment to defending the security of the region.