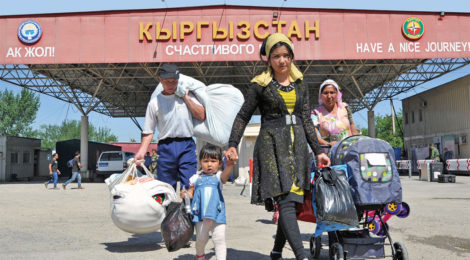 SALTANAT BERDIKEEVA
Highlighting improving relations between Kyrgyzstan and Uzbekistan, Kyrgyz President Sooronbai Jeenbekov approved an agreement in January 2018 to improve security on the countries' long common border.
Diplomats hammered out the agreement in the Uzbek capital, Tashkent, in October 2017. It promises to strengthen stability, cross-border security, and trust between the two countries. In addition to improving cross-border relations, the agreement facilitates cooperation on regional security issues such as counterterrorism, drug trafficking and illegal migration. 
Relations between the two neighbors have improved since the 2016 accession of Uzbek President Shavkat Mirziyoyev. Until recently, the 1,374-kilometer border that Kyrgyzstan shares with Uzbekistan was a source of contention.
The new agreement covers close to 85 percent of the Kyrgyz-Uzbek border, leaving the fate of 324 kilometers unresolved. According to Komish Rashidov, Uzbekistan's ambassador to Bishkek, his country is ready to continue dialogue on border issues. Both countries expressed a willingness to cooperate at central and local government levels. 
A turning point in relations was the September 2017 opening of border checkpoints blocked after the dissolution of the former Soviet Union. Citizens of both countries can cross the border without presenting anything more than a passport or similar identification card. 
Sources: Knews.kg, 24.kg, Kloop.kg