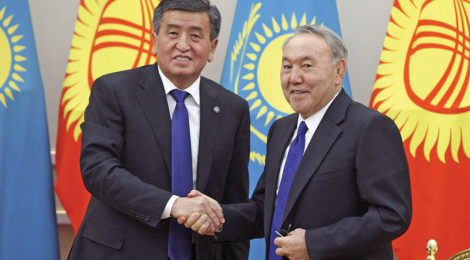 SALTANAT BERDIKEEVA
Kazakhstan and Kyrgyzstan began a new chapter in their relations after holding discussions to boost trade and military cooperation.
The two neighbors signed a road map on cooperation in December 2017 that covers foreign trade, customs, tax administration, crime fighting, transportation and other areas of cooperation. The agreement also removed stringent border controls that led to long queues and traffic. 
During an official meeting between the leaders of both countries, Kazakhstani President Nursultan Nazarbayev stressed that neither country has unresolvable problems. According to Nazarbayev, Kazakhstan is one of Kyrgyzstan's main partners and investors, and more than 700 Kyrgyz businesses operate in Kazakhstan.
Visiting a checkpoint on the Kyrgyz-Kazakh border in February 2018, newly elected Kyrgyz President Sooronbai Jeenbekov urged border guards to be friendly to people crossing the border, emphasizing the importance of brotherly relations between the two countries.
Furthermore, Kazakh and Kyrgyz defense ministries held talks on military and technical cooperation in February 2018. For example, Kazakhstan offered multipurpose helicopters to the Kyrgyz Ministry of Emergency Situations.
Kazakhstan also suggested cooperation in the shared use of communications satellites to detect and address natural disasters and other emergencies in Kyrgyzstan. Kazakhstan's satellites provide communication and broadcasting services throughout Central Asia.
Sources: 24.kg, Kapital.kz, Informburo.kz, K-news.kg, bnews.kz