Fending off Transborder Threats
Troops from Central and South Asia operate together during U.S. Central Command's Regional Cooperation 22 exercise
When a state stoked ethnic tensions to instigate a civil war in a bordering country, an international military coalition formed to prevent the conflict from engulfing the entire region. 
Coalition forces consisting of a Tajik infantry regiment, a Pakistani special operations regiment,  a Kazakh infantry regiment, an Uzbek mechanized infantry regiment, two Mongolian special operations companies, a United States mechanized infantry regiment and two NATO regiments deployed as peacekeeping troops.
The enemy's use of asymmetrical warfare — social media propaganda, terrorist bombings and other unconventional tactics — meant coalition forces couldn't rely on force alone to respond to realistic threats. They needed to transcend their cultural and linguistic differences to operate effectively as a team. 
This simulation was the main event at Regional Cooperation 22 (RC 22), a U.S. Central Command military exercise held in Dushanbe, Tajikistan, from August 10 to 21, 2022. The aim of the exercise was to muster multinational troops in a joint mission to counter terrorism, keep the peace and provide stability for a region with terrain approximating that of Central Asia. 
"Our regional security is a collective effort; it is essential for us to cooperate with regional militaries in order to secure our common borders and deny access to criminal and terrorist groups," said the Pakistani defense attaché to Tajikistan, who was a participant in Regional Cooperation. "Pakistan is always keen to join regional and international military exercises that benefit all participants."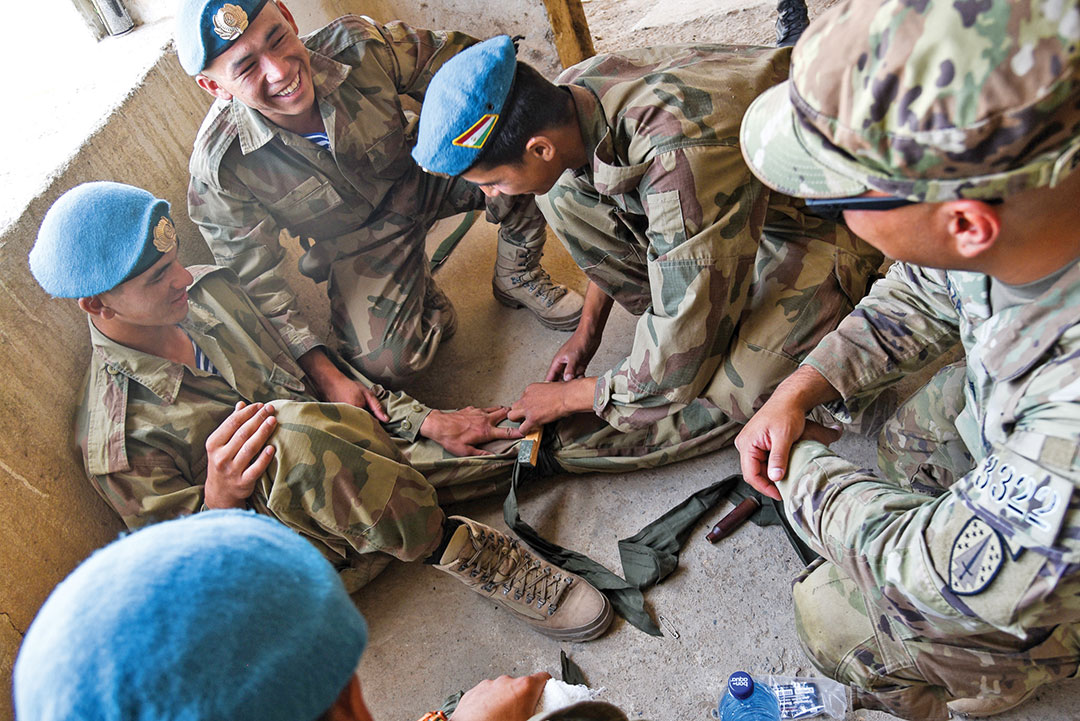 More than 300 commissioned and noncommissioned officers from the militaries of participating nations took part in the exercise alongside a large contingent from host nation Tajikistan, which provided the logistical support required for the exercise. In addition to Tajikistan, the observers included  troops from Kazakhstan, Kyrgyzstan, Mongolia, the United States and Uzbekistan.
Most of the exercise consisted of computer simulations that required participants to coalesce into a brigade headquarters staff to command fictional forces on the ground. This command post exercise focused on promoting cooperation and interoperability among participating nations and coordination between the armed forces and international organizations dealing with issues of displaced persons and humanitarian aid.
To enhance tactical skills, dozens of troops also took to the field at a military base outside Dushanbe to practice close combat, convoy protection, evacuation of the wounded and counterterrorism operations. Those drills engaged both Tajik troops and National Guard units from various U.S. states as part of the State Partnership Program.
In a speech during the exercise, U.S. Air Force Brig. Gen. Maurizio Calabrese, deputy commanding general of the Over-the-Horizon Counterterrorism headquarters at Al Udeid Air Base in Qatar, praised Regional Cooperation as a "noble effort to increase the collective security of the region."
"We collaboratively worked through processes to promote further development and cooperation between military and civilian organizations using a complex scenario," Brig. Gen. Calabrese said. "Our training focused on addressing border security challenges, developing counterterrorism techniques, refining counter weapons of mass destruction and counternarcotics operations while enhancing other critical tasks required to develop our mutual security."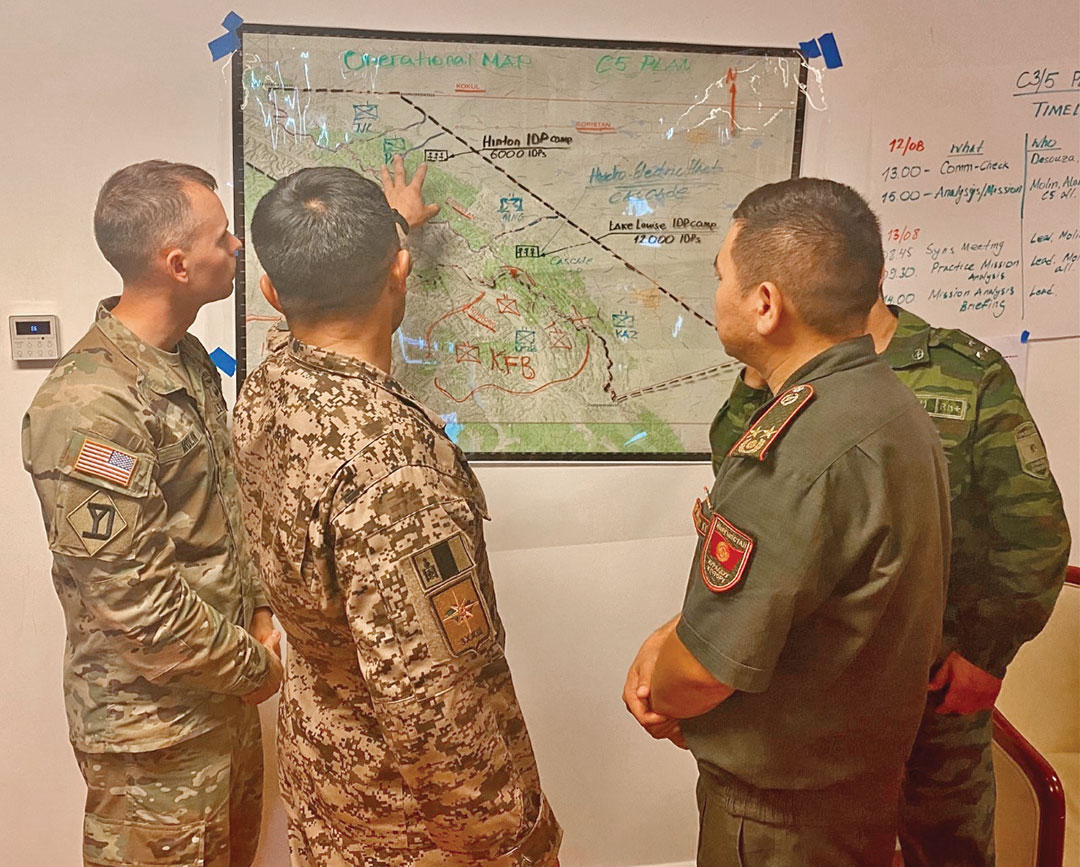 One of the most important parts of the exercise required headquarters staff to respond to terrorists conspiring to disrupt the peace. Training scenarios described terrorists as pumping out misinformation over the internet, fomenting ethnic strife and smuggling weapons to proxies. A United Nations peacekeeping force withdrew after the terrorists ambushed them, prompting the RC 22 coalition to fill the security gap.
Terrorists and rogue states use asymmetric warfare to foment ethnic and sectarian conflicts in neighboring countries. Bad actors, working through "electronic armies," carry out social media campaigns to stir up ethnic and religious discontent. Misinformation feeds fears that the group is a victim of violence and displacement. The ultimate aim is recruitment to the terrorists' or malign state's cause. Murder and other violence usually follow.
In one training scenario, reconnaissance aircraft spotted a group of terrorists attempting to infiltrate an internally displaced persons (IDP) camp to recruit young people, confirming an earlier report about the distribution of pro-terrorist pamphlets among that group. This caused coalition forces to intensify the screening of displaced people to ensure there were no terrorists residing among them. Past experiences have shown that IDP camps have been a major recruiting ground for terrorist groups who take advantage of feelings of alienation and hopelessness among refugees.
Another intelligence report indicated that the terrorist group was seeking chemical and biological weapons to strike vital infrastructure. Coalition forces' reconnaissance aircraft captured images of terrorists attempting to use smuggling routes favored by drug traffickers. 
The joint headquarters staff decided to sever the smuggling corridor by aerial bombardment and assigned special operations forces the task of raiding smugglers' hideouts in that area to prevent the delivery of chemical and biological weapons to the terrorists.
Col. Kakhramon Achilov, chief of the Uzbek military delegation of 17 Soldiers assigned to Regional Cooperation, vouched for the value of the exercise in encouraging participants to reach consensus to confront security threats. He called Uzbekistan an active and important player in supporting security in the region. 
"In the course of RC 22, we worked on issues related to ensuring security and stability in the region through close interactions related to different scenarios of rapidly changing situations in the world," Col. Achilov said. "In addition, participants of the exercise improved their skills in organizing joint work in teams formed temporarily for that purposed."
Bridgette Walker, deputy chief of mission at the U.S. Embassy in Tajikistan, heralded Regional Cooperation, held by U.S. Central Command since 2001, as a successful example of joint cooperation to confront challenges to regional security.
The next Regional Cooperation was scheduled to be held in Montana in the United States in June 2023.
"This exercise is just one example of cooperation between United States, Central Asian and South Asian states armed forces and shows our commitment to increasing our partners' ability to defend against militants and eradicate the flow of illegal narcotics," she said.