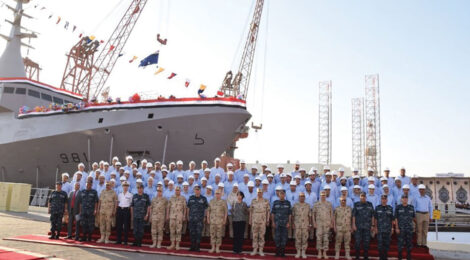 UNIPATH STAFF
The Egyptian Navy launched a new corvette, Al-Moez, in May 2019 from Alexandria Shipyard, one more step in the country's overhaul of its fleet to better defend the Suez Canal and other strategic waterways. 
In recent years, the Navy has been replacing or upgrading ships in accordance with a strategic plan to modernize all weapons and equipment of the Egyptian Armed Forces.
Although having a robust and modern naval force requires steep operational costs, it is nothing compared to the costs of failing to maintain maritime security. A strong Navy is needed to deter illegal activities such as drugs and weapons smuggling and to secure vital infrastructure like the Suez Canal and offshore oil and gas fields. 
Al-Moez was co-manufactured by the French in an Egyptian shipyard, but the Egyptian Navy has also concluded contracts with Germany, South Korea and other nations to upgrade its fleet and improve combat capability. 
Egypt contracted German-based Thyssenkrupp to build four technologically advanced diesel-electric attack submarines for Egypt. They are armed with torpedoes and anti-ship missiles. The last of the four submarines will be launched in 2020.  Source: akhbarelyom.com