Eager Partners
The Eager Lion 22 military exercise attracts more than 5,000 troops to Jordan to showcase military strength
Eager Lion 2022 featured a blistering conventional attack across a rolling desert landscape typical of the Middle East. Tanks, heavy artillery, attack helicopters and fighter jets swept enemy positions from the desert floor until little was left but drifting dust.
But that conventional display of arms was just one facet of Eager Lion, which, as it celebrated its 10th iteration since 2011, increasingly focused on lightweight aerial drones, sleek unmanned underwater vehicles and cyberattacks launched with a click of a computer mouse.
Eager Lion's scenarios parallel what's happening in the real world. From conventional battlefield tactics to the revolution in unmanned vehicles, Eager Lion continues to stress military integration, joint operations and unity of purpose.
"We are collectively showcasing the strength of our militaries in all environments," Maj. Gen. Steven deMilliano, then-head of training for U.S. Central Command, said at a gathering of senior commanders at Eager Lion 22.
Twenty-eight countries participated in Eager Lion, which ran from Sept. 5 to 15, 2022, in sites across Jordan, from Azraq in the north to Aqaba in the south. Along with about 2,200 Jordanian Soldiers and 1,600 from the United States, troop contingents arrived from the Middle East, South
Asia and Europe.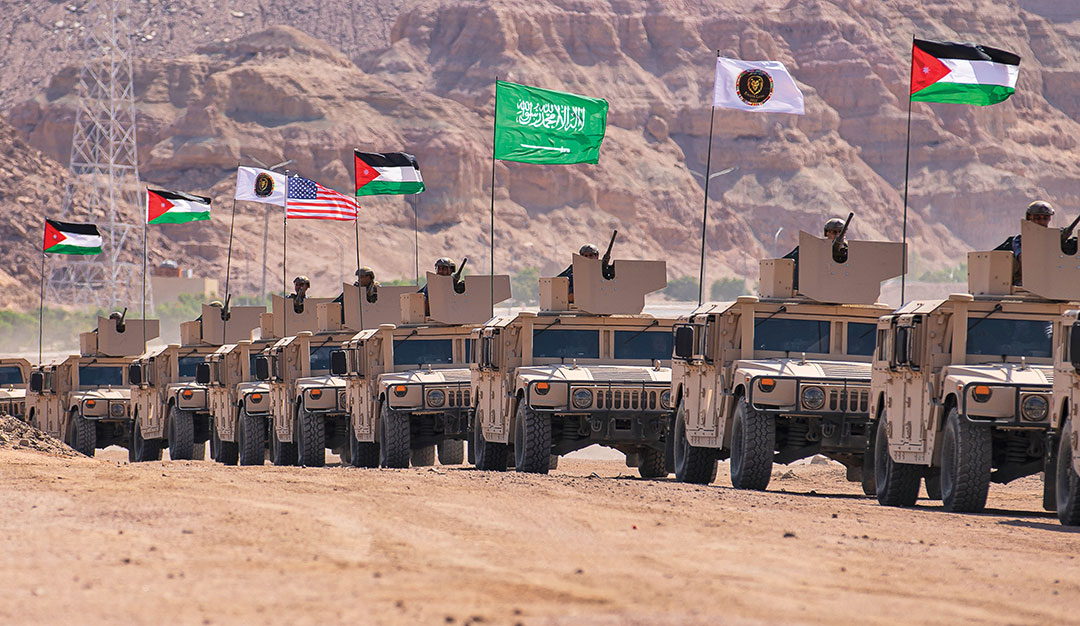 Bahrain, Iraq, Kazakhstan, Kuwait, Lebanon, Oman, Pakistan and Saudi Arabia all sent representatives to
Eager Lion.
Noteworthy was the size of the group from Saudi Arabia, which contributed infantry and tanks to the exercise's culminating live-fire event under the eyes of Saudi Maj. Gen. Adel bin Mohammad Al-Balawi, head of the Saudi Armed Forces Education and Training Authority. Royal Saudi Marines were also major participants in maritime training at the Royal Jordanian Navy Base in Aqaba. 
As has been the case since the first Eager Lion in 2011, the 2022 exercise focused on threats across land, sea, air and cyber domains that require coordinated and collective action from multinational forces.
This interoperability extended not just to operations among troops of different nationalities, but also to military and civilian agencies within the Jordanian government. So, while multinational forces engaged in scenarios repelling speedboat attacks in the Gulf of Aqaba and routing terrorists holed up in a village, Jordan's National Center for Security and Crisis Management coordinated a whole-of-government response to a simulated threat to Jordan.
Troops deflected cyberattacks from fictitious enemies, practiced air and missile defense, defended land and maritime borders, combated enemy drones, responded to a potential attack by radiological weapons and provided humanitarian assistance.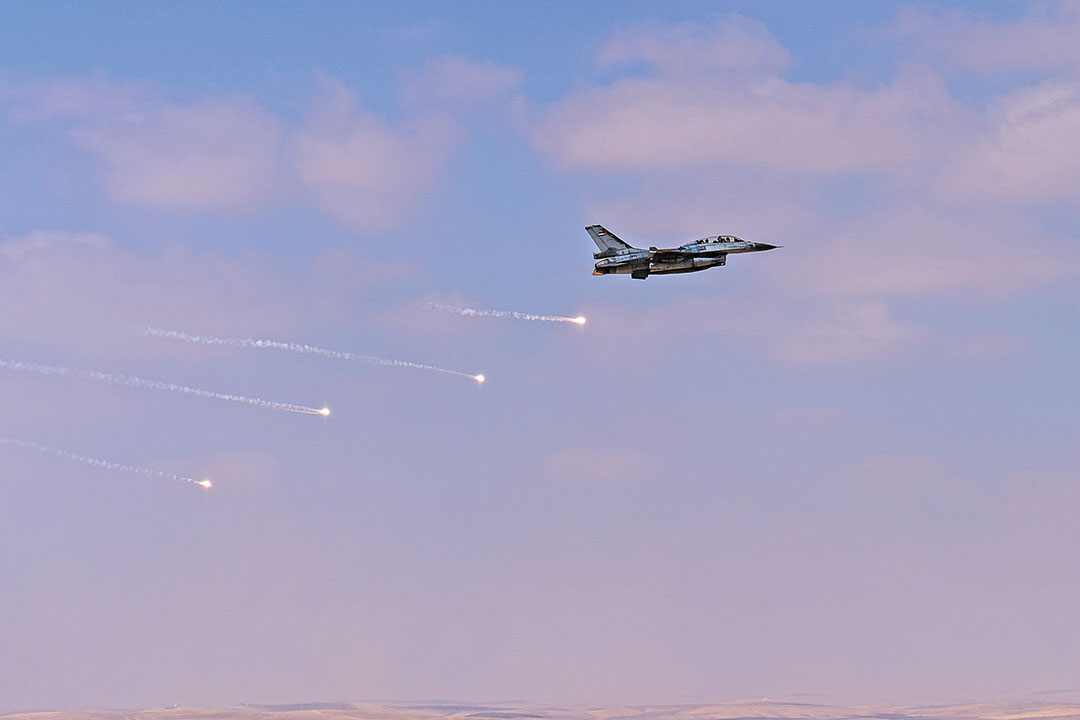 "The scenarios for Eager Lion 22 are based on simulating the current strategic environment and addressing the threats within that environment, whether they be conventional or nonconventional threats from sub-state actors or terrorist threats," said Jordan Armed Forces Brig. Gen. Mohammed Ali Al-Samadi, who headed the command and control center for exercise participants. 
"Through scenarios developed for this purpose, these threats are addressed in a combined joint operational environment of multiple military groups and countries that fits within the military doctrines used by the countries taking part. Some countries participated directly and actively in operations, such as Jordan, the United States, Saudi Arabia and Iraq, while others took part in the exercise as observers to gain experience in the general atmosphere of the exercise."
In the middle of the exercise, a senior leader seminar attracted top commanders from more than two dozen countries. Discussions focused on critical issues at the forefront in the Middle East.
The Kuwaitis focused on integrated air and missile defense, the Saudis on stopping improvised explosive devices and ballistic missiles, and the Jordanians on securing borders against narcotics smuggling and other threats to security. 
Rear Adm. Curt Renshaw, director of operations for U.S. Central Command, led a discussion on defending against unmanned aerial system (UAS), hundreds of types of which are manufactured each year.
The speed of technological advance in the UAS field means militaries cannot rest in defending against them, he said. Of particular concern are fast, high-flying relatively heavy drones that can carry lethal payloads.
"UASs are so inexpensive they can proliferate in a hurry," Renshaw said.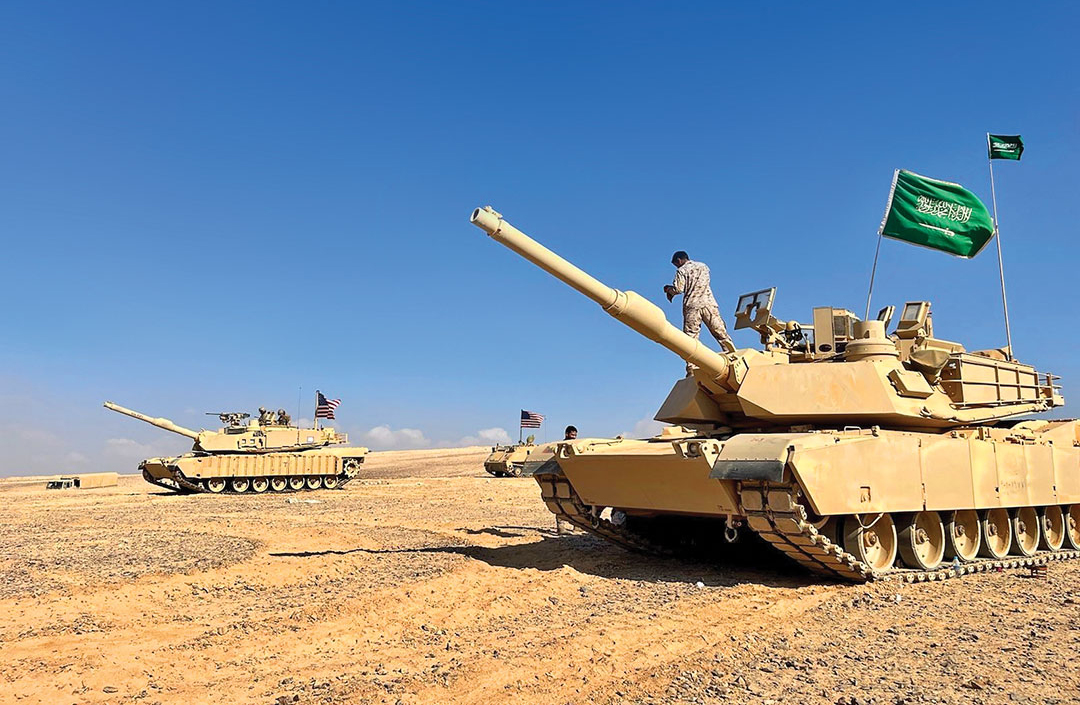 Kuwaiti Brig. Gen. Khaled Al Shirann, deputy commander of the Kuwait Air Force, promoted the creation of a joint aerial defense system in the Arabian Gulf. A shared early warning system would provide 360-degree coverage to defend against not just drones, but also cruise and ballistic missiles.
Gulf Cooperation Council (GCC) countries have already begun the process of military integration, Brig. Gen. Al Shirann said. He cited multinational naval operations in the Arabian Gulf as part of the Bahrain-based Combined Maritime Forces and the combined Peninsular Shield Force deployed by the GCC. 
Discussions about unexploded improvised explosive devices and ballistic missiles borrowed from the lessons of the civil war in Yemen. Saudi officials said 471 missiles fired by Houthi rebels in Yemen had violated the airspace of GCC countries. Most were shot down, but some struck oil refineries, airports and power stations. 
A mine clearance program in Yemen sponsored by Saudi Arabia — called Masam — has cleared 345,000 unexploded bombs. 
On the issue of border security and preventing the transshipment of illegal narcotics, commanders noted that drug profits finance terrorists. Maj. Gen. deMilliano called for a common shared awareness to prevent gaps in border security that smugglers exploit.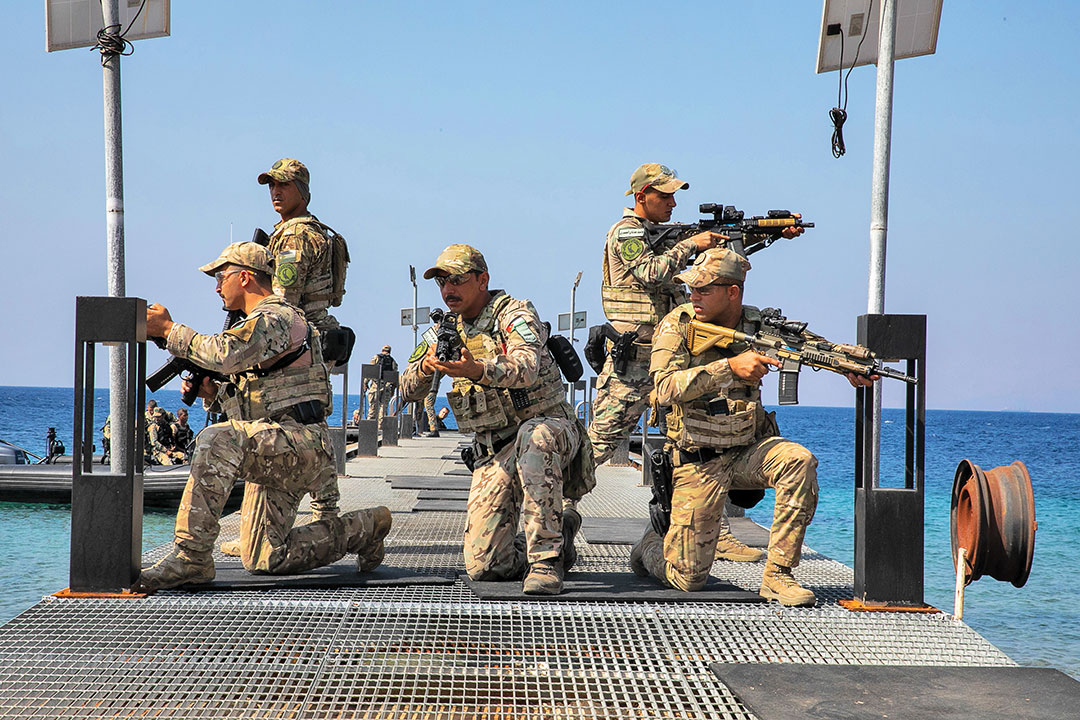 Pakistani Lt. Gen. Muhammed Waseem Ashraf, Deputy General of Pakistan's Joint Staff Headquarters, noted that his country reduced illicit physical movement across borders by 83% by building 2,200 kilometers of border fencing with Afghanistan and Iran.
The barrier, combined with forts every 2 kilometers, greatly curtailed the smuggling of drugs and weapons, including IEDs that have been responsible for 70% of casualties among his troops guarding the country's northwest border.  
"It has been a success story," Lt. Gen. Waseem said.
Eager Lion, hosted by Jordan for more than a decade, continues to enhance cooperation and preparedness among multinational partners in fields both old and new: counterterrorism, border security, drones, cybersecurity and countering weapons of mass destruction.
"We live in a world that faces threats that can pass through borders and across continents, expanding like a virus in the body," said Brig. Gen. Kayed Al-Jaarat, then-Jordan Armed Forces director of military training. "There is no country that lives in isolation from these threats."