A Shining Example of Cooperation
Joint Exercise Bright Star 21 Prepares Thousands of Troops for Conventional and Unconventional Threats
UNIPATH STAFF
As herders tended their camels and goats on a calm summer morning, armed men in black hoods stormed an Egyptian village in pickup trucks. The terrorists seized villagers as hostages, planted banners atop buildings and placed sentries at a power station, school, water plant and clinic. 
It took a multinational team of highly skilled troops — including special operations forces from Egypt, Jordan, Pakistan, Saudi Arabia, the United States, Greece and Cypress — to dislodge the invaders and restore life to normal. 
The rumble of two C-130 transport planes signaled the appearance of dozens of airborne troops who maneuvered their parachutes to drop zones beyond the village. Attack helicopters descended on the settlement and disgorged assault troops on rappelling ropes. Soldiers in Humvees joined the fight, merging their strength with advancing columns of tanks and armored cars. 
The terrorists had little chance: Within a half hour, they were dead or captured and their banners cast in the dust.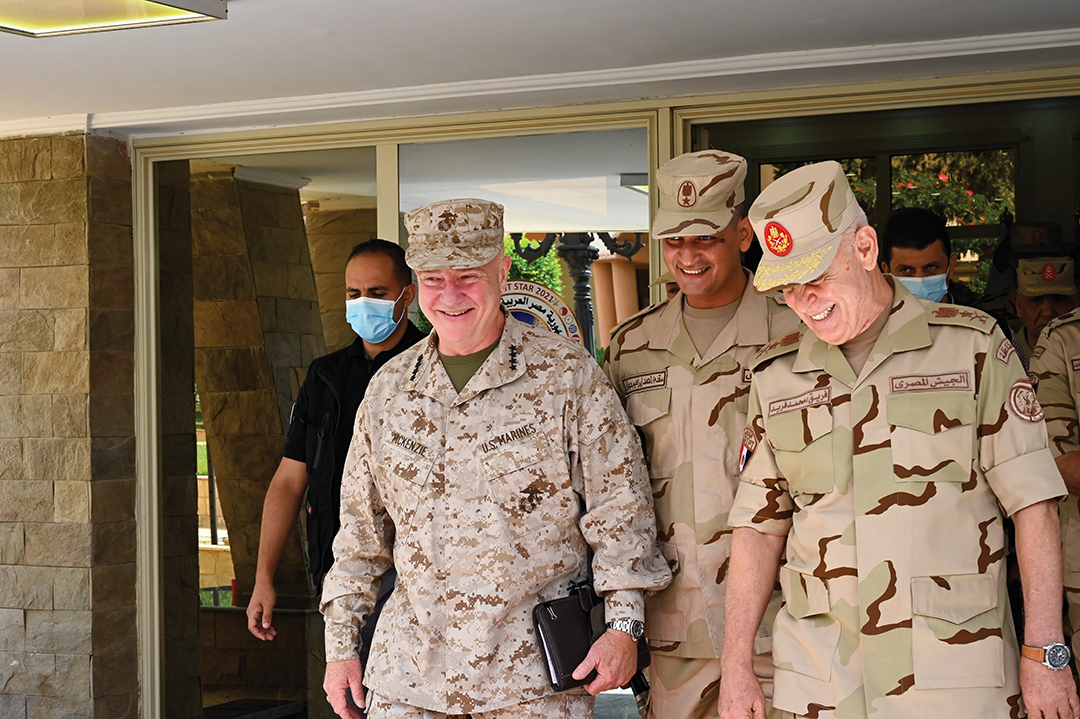 This village raid involving 400 multinational troops was among the highlights of Bright Star 21, an Egyptian military exercise centered on Mohamed Naguib Military Base that ran September 2-16, 2021. 
More than 4,300 troops from eight nations participated in Bright Star, more than half provided by host nation Egypt. Bright Star is one of the world's largest comprehensive multinational exercises engaging land, sea and air forces.  
Although conventional battles featuring amphibious landings and tank and artillery combat played a large role in Bright Star, many activities focused less on set battle pieces and more on irregular and asymmetric conflicts with shifting battlefronts.
"Bright Star is considered one of the most important events in the world that include brotherly and friendly nations, thanks to the size of forces participating, the skill of planning and preparation, the diversity of training and missions, and the employment of cutting edge technologies," Egyptian Armed Forces Director of Training Gen. Rafik Arafat said.
On the review stand at the special forces demonstration, dozens of senior officers from participating nations evaluated the display of military coordination. Brig. Gen. Saad Ibrahim, director of training for Iraqi ground forces, vouched for its authenticity based on his experiences expelling Daesh fighters from towns in northern Iraq.
"I can say that the special operations exercise that simulated a terrorist gang's invasion of a populated town was accurate and precise," Brig. Gen. Ibrahim said. "It takes professional teams of planners, tacticians and troops to achieve that result."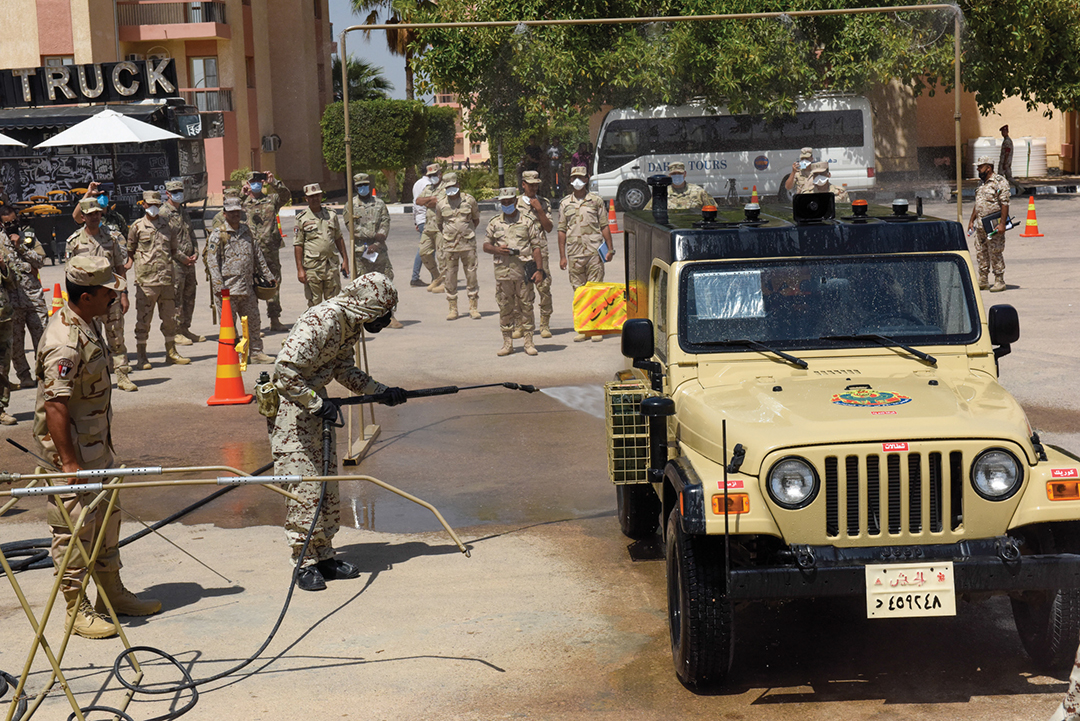 Senior leader seminar
Aside from training and exercises in the field, a senior leader seminar at Bright Star attracted top military commanders and security experts to discuss contemporary security challenges. Participants described a world in which threats such as unmanned aerial systems (UAS), pandemics, terrorism, ideological conflict and cyber warfare shape military preparedness. 
U.S. Air Force Maj. Gen. Alexus Grynkewich, chief of operations for U.S. Central Command, emphasized the need for countering the long-term and persistent threat of UAS. Such easy-to-acquire drones have proliferated across the region, giving violent extremists many of the capabilities of a low-cost air force. 
"If you don't face that threat today, you will, and now is the time to start thinking about it," Maj. Gen. Grynkewich told multinational partners at the seminar.
Saudi Arabia's Col. Hamdan Al Anizi agreed. He explained how his country had stopped hundreds of drone attacks launched by Houthi militias in Yemen. Some of the drones were produced domestically in garages and other hidden locations, making it hard to pinpoint their origins.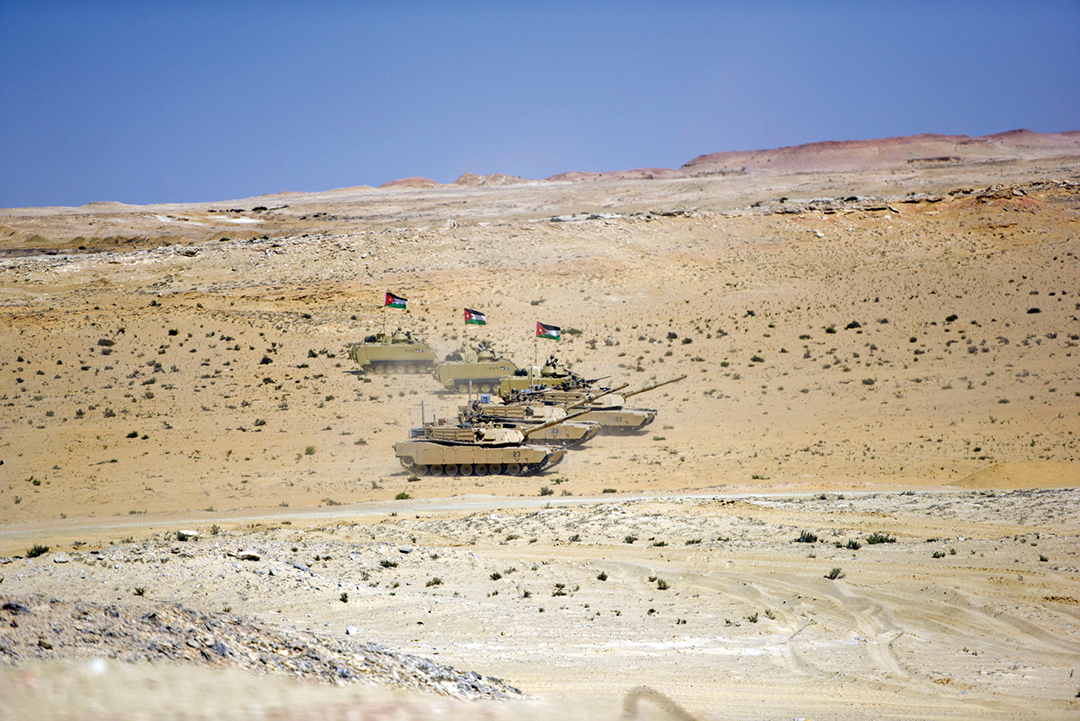 "These militias and terrorist groups own technology and advanced equipment not less than those owned by advanced militaries," the colonel said. "That indicates they enjoy external support."
Egypt's Gen. Rafik was not alone in proposing that militaries create crisis centers staffed with experts to predict, analyze and counter new security challenges.
"These are challenges that face the entire world, whether they be internal or external threats or natural disasters. It is essential for militaries to predict crises before they occur to be able to reduce their impact," Gen. Rafik said.
Unconventional threats
These hybrid threats inevitably shaped the training available to troops at Bright Star. In a combination of classroom and hands-on instruction, they worked to defeat drones, disable improvised explosive devices (IEDs),
quarantine chemical weapons and thwart cyberattacks.
In the open desert of the Minqar Al Wahish training area, Egyptian and U.S. drone experts exchanged best practices to identify and defeat UAS. Experts emphasized the importance of collecting information on the enemy's UAS from the field. 
The main objective of the training was to identify the type of drone – whether it is military or commercial – and how to counter the hostile versions. The identification process noted the size, color, speed, altitude, direction and capabilities of the drone.
Nonstate actors have turned to drones as a low-cost technology to threaten critical infrastructure and troops and equipment in the field. Gathering intelligence on UAS allows militaries to help identify their origin and deter, deactivate and destroy them in the field.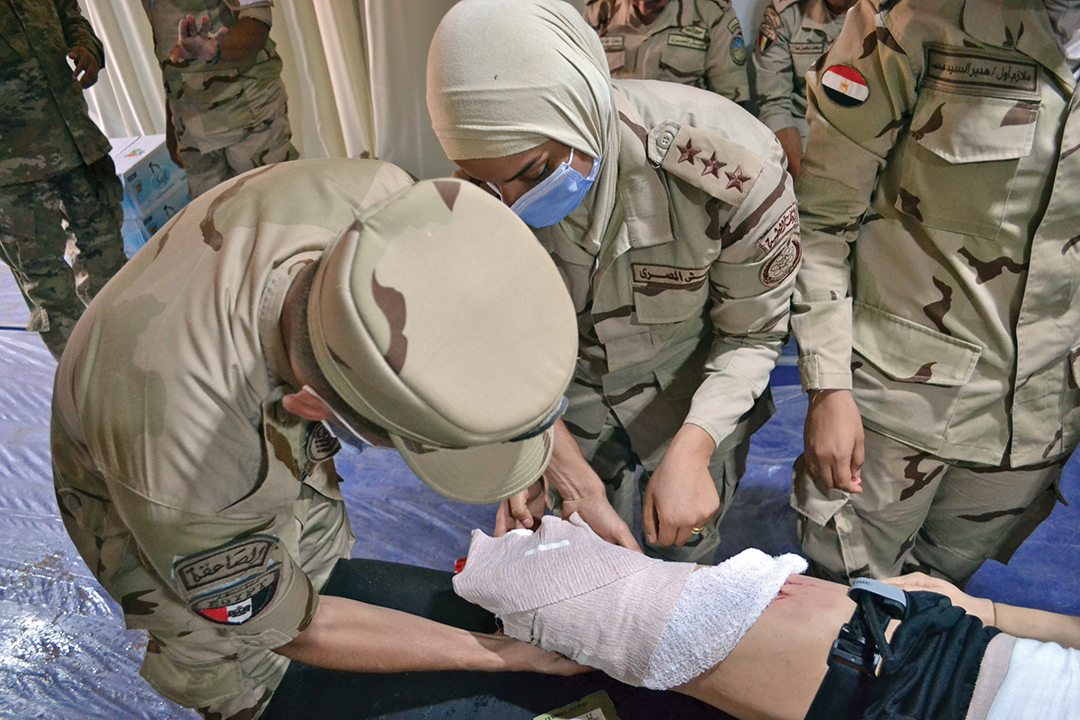 Another feature of counterterrorism operations — IEDs — absorbed the attention of several dozen Egyptian officers who would share what they learned with the troops under their command.
The trainees benefited from the experiences of U.S. Soldiers who fought terrorists in Iraq and Afghanistan and Egyptian forces who fought terrorists in the Sinai. This knowledge included the types of explosives and triggers used in IEDs, their emplacement by the enemy, and how to evade, defuse or destroy them. 
Treating battlefield casualties was the focus of more than 100 Egyptian, Saudi and Greek troops with participation from Egyptian military nurses. As with most training at Bright Star, the medical curriculum was more real world than theoretical.
U.S. medical teams shared critical skills gained by evacuating Soldiers wounded during urban combat, but yielded to the knowledge of Egyptian medics when it came to treating injuries in harsh terrain beyond the reach of ambulances and helicopters. 
As one U.S. officer said: "Our experiences in Iraq and Afghanistan became outdated when we learned how the Egyptians sustain lives on battlefields." 
Coordinating forces 
The climax of Bright Star was a combined live-fire exercise engaging armor, aircraft and artillery led mostly by Egyptian forces fortified by U.S. tanks. Two weeks of multinational training went into its preparation. 
The highlight of naval operations was well-coordinated assault on a beach at Sahel Sidi Abdelrahman supported by a multinational flotilla navigating offshore in the southern Mediterranean Sea. The amphibious operation engaged Egyptian, Greek and Cypress forces. 
But equally important was day-to-day naval training in the Mediterranean that included air defense, surface gunnery, sailing in formation, and visit, board, search and seizure of suspicious vessels. 
The special operations training at Bright Star had an even stronger multinational flavor. Troops from some of the most elite formations in Egypt, Jordan, Pakistan, Saudi Arabia, the U.S., Cypress and Greece attended in force. They jumped from planes, stormed buildings, rappelled from helicopters, rescued hostages and repelled border incursions.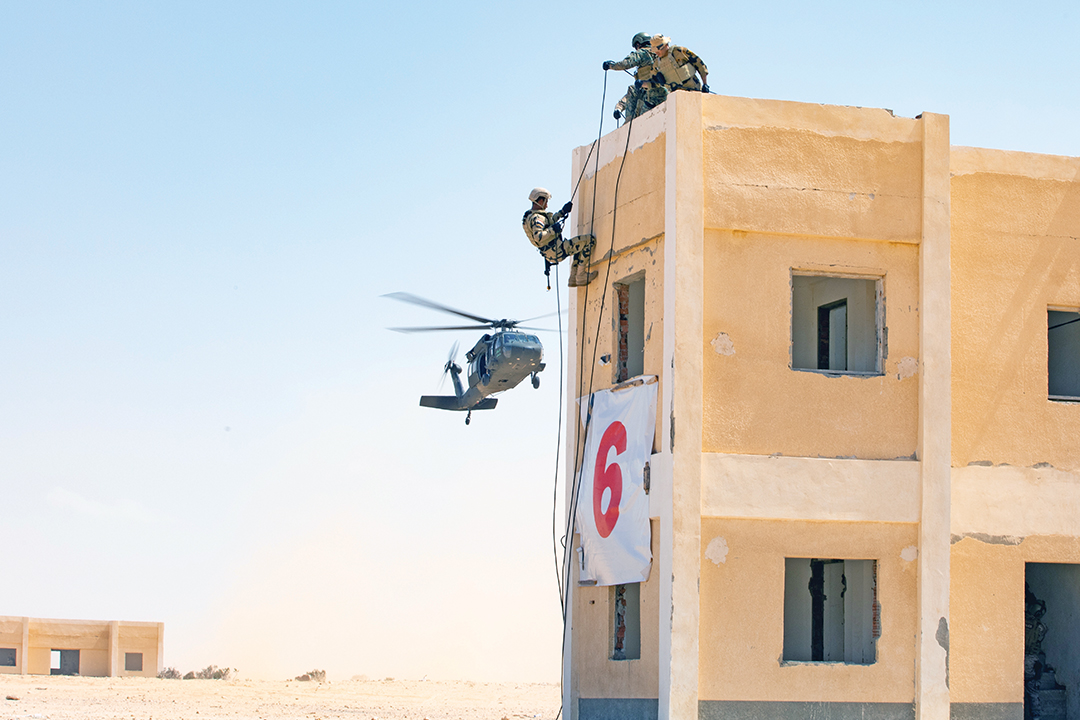 Planners designed scenarios to integrate and coordinate special operation forces with regular infantry, each fulfilling unique roles in complex operations such as the recapture of the Egyptian village from terrorists. For the first time at Bright Star, Egyptian police formations took the field as well. 
Brig. Gen. Alamgeer Ayub, an infantry commander from Pakistan, vouched for the value of sending 45 Pakistani troops to Bright Star. It provided a rare opportunity to train in depth with friendly foreign partners.
"We want to participate in multinational exercises to share views and learn various procedures adopted by Egypt, Jordan and other countries," Brig. Gen. Ayub said.
A contingent from Jordan's King Abdullah II Special Forces Group also took advantage of the training opportunities in Egypt. They trained side by side with Egyptian and U.S. counterparts.
"Exercise Bright Star 2021 is an opportunity to review how other participating forces perform these tasks as well as a challenge of mental acuity and flexibility at all levels of leadership as we adapt to each other's tactics and methods to solve the exercise training dilemmas together quickly, flexibly and efficiently," Lt. Col. Ali Al-Ajarma said.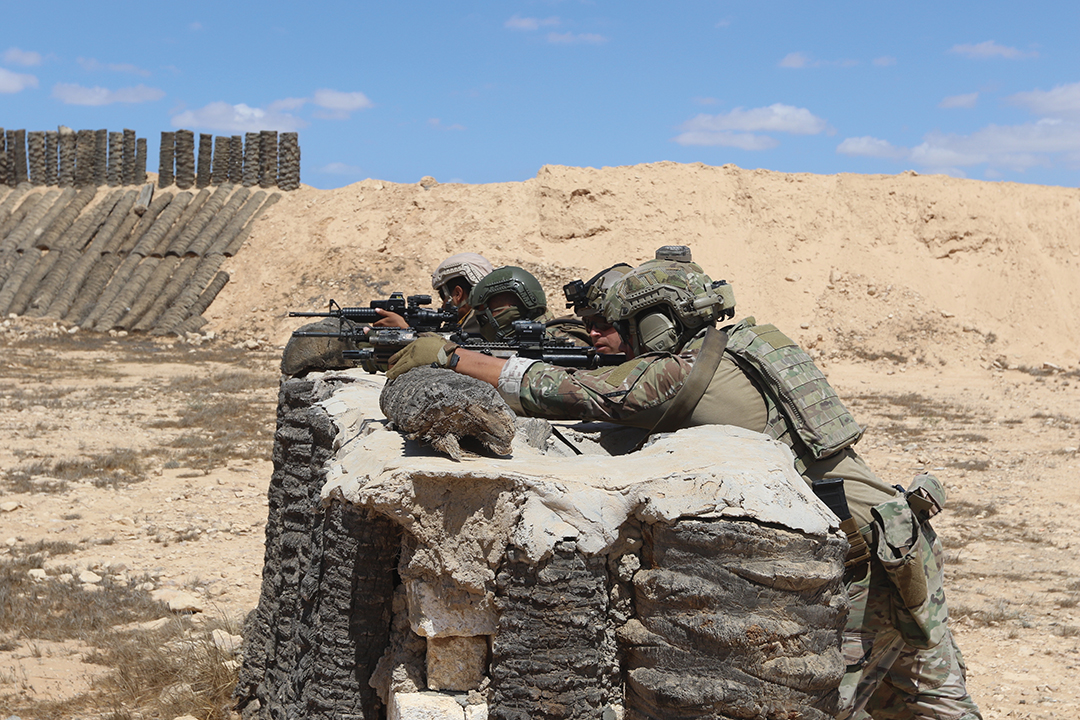 Egypt is scheduled to host Bright Star again in 2023 with a focus on conventional and unconventional military threats that continue to evolve throughout the Middle East and South and Central Asia.   
"Since the first Bright Star was held in 1980, the exercise has carried a proud and historic tradition of partners working together toward common objectives," then-U.S. Central Command Commander Gen. Kenneth McKenzie said. "The concepts tested in exercises like this one have led to successes against terrorism and violent extremism across the region."
Egyptian Gen. Arafat was equal in his praise of Bright Star as a symbol of multinational partnerships.
"The success of Bright Star 21 is a strong message that shows our ability to work shoulder to shoulder in order to achieve peace and stability," the general said. "And also a message of assurance to our people in which we assure our people that our Armed Forces are capable of protecting the nation."  
---
Fending off Cyberattacks
UNIPATH STAFF
In an exercise best known for displays of military muscle, Bright Star 21 introduced a critical new training objective: cybersecurity.
The command post exercise, conducted from a military tent at Mohamed Naguib Military Base, involved 17 Egyptian Army and Navy troops and one Saudi Soldier tasked with defending computer networks against cyber incursions.
Emulating a computer emergency response team, or CERT, the Soldiers and Sailors underwent four days of classroom training before testing their knowledge from computer terminals. U.S. trainers provided over-the-shoulder coaching with  English and Arabic interpreters on hand if needed.
The role playing consisted of cyber adversaries attempting to break into computer networks, sometimes using innocent-looking "spearfishing" emails and other techniques based upon real-world tactics used by hackers. Troops needed to detect, contain, remove and report the incidents up the chain of command. 
Over 3 1/2 days, the training audience handled at least 20 attempted cyber breaches. To detect, monitor and log cyber incidents, the training audience used advanced intrusion detection systems and network security monitoring software.
Participants included Navy personnel eager to harden their electronic warfare systems against potential cyberattacks.  
"We added advanced training for cybersecurity in order to meet national security requirements," said Gen. Rafik Arafat, director of training for the Egyptian Armed Forces.
---
The Jordanian Contribution to Bright Star
JORDAN ARMED FORCES DIRECTORATE OF MORAL GUIDANCE AND MEDIA
Jordan's relations with its neighbor Egypt are firmly rooted in the views of His Majesty King Abdullah II ibn Al Hussein, supreme commander of the Armed Forces. They are founded on mutual respect and constant commitment to expand the horizons of joint cooperation with fraternal and friendly nations.
This is reflected positively on progress in all fields, particularly with nations in the region, as well as strengthening and developing these relations into strategies and plans that contribute to stability and a dignified existence for the citizens of the world, while supporting international peace and security.
Exercise Bright Star 21, hosted by Egypt in September 2021, increased joint military training cooperation and coordination and strengthened joint relations with fraternal and allied nations to serve the interests of participating armed forces. This is achieved through joint missions of participating units, military sectors, and institutions, focusing on lessons learned from modern warfare and nonconventional threats to international security.
A good example of this is participation from the King Abdullah II Special Forces Group. Bright Star 21 granted these highly skilled troops the opportunity to partake in training that covered airborne operations, small arms marksmanship, combat lifesaving skills, rappelling/fast roping, urban warfare and close quarters combat.
These training subjects are considered fundamental skills that every Jordanian special operations Soldier must have. Bright Star 21 provided an excellent chance to review how other participating forces perform these tasks as well as challenge mental acuity and flexibility at all levels of leadership as we adapt to each other's tactics and methods to solve exercise training dilemmas.  
Overall, Bright Star aimed to provide training on how to combat illegal acts such as border infiltration, maritime terrorism and piracy, and any illegal act that threatens and destabilizes the security and stability of a state.
The exercise also prepared commanders and staff to plan and implement joint and unconventional operations, to test all components of the security and administrative system, to implement procedures for inter-unit coordination, and increase the capabilities of the participating forces and entities when conducting tasks and dealing with different objectives. This is done by creating scenarios that replicate real-life operations to counter current and potential threats within the area of responsibility.
The exercise also aimed to collect and analyze information, fine tune command-and-control techniques while forces are mobilized, and plan and conduct offensive operations. It focused on coordinating land, sea, and air forces on the optimum use of weapons and equipment, at the same time as refining their combat skills and testing commanders ability to control battles.
Participation in exercises such as Bright Star are part of a broad effort by the Jordan Armed Forces, in cooperation with various regional nations, to achieve security and stability by confronting challenges related to extremism, terrorism and internal security. These are coordinated constantly to unify ideas and reinforce them at various levels, which leads to a high level of competency, readiness and professionalism to deal with any anticipated scenario.
At the special operations level, Jordan boasts excellent relationships with many regional and international partners. Our relationship with U.S. special operations units is a historic and strategic partnership that has been established over many years of collaboration and trust gained in operations and during training. It has been reinforced over the years by the addition of liaison officers, mobile training teams and joint training and work throughout the diverse spectrum of special operations. 
This cooperation has led to a high level of interoperability and unified understanding that has allowed troops from both sides conduct operations in various hot spots and training events, such as Legion Partner and Hashemite Warrior. These training events have been fruitful despite the occasional language barrier. 
To conclude, we must extend our thanks to the Egyptian Armed Forces for their hospitality and efforts as well as the rest of the participants for their role in making this exercise a success. We hope to further our relationship with every participant at Bright Star.