Dr. Khalid bin Mohammed Al Attiyah
 

promotes stability through military cooperation

BRIG. GEN. KHALID ALKHAYAREEN 

QATAR SENIOR NATIONAL REPRESENTATIVE TO U.S. CENTRAL COMMAND

I have the honor of writing this article highlighting a leader from my own country: a fighter pilot in the Qatari Air Force, an entrepreneur, and a politician who has held many positions of service in his country, and who, throughout his career, is known for his generosity, spontaneity and candor.

I am speaking of Dr. Khalid bin Mohammed Al Attiyah, Qatar's deputy prime minister and minister of state for defense affairs. 

Dr. Al Attiyah was appointed to his current positions in 2016 and 2017, after a long and varied career as a fighter pilot in the Air Force, a lawyer, a financial expert and Qatari foreign minister. 

In 1995, he founded Khalid Al Attiya Legal Consultants & Attorneys, where he practiced law until 2008. In 2003, he was appointed chairman of the National Human Rights Commission.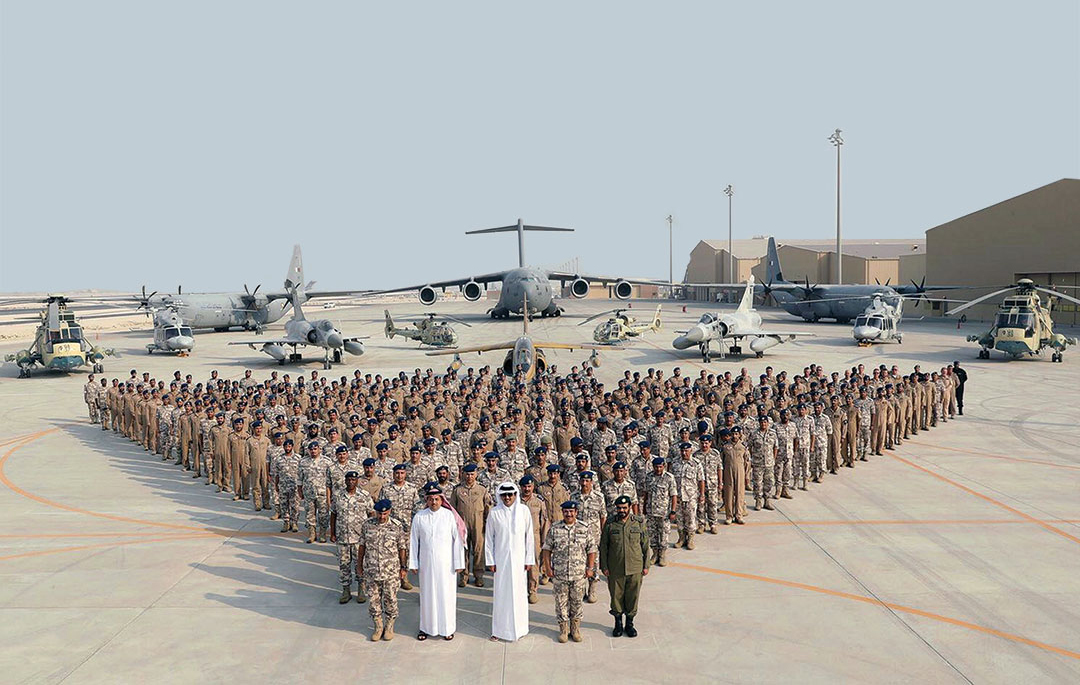 After a stint as acting minister for business and trade, he became vice chairman of the Board of Directors of the Qatar Stock Exchange. From 2009 to 2012, he served as deputy chairman of the Qatar Financial Center and combined those duties with the position of vice president of the Supreme Council for Information and Communication Technology.
In 2011, he was appointed minister of state for foreign affairs and a member of the Council of Ministers. From 2013 to 2016, he held the post of foreign minister.
As for his academic qualifications,
Dr. Al Attiyah received bachelor's degrees from the King Faisal Air Academy and Beirut Arab University and graduated with a master's and doctorate in law from Cairo University.
I will expound upon several issues that interest him personally and professionally:
Qatari-U.S. partnership
Qatari-U.S. relations are characterized by partnership and strategic cooperation. These relations were built on trust and serve the interests of both nations, as well as the public interest and global and regional peace. This relationship was reinforced during the 1991 Gulf War, when the two countries signed a defense cooperation agreement that reaffirmed the need to strengthen bilateral ties and cooperate on numerous diplomatic and security fronts. Since 1992, Qatari-U.S. relations have encompassed politics, the military, economics, health, culture and education.
Cooperation in the area of defense and counterterrorism in the region remains one of the most important pillars of cooperation between Doha and Washington. Qatar hosts a U.S. Central Command (CENTCOM) headquarters that oversees U.S. military activity in several countries, including Afghanistan, Iraq, Syria and Yemen. Approximately 13,000 U.S. military personnel, mostly from the Air Force, are stationed at Al Udeid Air Base, 30 kilometers southwest of Doha.
Dr. Al Attiyah notes that Qatar is strategically located among hot spots in the region like Iraq and Syria, and that the U.S. presence in the Gulf provides stability and security for the free flow of trade.
"Qatar believes that Al Udeid Air Base is critically important. The Qatari people are a welcoming, hospitable and open people who love diversity. Americans and Qataris are similar in that regard," he said. "We are learning a lot on the military side of things by flying with brave Americans because the environment is a genuine operational environment. There is no room for error, and everyone is doing everything they can to meet expectations."
Dr. Al Attiyah also explained that permanent facilities are being expanded to meet the needs of families at Al Udeid Air Base.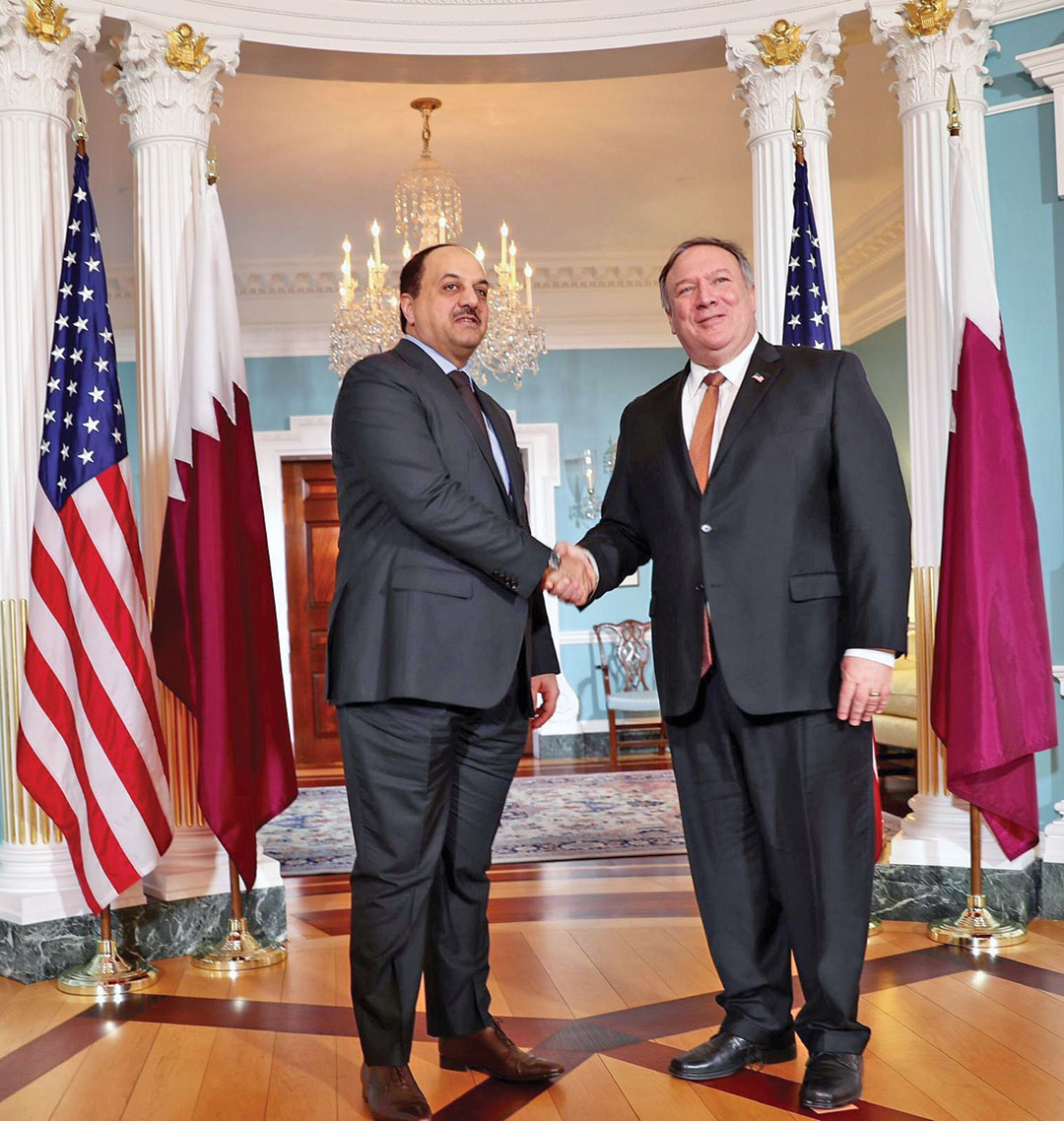 "We found that our partners are forced to live off-base and have therefore chosen to take up residency in the city and don't feel comfortable because it is far from the base. After meeting with a few engineers at the base, we thought it would be better to build a residential complex, with its own schools, where families can stay. There is an American school that meets their needs, but we want families to be more comfortable and decided to immediately begin construction on 200 housing units for the families of officers."
At the naval level, Qatar's Navy and Coast Guard are the largest naval contributors to Combined Task Force 152 as part of the 33-nation Combined Maritime Forces (CMF). CMF promotes regional security by providing a deterrent presence to maritime crime in the Arabian Gulf. 
During the second Strategic Dialogue in January 2019, Qatar and the United States agreed to develop Qatar's amphibious reconnaissance capabilities, expand the Joint Special Forces, and improve the country's ability to defend against external aggression and work with U.S. and NATO military forces in coalition operations. 
Counterterrorism
The war on terror is not just a military mission; all ties linking the U.S. with Qatar, whether political, economic or cultural, play a critical role in winning this war and securing lasting peace.
Qatar has joined the U.S.-led international coalition against terrorism, and we are united with our partners in the Gulf to combat violent extremism in all its forms.
The U.S.-Qatar relationship is of great importance to this alliance. It is an alliance based on several critical activities, which both countries are working to advance:
CENTCOM's presence in Doha, publicly recognized by U.S. military experts as a geopolitical and strategic asset.
Qatar's commitment to host U.S. and coalition forces at Al Udeid Air Base, home to a CENTCOM headquarters.
Qatar's pledge to host U.S. military personnel at the As Sayliyah Army Base, outside Doha, used by CENTCOM to store materials for use in Iraq and Afghanistan.

 

The signing of a 10-year defense cooperation agreement between the U.S. and Qatar in December 2013. In June 2014, the countries also signed an $11 billion arms sale agreement.
Nevertheless, military solutions are not enough to defeat terrorism and address the challenges facing the Middle East and the world. We are therefore working with partners to reach diplomatic solutions to long-standing conflicts that perpetuate mistrust and fuel frustration that breeds extremism. Dr. Khalid Al Attiyah has stressed that the memorandum of understanding signed by Qatar and the United States in July 2017 to combat the financing of terrorism is a strategic decision and indicated that Qatar is on the right track in the field of counterterrorism.
"In this era, rather than fighting traditional enemies, we are fighting nontraditional ones, stateless terrorists who attack quickly, with no indication of where they might be coming from," he said. "Signing the memorandum of understanding with the United States to combat terrorism is in turn a strategic decision taken by Qatar in this direction."
Counterterrorism is an important issue to the international community. In September 2018, a dialogue on combating terrorism was held in Doha. It was the second of its kind since the signing of the memorandum of understanding on combating terrorism. Qatar and the United States have established rules of cooperation in the provisions related to border security, information sharing, countering terror financing, anti-money laundering, aviation security, cyber security and judicial capacity building.
Qatar acts as mediator and coordinator for the international coalition against terrorism whenever there are negotiations conducive to the interests of peace. This role reflects Qatar's inherent values, which include:
The search for peaceful solutions to international conflict.
Support for self-determination.
Cooperation with peace-loving peoples.
Qatar's firm position as a stable state and a long-term partner in the fight against terrorism will therefore continue to instill confidence in the West and throughout the world.
Economic partnership
Official figures show that Qatar and the United States enjoy a close economic partnership. Qatar's investments in the U.S. economy total nearly $100 billion, including $10 billion in infrastructure, along with investments in the energy, real estate, health, financial and information technology industries. Qatar's U.S. investments have created thousands of jobs throughout the country and have included partnerships with several U.S. firms, including Exxon Mobil, ConocoPhillips and Raytheon. Prior to the second Strategic Dialogue, it was announced that U.S. investments in Qatar stood at approximately $7.23 billion, while more than 658 private U.S. companies were operating in Qatar. Trade between the two countries has reached nearly $24 billion over the past five years. Qatar also announced a plan to invest $45 billion from its sovereign wealth fund in the United States through 2021.
Military capacity development
Regarding acquisitions carried out by the Qatari Army in the past, the Qatari Armed Forces acquired several sophisticated systems, including C17 Globemaster aircraft. Dr. Al Attiyah noted that the purchase realigned Qatar's military acquisitions. Twenty years ago we were "a European army, focusing on Europe for most of our military equipment. Now most of our systems and equipment are American," Dr. Al Attiyah said.
Qatar has gained approval to obtain early warning radar, which we rely on for surveillance, and has purchased Apache helicopters, Patriot missile systems, and even some equipment for ground forces, all of which require a great deal of training and a change in military doctrine. It has created hundreds of thousands of jobs, and we are very happy about that. 
With regards to the human requirements of many of the contracts recently obtained by Qatar for military and aviation equipment, Dr. Al Attiyah said Qatar is working hand in hand with counterparts from the United States and through the U.S. defense attache in Qatar to expand the training program to reach the highest standards of competency. An Air Force academy in Qatar has produced many pilots with sound results.
Qatar's goal is to become a full security partner to the U.S. and its other friends and allies. On his 10-year vision for the Qatari military, the minister of defense said that Qatar is too reliant on the U.S. and must develop its own capabilities. Why should Americans fight for us while we enjoy the good life? We have started to improve our own capabilities. Dr. Al Attiyah has made it clear that military preparedness is the best way to bring about stability. Qatar must be able to protect itself at all times.