A conversation with Bahrain Defense Force Commander Field Marshal Sheikh Khalifa bin Ahmed Al Khalifa
UNIPATH STAFF
Photos by BAHRAIN DEFENSE FORCE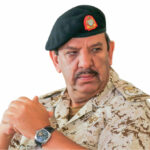 Bahrain Defense Force Commander Field Marshal Sheikh Khalifa bin Ahmed Al Khalifa is a beloved leader whose skill and ability are uniquely suited to establish a military force to defend the nation. He recently sat down for an interview with Unipath.
Unipath: The kingdom of Bahrain is one of the United States' most important strategic partners. How would you describe this partnership?
Sheikh Khalifa: Our strategic relations with the United States have endured for decades. These relations are historic, long-standing, extensive and strong. Bahraini-U.S. relations are evolving and will continue to evolve based on the strength of vital cooperation in a number of important areas. These relations have reached advanced levels in a variety of fields, particularly in military coordination and defense cooperation. This coordination and cooperation between two friendly nations is ongoing, and we have agreed to increase our cooperation in wider areas within the context of bilateral defense cooperation between the two friendly nations.
The Defense Cooperation Agreement between the kingdom of Bahrain and the United States is an extension and continuation of our strategic partnership's benefits. We seek to continue developing means of cooperation as partners in ensuring the security of the Arabian Gulf, conducting a number of joint tasks to stabilize the region, combating terrorism in all its forms, and protecting global shipping lanes and trade routes. Perhaps today we are reaping the fruits of this successful strategic cooperation, which has become more important in the circumstances the region is experiencing.
Unipath: How does regional instability in the
Middle East impact the kingdom of Bahrain, and how is Bahrain preparing to confront threats?
Sheikh Khalifa: Plots that undermine the security and stability of our region, which God has blessed with many riches and bestowed with security and safety, are intensifying. The region has become a target for the greedy, who have not hesitated for a moment to concoct schemes, dictate an agenda, and incite strife and sectarianism, so that dangerous cycles are repeated and developments are accelerated due to policies such as the scourge of terrorism, the sabotage game, misinformation and proxy wars to extend their groups' grip under cover of darkness and threaten regional stability.
The instability that the Middle East is witnessing continues to escalate as a result of terrorist hostilities that aim to disrupt security and stability in the region, target some Gulf Cooperation Council (GCC) states and their role in the global oil supply and international maritime traffic. The terrorists seek to do so through repeated, systematic and organized terrorist attacks. These attacks have threatened the safety of maritime navigation and global trade and the international supply of energy. They are dangerous acts that pose a serious threat to the global economy, with no regard for international charters and treaties aimed at preserving peace and security worldwide.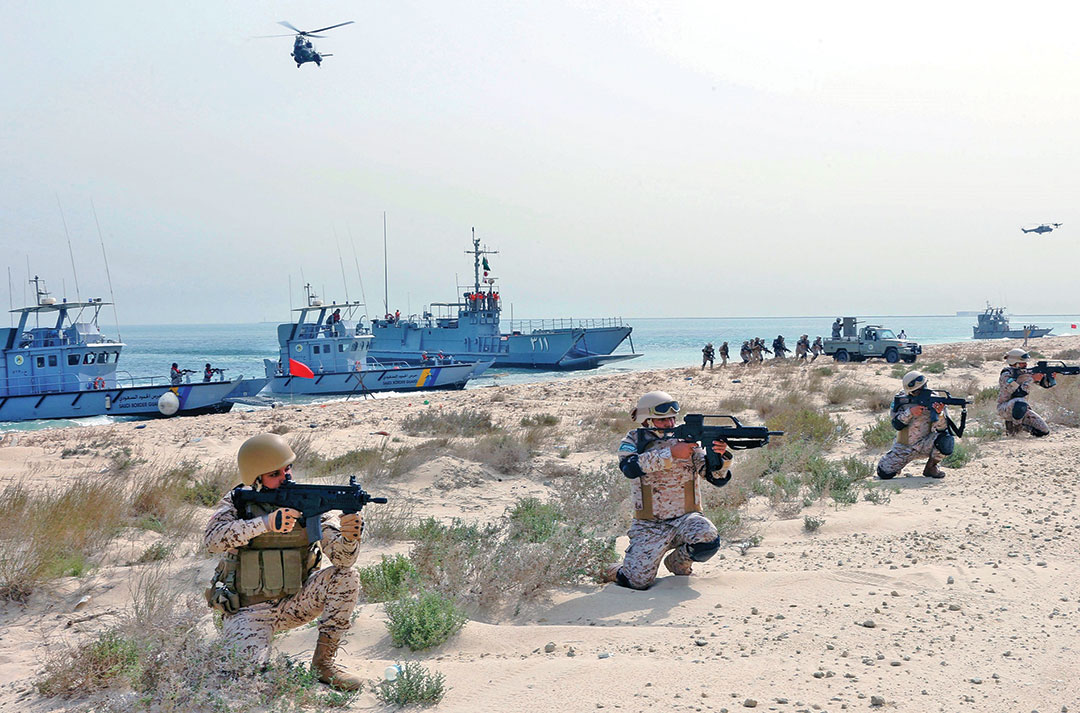 We are proud of the efforts of His Majesty King Hamad bin Isa Al Khalifa, the nation's beloved ruler and Supreme Commander, may God protect and guide him. He is working to safeguard the region's destiny and protect its people from being dragged into the vortex of destruction, and to rescue the region's nations from the ravages of war and unrest. His commendable endeavors impress at every turn, as he explores all avenues to lead the region to safety. He is fully supportive of all efforts aimed at eradicating violence and terrorism and to solidify security and peace in the region and the world. In the kingdom of Bahrain, we are aware of the magnitude of the threats facing the region, and God willing, we are capable of facing them.
Unipath: Bahrain has achieved great success in combating terrorism. What lessons have been
learned in this field?
Sheikh Khalifa: Counterterrorism has become a priority for all countries worldwide in the 21st century. Documenting the lessons learned usually occurs after the action is completed, and everyone is still learning from these experiences. We are still dealing with terrorism, which is undergoing a paradigm shift in its forms and manifestations. Today, terrorism is not just confined to terrorist organizations that can be fought and eliminated. It has gone beyond that, occurring through the hands of nations that deliberately manufacture crises in the region to serve their expansionist interests and spread their subversive ideologies or economic control. Other nations have sought to wage war by proxy through support for factional sectarian groups, and some have harnessed their resources to support terrorism, which makes them a partner in terrorism and a destabilizing factor in international peace and security.
Unipath: How does the Bahrain Defense Force benefit from joint military exercises with other nations?
Sheikh Khalifa: Driven by the guidance of His Majesty King Hamad, the nation's beloved monarch and Supreme Commander, may God protect him, the Bahrain Defense Force has emphasized conducting joint exercises with friendly nations. This plays a leading and effective role in enhancing combat performance levels, refining capabilities and elevating the skills of all exercise participants. It also strengthens the concept of military cooperation with our sister Gulf and Arab countries and friendly foreign nations, which affirms the desire of countries within the region to solidify the region's security and stability, while strengthening their military capabilities. Thus, the Bahrain Defense Force's approach is to intensify operational and field training, which is conducted alongside military units from friendly nations within the framework of joint cooperation.
The kingdom of Bahrain approves this as a friendly approach that will never be abandoned. The Bahrain Defense Force benefits from the joint exercises with sister and friendly nations throughout the year. They enrich, refine and develop the expertise of the joint forces combat commanders, so they understand the demands of joint military action due to its importance and effective role in elevating military proficiency, enhancing combat readiness, exchanging military expertise and skills, and strengthening joint military coordination and cooperation, in addition to enhancing capabilities and training the joint forces in modern military systems and approaches to combat.
The military exercises are the main benchmark to measure the readiness and capabilities of the armed forces and serve as an environment to link training to military operational planning concepts.
Unipath: What measures must the international community take to maintain regional maritime security, especially in the Arabian Gulf, the Gulf of Oman and the Arabian Sea?
Sheikh Khalifa: There is no doubt that fast-moving recent developments the region is witnessing are a result of irresponsible actions and grave terrorist offenses. This includes the terrorist attack that targeted two oil tankers in the Gulf of Oman, the sabotage of civilian commercial cargo vessels near the territorial waters of our sister nation the United Arab Emirates, and the terrorist Iranian Revolutionary Guard recently shooting down a U.S. Army drone in international airspace in the Strait of Hormuz. These terrorist acts constitute a serious violation that threatens the safety and freedom of international shipping and negatively impacts the global economy, international peace and security, and the security and stability of the region's nations and peoples. We must all assume responsibility for taking the necessary measures to ensure peace, protect international shipping lanes, provide the security required for transportation in regional energy corridors, confront these terrorist acts and the people behind them, and put an end to the repeated violations of all international laws and norms.
As I have mentioned, the Bahrain Defense Force is a key component of a number of regional and international counterterrorism coalitions. We are always working with friendly nations to maintain regional maritime security, and the kingdom of Bahrain boasts a GCC Unified Maritime Operations Center centered on superior military systems that works to enhance maritime security in the Arabian Gulf amid the challenges in the region and to provide our region with all necessary security, safety and stability measures. The current bilateral military cooperation with U.S. Central Command's 5th Fleet is the product of an important model reflecting the extent of bilateral concern for maintaining regional peace and security.
Unipath: What challenges is Bahrain facing amid escalation between the United States and Iran?
Sheikh Khalifa: The escalation in the region is the result of Iranian conduct. Nobody wants war, and we pray to God that there is no military confrontation in the region. However, at the same time, it is not possible to accept the persistent sabotage propagated by the Iranian regime, while the people of the region pay the price, without any deterrent to the ambitions of this hostile regime.
Iran's ambitions and desire to control the region and its destiny is a challenge faced not only by the kingdom of Bahrain but by the countries of the region as a whole. They are subject to a number of complex military threats that have endangered the security of Gulf Cooperation Council states. That is because of Iran's expansionist bent, nuclear orientation, promotion of religious extremism, spreading of radical ideology, and support for extremist, subversive, sectarian terrorist groups. Iran has adopted a policy of subversion, overthrowing states and state institutions, provocative political discourse directed at a number of neighboring countries, and interference in the domestic affairs of these countries. This creates tension and undermines security and stability. Iran has many of these destructive projects and subversive schemes, and God willing, they will fail.
Unipath: What advice would you give young Soldiers?
Sheikh Khalifa: The task of defending the homeland and safeguarding its destiny and achievements is among the most noble tasks and honorable acts. It is a sacred trust that anyone who has chosen the military path is honored to uphold. It is a collective responsibility for everyone; the commanding officer shares it with fellow officers, noncommissioned officers and Soldiers. I commend those who have chosen the nobility of military service and have the honor of upholding that trust with discipline and always acting justly and reasonably with their colleagues, brothers in arms and subordinates. The basis of military service is mutual respect.
Whenever I meet members of the Bahrain Defense Force at the beginning of their journey in the military, joining to serve in their field, I always emphasize to them that leading men is not an easy task. It always requires a prepared, educated, and fair leader who sets an example for his subordinates and is disciplined in his dealings with superiors. I advise them to persist in their efforts, serve their country, and follow the lead of their predecessors in their field. I also call on them to do their work with dedication and proficiency, which only comes with knowledge and discipline. Today, modern warfare requires a great deal of knowledge in the military field, and they must always be knowledgeable throughout their military career, as it is the mark of superiority and progress in the modern armed forces.