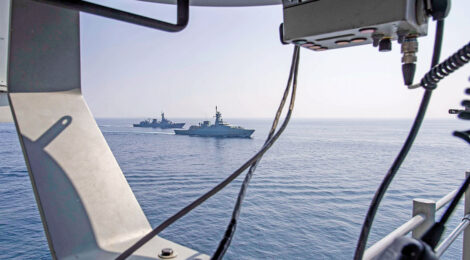 The International Maritime Exercise in Bahrain draws 5,000 participants from 50 countries
UNIPATH STAFF
Thousands of Sailors from dozens of nations joined forces during the International Maritime Exercise (IMX 19). Their mission was to sharpen their skills in countering a series of real-world threats by removing underwater mines lurking beneath sea lanes, intercepting criminals smuggling cargo aboard civilian vessels and protecting harbors from enemy attacks.
Dubbed one of the largest naval exercises in the world — second only to the Rim of the Pacific Exercise near Hawaii — IMX 19 mustered naval forces that stretched from the northern Arabian Gulf near Kuwait, looped around the Arabian Peninsula, brushed the Horn of Africa into the Red Sea and ended in the Jordanian port of Aqaba.
Countries with a large naval presence in the region, led by the United States and the United Kingdom, combined forces with regional navies to display global resolve in maintaining freedom of navigation in some of the world's most strategically important sea lanes.
Such cooperation started at the top. One of the commanders of Saudi Arabia's Eastern Fleet — Rear Adm. Abdullah Al Shammari — served as deputy commander of IMX 19. Two other senior regional naval officers assumed command of two of the three task forces during the exercise: Omani Rear Adm. Ali Musa Al Belushi of Task Force South and Emirati Col. Musbah Rashid Al-Mehari of Task Force North.
Adm. Abdullah noted that IMX 19 benefited participants in two phases, starting with academic training ashore and advancing to practical drills at sea. The overall exercise lasted from October 21 to November 12, 2019.
"Such exercises have positive repercussions on our naval forces in unifying tactical concepts of command and control with the rest of the world's navies as well as raising the level of combat capability of the Saudi Royal Navy," Adm. Abdullah said.
IMX originated as a multinational exercise in 2012 specifically dedicated to minesweeping, but the mission expanded in 2019 to include broader maritime security. Nevertheless, a large component of IMX 19, particularly the activities of Task Force North in the Arabian Gulf, entailed clearing shipping lanes of underwater explosives. 
IMX 19 planners planted simulated mines on the approach to regional harbors and ordered coalition forces to locate, identify and disable them. Helicopters and surface ships conducted sweeps that detected suspected mines, leaving it to divers and underwater drones to investigate more closely. Before the end of the exercise, Sailors had eliminated a majority of the mines.
Vice Adm. James Malloy, commander of U.S. Navy Central Command and the U.S. 5th Fleet based out of Bahrain, expressed appreciation to the more than 50 countries that provided naval personnel for the purpose of addressing threats in the region.
At least 5,000 personnel; 40 vessels; 34 visit, board, search and seizure teams; 17 aircraft; and 18 explosive ordnance disposal teams engaged in IMX 19.
"This makes it the largest coalition exercise ever conducted in this region," Adm. Malloy said from aboard the Japanese mine countermeasures support ship Bungo, where he addressed admirals and ambassadors from the region.
Adm. Malloy emphasized that mines are potential problems for ports around the world, and that each coalition partner makes unique contributions to maritime security. 
"Over time we develop a series of best practices. … In this region Bahrainis know the bottom of the water better than anybody else. So when we come here, the Bahrain Navy tells us how to conduct daily routines. Everybody walks away learning something about how other people do it better," the admiral said. 
Sailors also confronted real-life challenges that added tension to their tasks during IMX 19. A tropical cyclone spun through the Arabian Sea, narrowly missing a multinational flotilla gathered off Oman. Choppy seas in the northern Arabian Gulf increased the risk for divers trying to locate underwater mines, while real-world actors continued to pose threats to international shipping in the same waters occupied by IMX 19 participants.
Task Force North enlisted ships and Sailors from Saudi Arabia, Kuwait, Bahrain and the United Arab Emirates. Task Force South, based out of the Omani Maritime Security Center, drew participation from Omani, Pakistani and Yemeni maritime forces. Task Force West operated in the African nation of Djibouti and in the port of Aqaba, where Jordanian and Egyptian forces took part.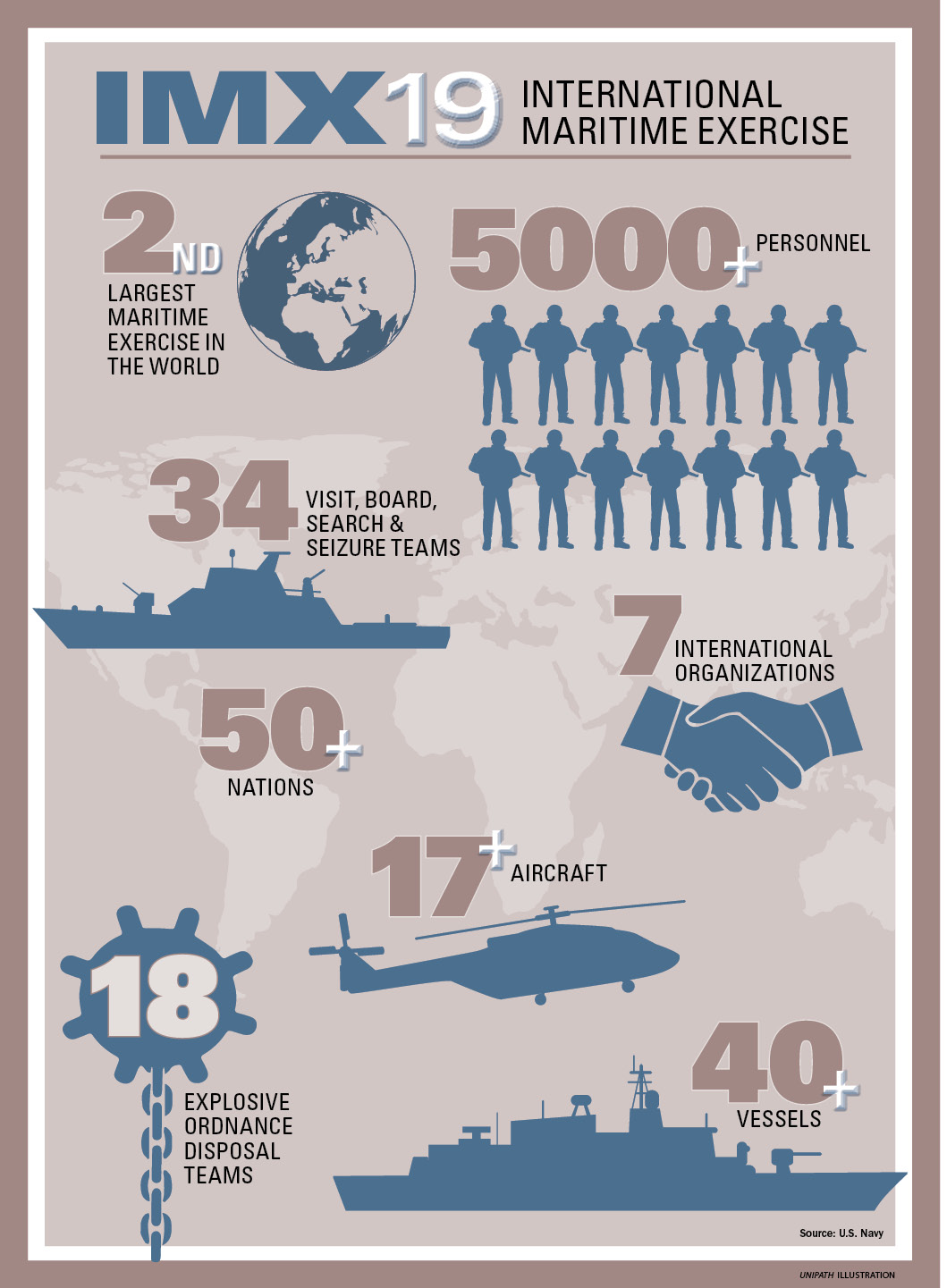 The officers controlling the exercise from command posts on the naval base in Bahrain were equally multinational. In a cluster of tents, naval teams sitting at computers and leaning over nautical charts fashioned scenarios by which exercise participants fended off aggression from a fictional enemy.  
Though it didn't provide any ships, the Iraqi Navy sent a team of officers to participate in IMX 19. The Iraqis benefited from a complementary command post exercise on shore that gave officers experience running complex naval operations.
"We are looking forward to continuing participating in future joint exercises and events that aim to broaden experience and develop capacities among partners," said Iraqi Navy Lt. Col. Mustafa. Al-Ruba'i, the country's senior representative to the U.S. 5th Fleet.  
A critical part of IMX is cooperation to ensure safe passage of merchant vessels. A program called Naval Cooperation and Guidance for Shipping aids communication between merchant ships and naval vessels in tense regions such as the Red Sea, the Gulf of Aden and the Arabian Gulf. Exercise commanders got daily briefings about the progress of nonmilitary ships within their areas of responsibility, including container ships, tankers and luxury ocean liners.  
IMX 19's success was the fruit of 18 months of planning and preparation. As an example, Cmdr. Simon Cox was in charge of the British battle staff aboard Cardigan Bay. During normal operations, the ship supplies British minesweepers with food, fuel and ammunition. During the exercise, the ship became a base for dive teams from 10 different nations.
"Mines remain a threat. A mine costing relatively little can inflict damage far beyond its cost," Cmdr. Cox said.
A guided-missile cruiser, USS Normandy, played a similar leading role in the Gulf of Oman. It spent most of the exercise sailing in formation with the Royal Navy of Oman ship Al Shamikh and the Pakistan Navy ship Shamsheer. The Normandy hosted visit, board, search and seizure drills for assault teams from those countries. 
"Exercises like this are pivotal to developing strong partnerships with regional nations, USS Normandy Commanding Officer Capt. Christopher Stone said. "Through exercises such as IMX, we enhance the ability to ensure the free flow of commerce throughout the region."
Saudi naval forces maintained a large presence at IMX 19, reflecting the country's need to defend long coastlines from potential enemies in the region. 
"The Saudi Navy's participation in this international exercise reflects the devotion of the Royal Saudi Navy command to strengthening international relations and sustaining joint work with the rest of the world," Rear Adm. Abdullah said.