The Advancement of Female Soldiers in Jordan
Col. Maha Al-Nasser leads the Jordan Armed Forces Department of Military Women's Affairs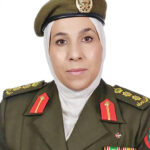 UNIPATH: Can you give us a brief overview of the origins of the Department of Military Women's Affairs?
Col. Maha: The Directorate of Military Women's Affairs was established at the beginning of 1995 by royal decree to highlight the role of women in the Jordan Armed Forces and to signify their importance. It was entrusted with all the responsibilities related to the advancement of women in the Armed Forces, and to this end has, since its inception, proceeded to study laws relating to women and has worked to amend them where necessary. It has also worked to develop training and education methods and to improve the readiness and hone the skills of new recruits, providing them with opportunities for employment outside the scope of traditional administrative and medical professions in new workplaces that were reserved for men. The directorate is concerned with advancing administrative techniques, raising qualifications, improving the quality of performance and reinforcing the discipline of military women in the Jordan Armed Forces. The directorate also provides guidance to those concerned with military women's affairs and with the training of women in all forms, militarily or in the field, to activate the role of women in various military positions, focusing on equal opportunity in promotion and recruitment. The directorate shares in the development of public policies concerning women's affairs in the Jordan Armed Forces, oversees their implementation and conducts studies and research to develop methods of work.
The establishment of a special department for women's military affairs, headed by Her Royal Highness Princess Aisha bint Al Hussein, was a remarkable expression of pride for Jordanian women. It gave them powerful motivation to join the Armed Forces and to make frequent visits to the fields of operation of women in some brotherly and friendly armies to learn about the tasks and duties regarding qualifications and training. This gives them extensive experience that has influenced the advancement and activation of women in our own Armed Forces. The directorate's designation was subsequently amended from the Directorate of Military Women's Affairs to the Department of Military Women's Affairs.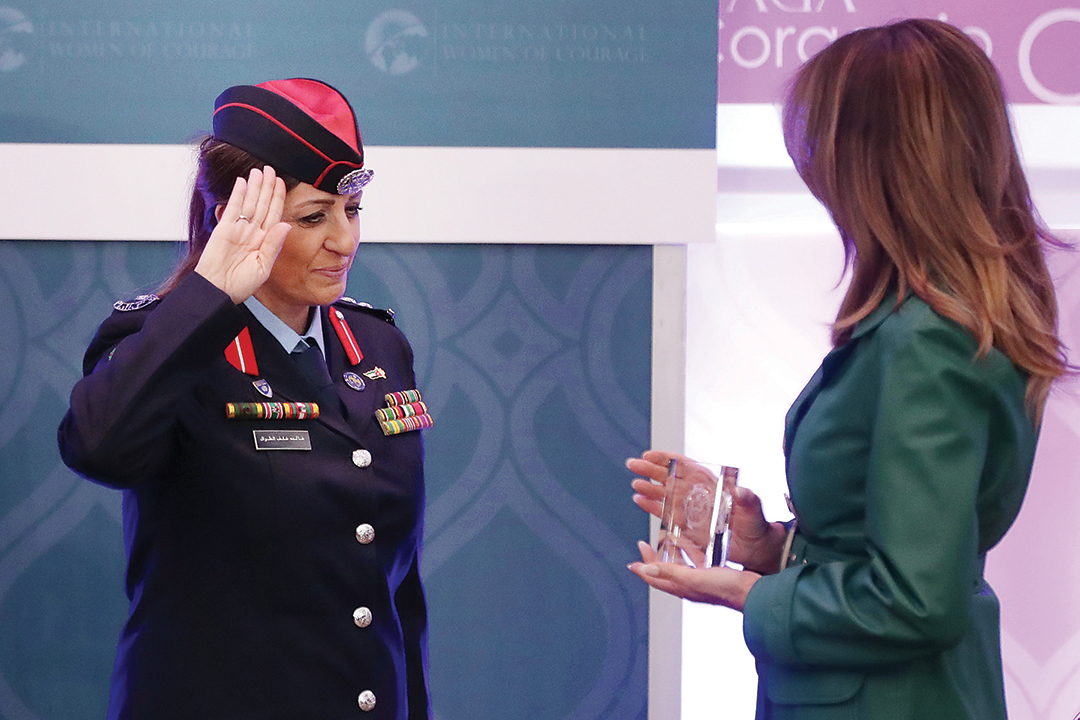 UNIPATH: How can servicewomen help counter extremism among Jordanian women?
Col. Maha: Women are certainly an essential component of society and are capable of contributing to and advancing community building and [future] generations and of influencing the surrounding environment. They contribute to all tasks entrusted to the Armed Forces in the field of combating terrorism in the same way their male counterparts do, in addition to spreading awareness about extremism and terrorism in their family environment and educating their local communities. Women who are equipped intellectually and culturally are effective partners in efforts to combat extremism and violence and are a bulwark against it, acting as a positive change factor within their families and communities.
UNIPATH: What functions do women perform in the Jordan Armed Forces that men cannot? 
Col. Maha: Certainly, the presence of men in the military prior to women has led to their knowledge of and familiarity with all military tasks and duties with a high degree of skill and professionalism, so there is no task that men cannot perform, but there are some areas where military women stand out more than men due to the nature of some tasks that are easier and more amenable to women. For example, during their participation in peacekeeping forces, women have distinguished themselves over men in their ability to deal flexibly with and provide assistance to women and children subjected to violence and displacement during wars and armed conflicts because they are closer to these vulnerable groups and better able to communicate with them, understand their problems and help them as a result of their more sensitive personalities and emotional characteristics. 
UNIPATH: How accepting is society of servicewomen?
Col. Maha: Since the early 1950s, beginning with the guidance and patronage of His Majesty King Hussein, there have been fruitful efforts in women's participation in the Jordan Armed Forces as well as an active and genuine participation in building and driving development forward, and in them taking up the responsibility of defending their homeland alongside their brothers, particularly since Islamic law does not prohibit them from doing so. Similarly, the success of women in civilian life cannot be separated from their involvement in the ranks of the Armed Forces. With the guidance and continuous support of His Majesty, the Commander in Chief of the Armed Forces, King Abdullah II ibn Al Hussein, the role of military women has been activated, and they have been faithfully directed to prepare, qualify and train to carry out their duties and placed in a position appropriate to their natural talents, trained to overcome difficulties so that they can shoulder the burdens of their work and perform their tasks effectively. 
UNIPATH: How do you increase the presence of women in the Jordan Armed Forces beyond nursing and clerical functions?
Col. Maha: The Jordan Armed Forces is among the state's leading institutions in opening doors for women to work alongside men. There are many plans and studies to help increase and activate the role of women in the Jordan Armed Forces. A periodic statistical survey is conducted to provide a database showing the percentage of women at all military work sites to identify the locations where more women are needed, working side by side with men, to contribute to our Armed Forces.
UNIPATH: What incentives encourage Jordanian women to join the military?
Col. Maha: Servicewomen enjoy all the benefits of their male colleagues, such as a monthly salary and other financial benefits, military ranks, access to training and qualification, promotion, the opportunity to hold leadership positions, health insurance, access to scholarships for themselves and their children, and participation in overseas missions and assignments, as well as maternity leave and day care at their place of service.
UNIPATH: What are the requirements for women to serve in the military?
Col. Maha: Women are subject to the same requirements as men, with some exceptions that are tailored to the physiological characteristics of females. She must be at least 18 years old, be fit for military service from a health standpoint and pass all scheduled medical exams and interviews.
UNIPATH: Can you talk about the successes of female Soldiers serving in peacekeeping forces?
Col. Maha: Jordanian women have taken part in military action as part of peacekeeping forces and have performed the tasks assigned to them in the mission area to the fullest extent. This has played a significant role in increasing their expertise, refining their military skills and enabling them to work in a real operational environment in all areas of peacekeeping in war and conflict zones. The Armed Forces have achieved over 15% female participation in peace missions. In 2010, Jordanian military women were part of the active duty forces in Afghanistan and in the Gaza Field Hospital, and in 2018, they participated as part of international peacekeeping forces in the Central African Republic, the Democratic Republic of the Congo and Western Sahara. 
UNIPATH: How have Jordanian servicewomen earned the respect of their male comrades?
Col. Maha: From the outset, the Jordan Armed Forces were keen to achieve equality between male and female members, and the Directorate of Military Women's Affairs was established to help raise and advance the role of women. It has focused on the principle of equal rights and duties between men and women by providing [women] with necessary training in all areas of military action and by assigning them additional responsibilities so that they might obtain the same opportunities for excellence and distinction in service to the nation. The Jordan Armed Forces has professional military personnel of both sexes, all of whom are equally respected. Military women have therefore earned the respect of their male colleagues through hard work, proficiency, commitment and the fullest performance of their duties.
UNIPATH: How well do servicemen accept the idea of being led by a woman?
Col. Maha: Competence and military rank are among the most important criteria for holding leadership positions in the Jordan Armed Forces, regardless of gender. It has become normal to see women in senior military ranks in the Jordan Armed Forces and to have many of them in leadership positions at the places in which they work. This is very much accepted by male Soldiers. An example of this is the evolution of women's employment in the Royal Medical Services. Women have achieved gains that have led them to the highest positions and ranks. They currently occupy many senior-level positions. This is due to their belief that with their many abilities and skills, as well as their creativity and outstanding personalities, much can be achieved for the benefit of the Jordan Armed Forces and our homeland. Their achievements have been pioneering in various disciplines.
UNIPATH: What are your plans for developing the Department of Military Women's Affairs? 
Col. Maha: I plan to increase the presence of military women in all fields of professional and specialized military work and to establish women's detachments in all military areas, upgrading them to companies in the future. I also plan to contribute to the development of English language skills among women in the Jordan Armed Forces to support their external participation and peacekeeping function. We need more nurseries to cover all women's workplaces in the Jordan Armed Forces and must continue cooperation with friendly and brotherly nations and international organizations and bodies via the development of strategic action plans.