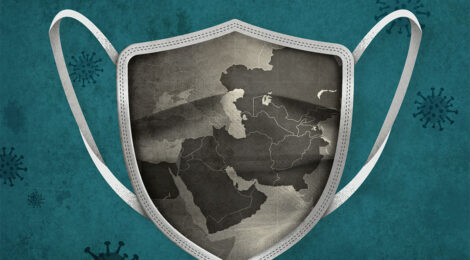 Militaries around the region focus their fight on defeating COVID-19
Although most of the attention in the fight against the COVID-19 virus focused on the medical profession, Soldiers, Sailors and security forces played a critical role in combating the spread of a microscopic invader that killed hundreds of thousands of people around the world.
Quarantines required the attention of police and Soldiers to enforce them, as did border stoppages to reduce transmission of the disease. Airlifts of timely medical supplies helped save lives and stem the spread of infection. Military stockpiles of sanitary masks and gloves proved critical to helping civilians endure COVID-19. And military hospitals, through their mobility and efficiency, proved to be excellent providers of medical care to reduce the load on regular hospitals.
No two countries were alike in responding to the viral attack on society, but the role of the armed forces was invaluable:
Kuwait
Like many countries in the Arabian Gulf region, Kuwait's multinational workforce made containing the virus especially challenging. Likewise, Kuwaiti citizens working abroad were in danger of bringing the infection back home.
The Kuwait Armed Forces, National Guard, police and other agencies worked to minimize the threat from COVID-19. As early as February 2020, the Kuwait Air Force not only airlifted its citizens out of places such as Iran but flew in badly needed medical supplies to help contain the pandemic.
Abdullah Al-Mubarak Air Base received distinguished visitors led by Minister of Defense Sheikh Nasser Sabah Al-Ahmad Al-Sabah, who is also deputy prime minister, to congratulate the quick action of the military in combating COVID-19.
"The work you do today is a source of patriotism, appreciation and honor for all of us." the minister said. "The Kuwait Ministry of Defense is working to harness all of our technical and human capabilities to support our country's efforts."
The Kuwait National Guard also rose to the occasion to establish centers across the country to fight the virus. For example, National Guard Undersecretary Lt. Gen. Hashem Al-Rifa supervised preparation of a field hospital focused on COVID-19 patients living in Mahboula in the Ahmadi governorate.
United Arab Emirates
In a bold move to protect its citizens and those of its neighbors, the UAE military evacuated hundreds of Arab nationals from China's Wuhan province and lodged them temporarily in a specially built medical center in Abu Dhabi's International Humanitarian City.
The UAE also reached out to countries in greater need than itself. Afghanistan was among the countries that received shipments of medical supplies from the UAE, and His Highness Sheikh Mohammed bin Zayed Al Nahyan ensured that Syria received aid during this crisis. He was one of the lone voices in support of that war-torn country. 
Under the supervision of military and security forces, the UAE limited unnecessary travel and operated world-class testing centers that delivered drive-through testing in as little as 15 minutes. 
Lebanon
When the Lebanese government declared a general mobilization over COVID-19, it handed much of the task of securing public safety to the Lebanese Army. Troops established security barriers and checkpoints to enforce a ban on unnecessary travel, patrolled cities and dispersed public gatherings conducive to spreading the disease.
When the order was issued in March, the Lebanese Armed Forces detected a shortage of protective gear, such as disposable face masks and gloves, that Soldiers would need to stay healthy as they interacted with the public.
A military-affiliated charity based in the United States called Spirit of America reacted by providing nearly 20,000 face masks and more than 100,000 gloves for Lebanon's hard-pressed troops.
Military helicopters equipped with loudspeakers took to the skies over Lebanon's cities to increase compliance with the government's stay-at-home policy.
Iraq
The Iraqi military was placed on high alert in the governorates of Basra and Babil to prevent COVID-19 infections. Southern Iraq's proximity to Iranian population centers likely caused more exposure to the virus. Cooperation with security forces was high. Local residents supported Soldiers responsible for overseeing the quarantine by distributing tea and food to them.  
Throughout Iraq, military forces working with police not only enforced quarantines but helped disinfect major cities. In some instances — to avoid policies that made Iran such a trouble spot for the virus — security forces were compelled to limit the movements of pilgrims attempting to visit religious shrines in places such as Baghdad and Karbala.
Pakistan
At the start of the crisis, the Pakistan Air Force sent a special flight to China with 17 tons of halal food — enough to last more than two weeks — for about 1,300 students stranded in the country's Hubei province because of the virus.
The Armed Forces' role in the medical emergency was all-encompassing. Helicopters flew medical supplies across the country, including dangerous missions over mountain passes. The military assisted the civil administration in creating and maintaining nearly 200 quarantine centers, including some using tents and shipping containers as shelters. 
 Special efforts were made to aid physically isolated regions such as Gilgit-Baltistan in mountainous northern Pakistan. The military announced it was going on a "war footing" to ensure the health of residents there. "We will never leave the people of Gilgit-Baltistan alone in these challenging times," proclaimed Chief of Army Staff Gen. Qamar Javid Bajwa.
Uzbekistan
Even before the first case of COVID-19 was discovered in Uzbekistan, the nation's military reached out to help victims in China in February 2010. Uzbek troops loaded a military cargo plane with 40 tons of protective suits, masks and gloves to help the hard-pressed Chinese.
When the disease later spread from China, Uzbek leaders enlisted troops in the construction of a quarantine zone with 10,000 beds near the capital, Tashkent. Also, two infectious disease hospitals with 5,000 beds were speedily prepared. 
Kyrgyzstan
After a state of emergency was declared in Kyrgyzstan, special reception centers for coronavirus tests were deployed at the Manas International Airport on the outskirts of Bishkek. Security checkpoints required arriving passengers to be screened for COVID-19.
The military also played a large role in enforcing a curfew that began in March to limit the spread of the illness. Early in the crisis, Kyrgyzstan benefited from a grant of 500,000 euros from Germany to pay for protective equipment, train medical personnel and launch a public awareness campaign about curtailing the disease.
Bahrain
The Bahrain Defense Force Hospital played a significant role in offering rapid testing and treatment for COVID-19 infected citizens regardless of their membership in the Armed Forces. Military commanders ordered all troops returning from trips abroad to visit the hospital for screening. Those testing positive were placed in isolation wards to protect the healthy. 
In a feat of logistical organization, the military needed only a week to establish a technologically advanced intensive care unit with 130 beds in a parking garage near the Defense Force Hospital.
Lt. Gen. Sheikh Mohammed bin Abdullah al-Khalifa, chairman of country's health council, affirmed the military's readiness to combat the virus. For example, the Bahrain Defense Force Hospital produced a nationally broadcast TV and internet campaign urging people to stay home, using seven different languages spoken by Bahraini residents.  
Oman
The Royal Oman Army has been training with U.S. partners in defending against potential attacks by weapons of mass destruction (WMD) that include biological contaminants. That preparation proved useful in curbing COVID-19, which spread to the Arabian Gulf from its original point of contagion in central China.
Royal Army engineers employed by the military's WMD branch established field teams around the country to disinfect and sterilize roads and structures exposed to contamination.
The country's Supreme Committee set up joint military and police checkpoints on roads connecting Oman's governorates, restricting travel mostly to emergency vehicles and trucks carrying food and other basic necessities. 
Saudi Arabia
Saudi Arabia took action in early February by suspending pilgrimages to Mecca by citizens living in countries exposed to the coronavirus. Its forward thinking contrasted positively with Iran's encouragement of large-scale religious gatherings during the same period. 
The Saudi military also extended generous help to Yemen. Saudi Arabia, along with Arab coalition partners such as the United Arab Emirates, launched military airlifts to provide medical equipment to Yemen's hard-hit health-care sector in cities such as Aden.
Saudi troops facilitated movement of international relief organizations through Yemen territory the Saudis helped liberate, and they provided border security at points of entry to limit the spread of the virus.
Egypt
The Egyptian Armed Forces flew in foreign-made medical supplies and opened at least six military hospitals, with as many as 200 beds apiece, to help treat COVID-19 cases.
On more than one occasion, President Abdel-Fattah el-Sissi personally intervened when he spotted people on the roadside failing to take safety precautions. The president's staffers handed out gloves and masks. 
Egyptian Soldiers also took a broader role in providing public safety. They assisted other government agencies in disinfecting public spaces in Cairo, spraying down surfaces during curfew hours when few people were outside.
Places such as Tahrir Square, the opera house, the railway station, the subway system, the Al Fateh Mosque, Arab League Headquarters and hundreds of streets were disinfected. The effort included walking surfaces as well as building facades.
Kazakhstan
Kazakhstani troops used military drones to monitor residents who ignored checkpoints and tried to cross boundaries of quarantine zones in Nur-Sultan and Almaty. About 1,000 Soldiers were deployed to Almaty alone to the fight the coronavirus. 
Soldiers provided much of the labor force for disinfection campaigns throughout the country. Chemical, biological, radiological and nuclear protection units operated in Nur-Sultan, Almaty, Shymkent, Aktau, Aktobe, Atyrau, Karaganda, Kyzylorda and Taraz. The government made military doctors available to civilian hospitals to handle any overflow of patients.
 Jordan
The Jordan Armed Forces (JAF) were responsible for the initial enforcement of quarantines on travelers arriving in the country in March 2020. Troops checked passengers on arrival, performed COVID-19 tests and issued 14-day quarantines for people suspected of having the disease. 
JAF medical services played a big role in the pandemic. Not only did they continue to provide critical health care for Soldiers and their families, but military physicians served on infectious disease committees formed to defeat the virus in Jordan. When the Jordanian Ministry of Health reported a shortage of blood for transfusions, JAF medical services provided the units of blood immediately.
Most travelers were quarantined in the country's Dead Sea resorts, making their enforced isolation more pleasant. The Armed Forces based medical teams at each resort, performed tests and treated anyone who fell ill.
Qatar
The Qatari Armed Forces, in partnership with the Ministry of Public Health, provided health care for COVID-19 patients with makeshift medical centers containing nearly 5,000 beds. Logistics teams from the Qatari Air Force, in conjunction with the Ministry of Trade and Industry, facilitated cargo flights to import medical supplies to help stem the virus.
Despite the crisis, Qatar upheld promises to its friends in the Middle East, including an April 2020 donation of armored military vehicles to Jordan, the first of 44 promised to Amman. Attending the handover ceremony were Qatari Ambassador to Jordan Sheikh Saud bin Nasser Al Thani and Qatari Border Guard Commander Maj. Gen. Hamad Al-Kubaisi.
The Jordan Armed Forces noted that Qatar's generosity came despite a "perilous time in which the region and the world as a whole is going through caused by the outbreak of COVID-19 pandemic."